Negative ion energy card scammers busted in Thailand

Villagers in Thailand are being sold magical "energy cards", prompting authorities to raid the Expert Pro Network company offices.
Expert Pro Network is a Thai MLM company owned and operated by Thanat Surin.
Early last week reports emerged of Isaan villagers being sold Expert Pro Network energy cards for 1,100 to 1,500 baht each ($35 – $48 USD).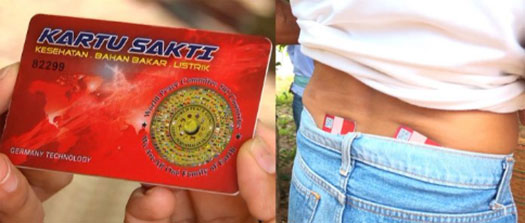 The marketing behind the cards claims they can be used to:
purify water
reduce energy bills
strengthen the heart
improve the immune system and
increase metabolism

Last Thursday Thai police raided Expert Pro Network's Songklha offices.
Surin (right) was nowhere to be found and so a summons was issued.
Following the raid Surin disabled his known phone numbers and closed down Expert Pro Network's offices.
At the time of publication the cards aren't featured on Expert Pro Network's website. The company also sells alkaline, stem cell and cholesterol reduction supplements.
Surin, a former police officer, claims to have begun selling the cards after he acquired them from La Genius.
La Genius was a Malaysian MLM company that has since collapsed. The cards themselves are reportedly of Indonesian origin, but also contain the words "German Technology" on them.
In an attempt to defend Expert Pro Network, Surin has since appeared on the local television show Hoan Krasae.
As reported by Khaosod, on the show Surin
pulled out an "ion tester" machine to use on a credit card and one of his energy cards. The credit card measured "3" while the Energy Card measured a "8345" on an unknown scale.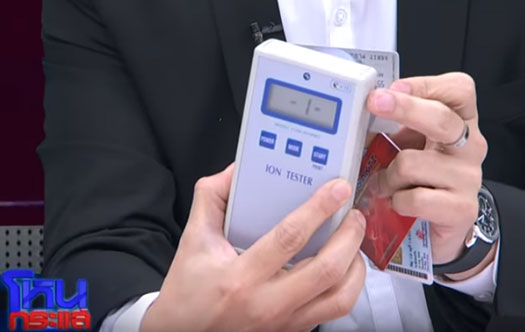 Chemistry professor Weerachai Phutdhawong, also a guest on the show, brought his own multimeter to use on the card but found that the card did not emit any voltage.
Surin also attempted to disassociate himself from the way Expert Pro Network's cards were being marketed.
The cards help relax your muscles through negative ions. It's not magical.

The villagers are the ones dipping them in water and drinking. I didn't tell them to.
This is in contrast to the findings of Thai authorities, who upon raiding Expert Pro Network's offices found 'brochures boasting the false claims'.
Thai officials have declared Expert Pro Network's card to be a hoax and have launched a campaign to warn Isaan locals.
Police added that to join Expert Pro Network, distributors had to pay 4,400 baht for five cards, and sell them for 1,100 to 1,500 baht each.

They would only be paid once they sold the cards or recruited more distributors.

"If there is evidence of false advertising to trick consumers, that could the basis of prosecution," Police Maj. Gen. Phromnuttaket Hamkumpai of the Khon Kaen Provincial Police said.
Whether further action is taken against Surin or Expert Pro Network remains to be seen.
Update 18th June 2019 – Analysis of Expert Pro Network's cards has revealed they contain radioactive and heavy metal materials.
Update 21st June 2019 – Criminal fraud charges have been filed against the "perpetrators" behind Expert Pro Network's energy card sales.