3T Networks Review: Cryptocurrency unregistered securities & travel

3T Networks operate in the cryptocurrency and travel MLM niches. The company provides two corporate addresses on its website, one in the US and one in Singapore.
The US address belongs to Nevada Registered Agent LLC, who provide incorporation services in Nevada. Whether 3T Networks has any physical business operations in the US is unclear.
The 3T Networks website suggests the company is primarily focused on Asia, with offices in the Philippines and Thailand "coming soon".

Heading up 3T Networks is Chairman and CEO, Daniel Schwartz (right).
As per Schwartz's 3T Networks corporate bio;
Dan has been a leader in Sales, Marketing and Business Development of companies in technology products and services since 1984.

He has been in Sales and Marketing Management since the late 1980s.

He has lead sales efforts over the past 5 years resulting in over $65M USD in closed business with a variety of customers large and small.
According to his Facebook profile, Schwartz lives in Thailand.
About six months ago Schwartz launched his own cryptocurrency, SigmaCoin.
After debuting with a public trading value of around 12 cents last September, SigmaCoin promptly collapsed before settling around its current 7 cent value.
A lack of content on SigmaCoin's social media profiles and a decline in traffic to the company's website suggest SigmaCoin has been abandoned.
I wasn't able to verify an MLM history for Schwartz.
Read on for a full review of the 3T Networks MLM opportunity.
3T Networks Products
3T Networks doesn't appear to have any retailable products or services.
The only thing one can purchase on the 3T Networks website is affiliate membership.
3T Networks affiliate membership provides access to Traffic Light Trading signals, ICO reports, a mining contract, "Living Book", 3T Coins (appears to be another cryptocurrency), "3T Incentive Points (no explanation provided) and a Travel Certificate.
The Travel Certificates come with a maximum total savings amount.

You will login to our redemption site, put in your TRAVEL CERTIFICATE code and then you are free to select from all of the travel packages and options available.
As above, 3T Networks' Lifestyle Certificates are used to access discounted travel provided by a third-party merchant.
Other than a few short general videos, 3T Networks provide no information on the remaining bundled services.
The 3T Networks Compensation Plan
3T Networks claim to pay retail commissions, however the majority of the compensation plan is geared towards direct and indirect recruitment of new affiliates.
Retail Commissions
The 3T Networks compensation plan mentions a 25% retail commission.
The 3T Networks website permits a visitor to sign up as either an affiliate or "preferred customer".
As a Preferred Customer, I am granted the right to purchase 3T Networks products at a discounted price.

My product purchases are for personal use only.
Information on what preferred customers can purchase and for how much is not provided.
Residual Recruitment Commissions (binary)
A binary compensation structure places an affiliate at the top of a binary team, split into two sides (left and right):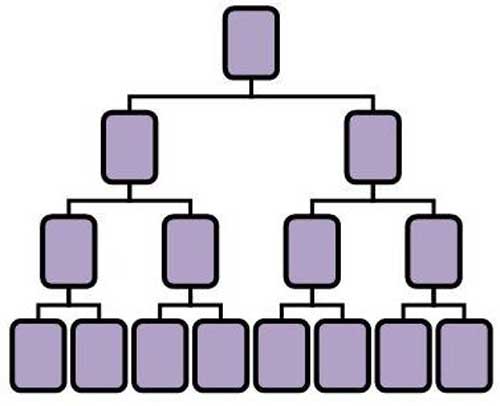 The first level of the binary team houses two positions. The second level of the binary team is generated by splitting these first two positions into another two positions each (4 positions).
Subsequent levels of the binary team are generated as required, with each new level housing twice as many positions as the previous level.
Positions in the binary team are filled via direct and indirect recruitment of affiliates. Note there is no limit to how deep a binary team can grow.
When a new 3T Networks affiliate signs up their membership fees generate points:
Basic Trader ($149) – 100 points
Advanced Trader ($499) – 250 points
Pro Trader ($999) – 500 points
These recruited affiliates generate points across the binary team.
When 900 points has been generated in the binary team (300 on one side matched with 600 on the other), a $75 cycle commission is paid out.
A 3T Networks affiliate is able to earn up to $25,000 a week in residual recruitment commissions per binary position.
If a 3T Networks affiliate earns $10,000 in residual recruitment commissions for three consecutive weeks, they receive a new binary position.
Matching Bonus
The Matching Bonus is paid out via a unilevel compensation structure.
A unilevel compensation structure places an affiliate at the top of a unilevel team, with every personally recruited affiliate placed directly under them (level 1):

If any level 1 affiliates recruit new affiliates, they are placed on level 2 of the original affiliate's unilevel team.
If any level 2 affiliates recruit new affiliates, they are placed on level 3 and so on and so forth down a theoretical infinite number of levels.
The Matching Bonus is paid out as a percentage of residual binary commissions earned by affiliates in your unilevel team.
The Matching Bonus is capped at four levels.
The percentage match on each level is determined by 3T Networks affiliate rank, however the company fails to provide rank qualification criteria.
Matching Bonus percentage ranges (based on rank), as provided in the 3T Networks compensation plan, are as follows:
level 1 (personally recruited affiliates) – 5% to 25%
level 2 – 10% to 25%
level 3 – 10% to 20%
level 4 – 10% to 15%
Residual Recruitment Commissions (unilevel)
3T Networks pay a residual commission on the recruitment of Advanced Trader and Pro Trader recruitment.
Unilevel residual recruitment commissions are paid out down three levels of recruitment, using the same unilevel compensation structure the Matching Bonus is paid out with (see above):
recruit an Advanced Trader affiliate and receive $50 on level 1 (personally recruited affiliates) and $25 on levels 2 and 3
recruit a Pro Trader affiliate and receive $100 on level 1 and $50 on levels 2 and 3
Fast Start Bonus
The Fast Start Bonus rewards 3T Networks affiliate who recruit three Pro Pack affiliates within 60 days of signing up.
If the above qualification criteria is met, a $570 Fast Start Bonus is paid out.
Car Bonus
3T Networks affiliates qualify for a Car Bonus if they earn $3000 in commissions for three consecutive four-week periods (basically three months).
The available Car Bonus is paid up to $2000 based on affiliate rank.
3T Networks do not provide rank qualification criteria in their compensation plan.
Rank Achievement Bonus
When 3T Networks affiliates qualify at certain ranks, they receive a one-time Rank Achievement Bonus.
Ruby 2 – $250 to $3000
Double Crown Diamond – $7500 to $500,000
Again, no rank qualification criteria is provided.
Leadership Bonus Pools
3T Networks take 2% of monthly global sales volume and place it into two separate bonus pools.
Diamond and higher ranked affiliates qualify for a share in the Diamond Pool.
Crown and higher ranked affiliates additionally qualify for a share in the Crown Pool.
Shares in the Diamond and Crown Pools are paid out quarterly.
Joining 3T Networks
3T Networks affiliate membership is tied to the purchase of one of three packages:
Basic Trader – $149
Advanced Trader – $499
Pro Trader – $999
Based on what's bundled with each membership, the more an affiliate pays the greater their 3T Networks income potential.
Conclusion
If the notion of taking cryptocurrency advice from someone who launched an all but failed cryptocurrency seems strange, that's because it is.
Disturbingly 3T Networks' marketing material references "3T Coins".
There is no public information available on 3T Coins but if I had to guess, it's probably another attempt at an ICO.
What does that mean for anyone who invested in SigmaCoin? Who knows.
What it does show however is a lack of commitment from 3T Networks' management.
SigmaCoin failed because it's just another "me too" altcoin in an already flooded market. What will make 3T Coin any different?
Now withstanding the 3T Coin ICO being offered to US residents is a securities offering that requires SEC registration.
With respect trading, for now 3T Networks appear to only offer signals. An affiliate has to act on these signals themselves.
I did come across mention of an automated trading system in the works, which would purportedly tie up an affiliate's money for a week.
That would of course constitute a securities offering and require 3T Networks to obtain permission to offer securities in any jurisdiction they operate in.
The offered ICO reports are presumably above-board. There's no indication of past performance provided on the 3T Networks website.
My concern would be the funneling of 3T Networks affiliates into lending ICO Ponzis currently doing the rounds.
In publicly available marketing material, here's how one affiliate described 3T Network's ICO offering:
The ICO that we just got into with this company, I can't say the name of it yet but after it launches and it's done I will be able to, but there's a $10,000 buy-in.

Unless you buy in at $10,000 you're not getting into any of it.

By being a part of the 3T Networks, you are in a huge group of people.

So basically all we do is go in our backoffice and choose $100, $500 or $1000 that we want to invest or put into this ICO and buy into it.

And from there the company's gunna do it for us. It's done-for-you.
There's no grey here. If this is what 3T Networks are providing affiliates access to, they're soliciting investment on the expectation of a passive ROI, derived solely from the efforts of others.
Or in other words, a securities offering.
The same affiliate claims the mining contracts offered are for bitcoin and generate "a few dollars" a day.
This is yet another passive investment opportunity offered to 3T Networks affiliates, once again requiring permission to offer securities.
As at the time of publication Alexa estimate the US is the largest source of traffic to the 3T Networks website.
Securities offered to US residents are regulated by the SEC.
A search of the SEC's Edgar database however reveals neither 3T Networks or Daniel Schwartz are registered to offer securities in the US.
This means as far as the offering of securities goes, 3T Networks are operating illegally in the US.
That's on top of potential pyramid recruitment, as I really can't see anyone signing up for 3T Networks as a retail customer (how much this even costs is not disclosed on the 3T Networks website, only the affiliate packages are provided).
Be it directly through 3T Coin and mining packages or indirectly by pooling invested funds into external investment opportunities, 3T Networks is a minefield of securities violations.
As we've seen with USI-Tech, BitConnect and most recently R2B Coin, where the owners of a company are hiding out doesn't matter.
US regulators are now targeting MLM cryptocurrency companies offering unregistered securities to US residents, which doesn't end well for investors.
Whether 3T Networks grows large enough to trigger an investigation I can't say. But with a failed ICO already under their belt and evidently no desire to operate legally going forward, why would you even bother?