Mirollex responds: Battle of the Boris CEOs

Mirollex has issued a statement denouncing a video by its CEO claiming to be an actor.
The video features Andreas Kral, claiming to be "the real" Andreas Kral.
To quote a comment recently left on one of our other reviews: Will the real Boris CEO please stand up?
Mirollex's video was uploaded a few hours ago and appears to be a direct response to BehindMLM's article published yesterday.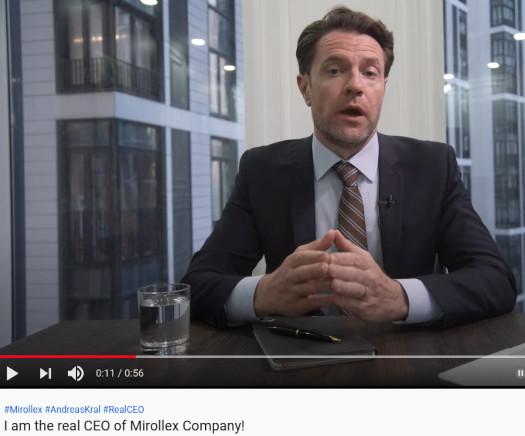 Referring to the actor video, which surfaced a week or so ago, Kral states;
All compromising videos were created with third party digital programs like Deepfake and are absolutely fake!!!

These are the dirty deeds of competitors! These are paid anti ad campaigns!
This is a reworking of the "negative reviews are paid competitor campaigns" strawman Ponzi schemes use.
I mean let's be real here, what competition to Boris CEO Ponzi schemes have? Russian and Ukrainian scammers have the fake CEO actor video market on lock.
In reference to us mentioning Mirollex's upcoming Dominican Republic event, which Kral is scheduled to attend, Kral closes out his video with "See you in the Dominican Republic!"
Pending an exit-scam between now and May 31st, I take it this means the actor playing Kral is still booked to attend.
Personally I'm not unfamiliar with DeepFakes technology. I couldn't see a single glitch in the "I'm an actor" video. There's also the issue of the voice.
The acoustics match the room and definitely doesn't sound like a dub over.
Why would someone go to all effort when Boris CEO Ponzis are a dime a dozen?
It's probably not worth wasting any effort trying to answer that but it still makes for an amusing thought.
Oh and in case anyone lacking brain cells thinks this somehow legitimizes Mirollex. Whether it's two actors or in fact a DeepFakes job, whoever Mirollex have playing Kral is an actor.
I don't have a name but I was able to uncover Mirollex's actor having featured in IBM Russia videos uploaded last October through November.

You can watch the videos yourself and make a judgment call (exhibit 1, exhibit 2, exhibit 3, exhibit 4, exhibit 5)
Up until the "I'm an actor" video, Mirollex was running the the standard "Boris CEO fronting a Ponzi" playbook.
What happens next? No idea!
In the absence of Russian regulation, it'd be funny if the organized crime outfits suspected behind the Boris CEO niche finished each other off.
Cheers to the dumbasses caught in the middle who will inevitably lose money either way.
Update 23rd May 2021 – Guess there isn't going to be a Dominican Republic event, Mirollex has collapsed.