Manna 360: LiveSmart 360 tries to reinvent itself

LiveSmart 360 was the brainchild of Mark McCool when after a decade of running his previou company, CyberWize, product orders ground to a painful halt;
In 2008 270 Cyberwize product orders were placed. In 2009 this number dropped to 26 and in 2010 the total orders placed appears to be just 3.
Facing the inevitable collapse of Cyberwize, McCool pulled the pin on the company and deployed a flashy pre-launch marketing campaign ('LockYourSpot').
Attracting thousands to the pre-launch,  McCool reinvented Cyberwize as LiveSmart 360 with the company officially launching on May 15th of last year.
Troubles began to plague the company with reports of distributor payouts being delayed and in some cases not paid out at all.
Shortly after LiveSmart 360's launch, Mark McCool wrote a blog post explaining that
During our initial pre-launch stage, some of our computer servers and software were provided by a third-party company. This impacted our ability to perform important business functions properly and in a timely manner.
Just weeks after that announcement, one of LiveSmart 360's frontline distributors (and arguably the company's second most well-known public face after Mike Potillo) Donna Valdes, took home her first $57,500 commission check and then quit.
LiveSmart 360 still managed to persist throughout the next few months, but it was hard to ignore that most of the momentum driving the LockYourSpot prelaunch campaign had been all but lost.
This seemed to climax when in June of this year the public face and President of Business Development for LiveSmart 360, Mike Potillo quit.
Following Potillo's departure, Mark McCool put together a training call and personally pleaded with what was left of his memberbase to stick with the company.
On the same call, McCool announced a financial arrangement with new investor and business partner, Chuck Hallberg. Hallberg was to bankroll LiveSmart's 'international expansion' and appeared to be throwing McCool a financial lifeline.
Four months later, the fruits of Hallberg's cash injection appear to be surfacing and McCool has reverted back to trying to capture some of the hype excitement LiveSmart 360 experienced during its prelaunch.
With the introduction of 'Manna 360', LiveSmart 360 appears set to ride the prelaunch waves yet again.
Despite LiveSmart 360 having been in business for nearly a year now and Manna 360 only being a new product, McCool has decided to give Manna 360 it's very own pre-launch date in November.
The product itself doesn't officially launch until January 2012.
If you ask me, pre-launching a product is a bit of a desperate grab for attention. I mean cmon guys, it's a product. You add it to your range, do some advertising and promotion and let your distributors get on with it.
Do you really need to have a prelaunch for a product and give it its own gala opening?
If you're trying to re-capture the large amount of the business momentum you've lost since you prelaunched over a year ago – apparently so.
Along with the launch of Manna 360 itself, McCool has also announced what he's calling the 'Founding Executive Program', because y'see… even if you join a company over a year after it first launched, you can still be a 'founding member'.
Yeah… I couldn't work that one out either.
From what I can see, the main longterm advantage of being a Founding Executive Member appears to be participation in a new bonus pool. This pool, made up of 1% of LiveSmart's global company volume, is only paid out to Founding Executive Members.
To become a Founding Executive Member, all you need to do is pay LiveSmart $999.
As a kick in the nuts to existing members, y'know members who might have actually been a part of LiveSmart 360 since it was actually founded, they too also have to pay LiveSmart $999 if they want to become Executive Founding Members.
Way to reward those that have stuck by the company!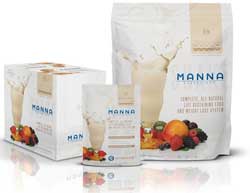 Meanwhile Manna 360 itself appears to be a milkshake weight loss system coming in at $89.99 for a one month supply.
LiveSmart 360 claim that Manna 360 is like 'a grocery cart full of whole foods in a glass that tastes like vanilla icecream!'
Will Manna 360's prelaunch campaign and LiveSmart's Founding Executive Program be enough to save the company from the same declining membership fate as Cyberwize?
Stay tuned.