LiveSmart 360 executive takes home $57,500, then quits
this is… my last network marketing company.

-Donna Valdes, ex frontline distributor for LiveSmart 360

One of the biggest cliches that exists in the MLM industry is the stereotype known as the MLM junkie. The MLM junkie is a network marketer that jumps on board a MLM business opportunity during pre-launch or the early stages of a hard launch, cashes in on the hype and then jumps ship again to another company after the hype dies down.
MLM junkies are the scourge of those trying to bring repute to the industry and are often the posterchildren for critics of MLM. After all, what better indication of non-sustainability is there than repeated post-hype slumps?
Roughly two months ago LiveSmart 360 made a big deal about its 8 top earners taking home 35% of the commission payouts and treated them to a company retreat.
One of those 8 top earners was Donna Valdes, pictured here with her giant oversized fifty seven thousand, five hundred dollar cheque;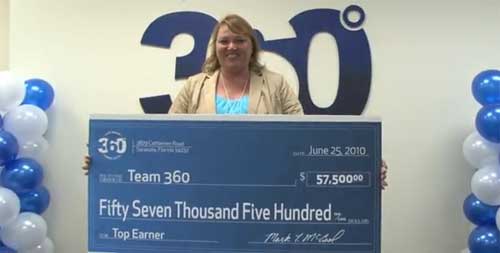 One month after taking home this financial reward for her efforts during LiveSmart 360's pre-launch hype campaign, Donna Valdes announced she was leaving LiveSmart 360.
That's right, Valdes quit her 'last ever network marketing company'.
The obvious question: Why?
As far as I know no public announcement has been made properly explaining or indicating as to why one of the top 8 earners and public faces of LiveSmart 360 quit just 2 months after pre-launch launch.
Initial indications were that all was going well, I mean credit given where credit's due – even in an industry era where importing massive pre-established downlines to new MLM opportunities is commonplace, racking up over $50,000 in first month commissions is a notable achievement.
So why would you walk away from that?
Well, for there to be a problem means there had to be a problem on one side of the business. Either the team Valdes was running within LiveSmart 360 wasn't working, or there was a problem on the LiveSmart 360 business end itself.
These of course doesn't explain the specific details of Valdes' resignation, but they do provide the only two broad logical branches of explanation as to why someone walks away from a fifty thousand dollar a month income.
Valdes ran the SuccessTeam 360 group of LiveSmart 360 distributors which she claims numbered in the thousands. This is of course where her huge commission cheque came from.
With a team this big you'd think member redundancy wouldn't be an issue but who knows. Even if it was, then the question arises as to what caused such a high attrition rate? And again even if this isn't the reason, the fact remains that something didn't work out here and that brings us back to the company itself.
If the problem wasn't on Valdes' end, than it had to be with LiveSmart 360.
To date, Valdes has remained mum on the specifics of her resignation other than stating that 'it wasn't a good fit for me.' I don't really believe someone comes to this conclusion after months of pre-launch launch preperation and dragging thousands of downline members into a new business opportunity.
Rather I believe it's the result of a post-launch slump. Despite making a big deal out of their first month commissions, LiveSmart 360 have been decidedly quiet over the past few two months.
Infact the only thing LiveSmart have published about their commission payouts is a recent blog post  from CEO Mark McCool addressing problems with their payout calculations (Note: As of October 2011 this blog post has since been taken down);
During our initial pre-launch stage, some of our computer servers and software were provided by a third-party company. This impacted our ability to perform important business functions properly and in a timely manner.

We are excited to announce that we now have all our systems in-house. In less than a week of having our systems in-house, the SmartLine has been accurately recalculated and payments are in the process of being posted to the LiveSmart 360 back office for those who have earned a bonus.
What McCool appears to be doing is blaming the commission miscalculations on an unnamed third party and stating that they've got their payouts under control. Still, would this be enough to walk away from a $50,000+ a month income?
Probably not, but it might be symptomatic of greater problems behind the scenes of LiveSmart, so to speak. I've noted the scattered reports around the internet (including here on BehindMLM) of LiveSmart 360 members complaining about commission payout problems.
Think about it, if all was well there'd be no reason to leave – much less face the public scrutiny of doing so that inevitable would follow. With Valdes' coyness as to why exactly she left I'm also tempted to say there's probably confidentiality agreements thrown into the equation too.
In a recent open letter to mlm.com forum members, Valdes stated she wasn't able to 'be the cheerleader the company needed me to be', indicating there might have been a greater contractual agreement in place between the two parties that went beyond being a standard distributor.
Whatever the reason these things usually have a habit of coming out and even if they don't, if there are greater problems with LiveSmart 360 I'm sure it'll reflect on the other top earners in the company.
Let's see what happens over the next few months. As for Valdes? She seems to be doing alright;
There are better and bigger plans for me and the team.

Where am I heading? Well, I'm not ready to make that announcement just yet.
Hopefully Valdes' new last last network marketing company works out better then her uh… last one.