Leo Cositorto, wanted by Interpol, turns up at Colombian resort

After stumping for a Ponzi supporter hoping to enter the senate, Leonardo Cositorto has turned up at a Colombian luxury resort.
Cositorto is currently wanted by Interpol on an international arrest warrant.
Individuals on social media tracked Cositorto down to Susurros del Paraiso, a luxury spa "dedicated to the physical and mental well-being of people".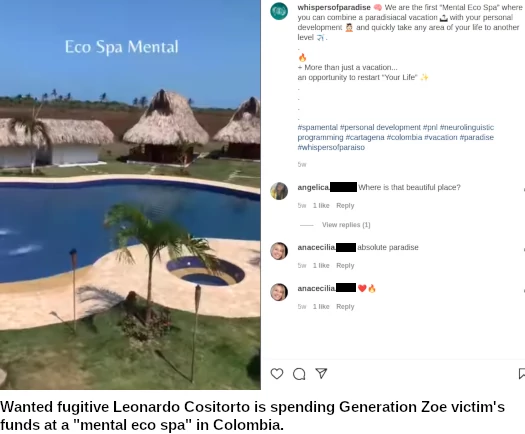 As reported by Informacion, a group of individuals, headed up by Argentinian activist Pablo G. Salum, tracked Cositorto over Twitch and Twitter on Tuesday night.
Pablo G. Salum featured as a guest of the computer scientist Javier Smaldone, who has been tracking Cositorto's scamming on Twitter for months.

At one point in the meeting, Smaldone shared an old video that a Twitter user had sent him where a woman is heard thanking Cositorto for "this wonderful place that we created."

The clip shows a residential complex with cabins and a large swimming pool, very similar to the one that could be seen in the background in a video message sent a day earlier by Cositorto to his followers.

The hundreds of viewers following the talk on the two platforms then began searching Google for hotels with cabins near the coast in Colombia, and even tracking places with these characteristics through Google Maps.
That search led to Susurros del Paraiso.
Further investigations uncovered Generation Zoe promoters have held events at Susurros del Paraiso for months.
Cositorto's Generation Zoe Ponzi scheme collapsed last month. Argentinian authorities raided the scams Argentinian offices and made several arrests.
Costorto had fled Argentina, prompting authorities to issue an international arrest warrant through Interpol.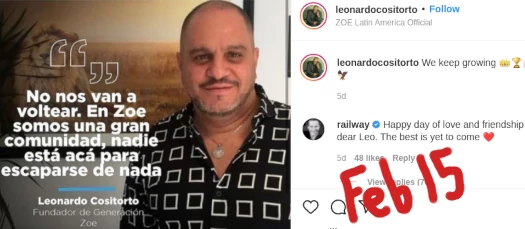 Despite Cositorto making several public appearances, Colombian authorities have yet to act on the warrant.
Update 18th March 2022 – The guy running Susurros del Paraiso is a prominent Generation Zoe promoter because… well of course he is.
Sergio Varela (aka Serge Varela), cites himself as a Managing Partner of Susurros del Paraiso: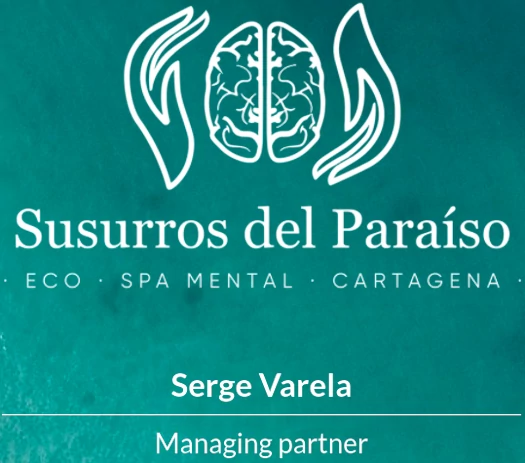 Varela seems to own the place, or at the very least be running it.
Here's Verela getting down and dirty with Leonardo Cositorto: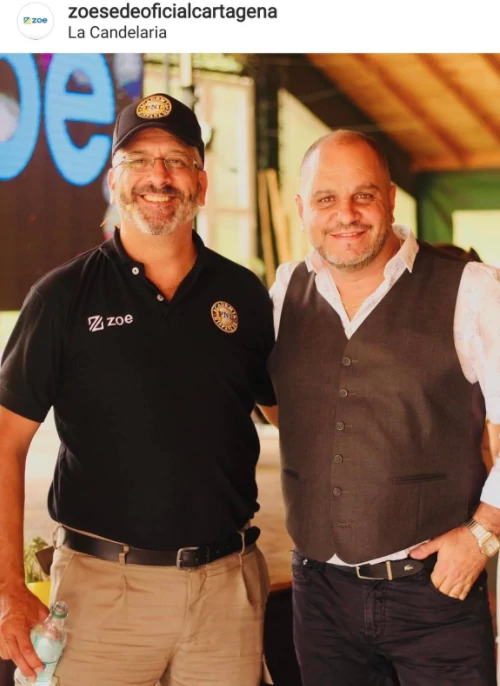 The other logo on Verela's shirt is PNL Academia Hispana: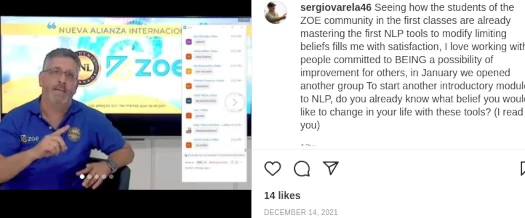 As above, PNL is some training course Verela has integrated into his Generation Zoe promotion.