Kannaway sells distributor & customer info to TranzactCard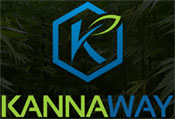 Kannaway appears to have sold its distributor and customer database to TranzactCard.
This is based on a communication sent out by Kannaway earlier this week, advising distributors and customers they've been "pre-enrolled into Tranzact's system".
As BehindMLM understands it, this was done without prior notice or consent of Kannaway's distributors and customers.
The first Kannaway's distributors and customers heard their information had been sold was on July 24th.

In a published email FAQ, Kannaway advised its distributors it had entered into a "strategic alliance" with TranzactCard.
TranzactCard is a great fit for you and Kannaway because it provides additional leverage for your customers and additional income potential for you without interfering with your Kannaway business.
On whether Kannaway intended to merge with TranzactCard, the company stated
Kannaway and TranzactCard are separate companies now and will remain separate as we move forward.
Instead, it appears Kannaway management have taken compensation position(s) in TranzactCard. The hope now is Kannaway distributors and customers will build a TranzactCard downline under them.
This isn't a problem if it's done with notice. But that's not what Kannaway did.
As a Kannaway Entrepreneur enrolled prior to July 6, 2023, you and your previously enrolled downline have already been pre-enrolled into Tranzact's system.

Kannaway Customers are linked to their enrolling Entrepreneur, but they will not appear in the TranzactCard tree along with Entrepreneurs.
There is a voluntary "activation" step required, but the personal data has already been sold.
Your priority pre-enrolled position is based upon your current status in Kannaway's system.
As a customer of any business, I'd certainly be ticked off if my personal and financial data was sold to a third-party without my knowledge or consent.
As of July 24th, Kannaway distributors and customers have 60 days to activate their TranzactCard position. After which, purportedly "unenrolled positions will be removed".
Why Kannaway has monetized its distributor and customer data is obvious: money.
I don't have access to financials but, at least based on website traffic, Kannaway is likely in a rough financial spot.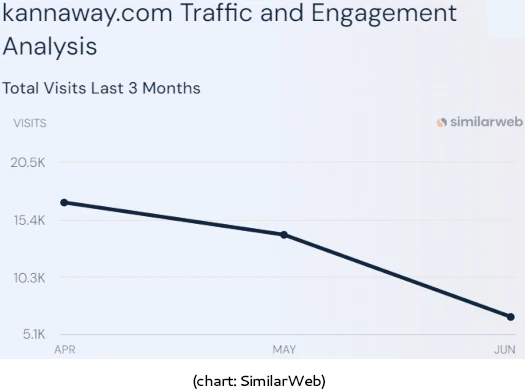 Kannaway is owned by Medical Marijuana Inc., whose share price has plummeted from 1.3 cents to 0.3 of a cent year on year.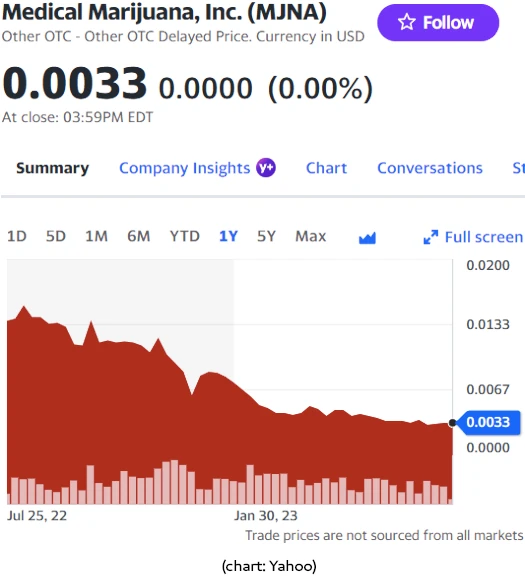 Kannaway doesn't have a FaceBook page but does link to Medical Marijuana Inc. accounts.
Medical Marijuana Inc. stopped updating its FaceBook and Instagram pages in March 2023. The company's official YouTube channel was abandoned four years ago.
Kannaway is the second MLM company to funnel its distributors into TranzactCard.
Failed MLM crypto company iHub Global began funneling its investors into TranzactCard earlier this month.
Update 25th August 2023 – At least one Kannaway executive is now confirmed to have also jumped ship for TrazactCard.
On August 15th TranzactCard announced William Andreoli has signed on as President of USA Sales and Distribution Division.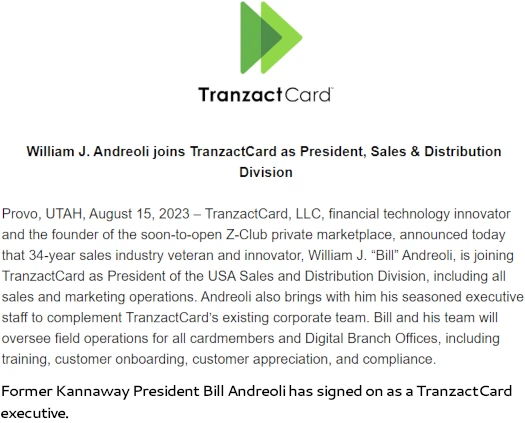 Andreoli was appointed President of Kannaway last October, as part of parent company Medical Marijuana's acquisition of Mfinity Global.