Kannaway Prelaunch Review: Hemp & MLM?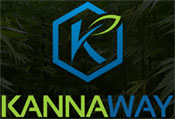 Despite a video on the Kannaway website informing me that 'on February 28th this site will begin actually morphing into our actual prelaunch website', it appears the company is still in this pre-prelaunch stage.
Official Kannaway prelaunch compensation plan documents I've cited in my research for this review confirm this is the case, stating
'The Buzz Campaign' will run from March 1st – March 31st at which time everyone who enrolls will be placed into one company wide Powerline structure based on the time and date of enrollment.
Due to international laws regarding the sale of cannabis products, Kannaway are currently slated for operation within the US.
And yes, Kannaway's pre-prelaunch actually has its own compensation plan – more on that later.
At the time of publication the Kannaway website is little more than a sales capture page, demanding visitors enter in identification credentials before revealing anything beyond Kannaway being 'a hemp lifestyle company with cutting edge CBD Rich Hemp Oil Products'.
A marketing video features on the site, heavily emphasizing the distinction between hemp and marijuana (which is admittedly likely to be an instantaneous association most people are going to make with Kannaway when they hear the word "hemp"):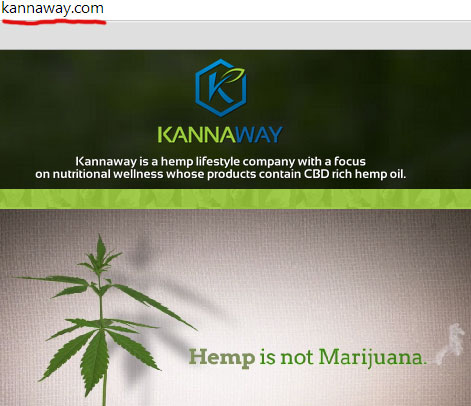 Other than a video on hemp's history though, the Kannaway website fails to provide any additional information on the opportunity unless a visitor 'enters (their) sponsor's ID number'.
No ID? no information.
Personally I felt that the whole "we are not a druggie culture marijuana company" video was rather undermined by the whole "buzz" prelaunch. Certainly a better use of the Kannaway website would be providing even the most basic of company information?
Anyway I suppose that's where I come in. Read on as BehindMLM pulls apart and dissects Kannaway's "The Buzz" prelaunch campaign.
The Company
Kannaway lists an address in California on their website, so presumably this is where they are located. Details on who is running the company were initially sketchy, as Kannaway's website domain was registered anonymously on the 7th of January.
A Kannaway "tonight is not an answers the questions night" Google Hangout held in late February was hosted by Christopher Hussey (credited as Kannaway's Chief Technology Officer).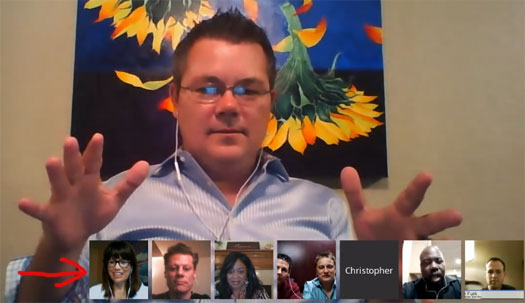 Hussey is quite active on YouTube ("CGHussey"), with past videos showing past involvement in Power Lead System (lead generation), Solavei (cell service) and NuSkin (personal care).
Early on into the hour-long broadcast, Hussey introduces the other speakers on the conference. From left to right along the bottom, the other speakers on the Hangout are:
Sugar Jones (?)
Hussey simply introduces Sugar as the person who is "running the deal" (the Hangout, not Kannaway). Beyond that I'm not sure what her official position is within the company.
Seth Fraser (Field Leader)
Seth Fraser first popped up on BehindMLM's radar back in 2011 with the launch of "That Free Thing". Based on the idea of charging people for free stuff, the opportunity flopped shortly after launch.
That Free Thing was the predeseccor to Freebie Force, a similar opportunity Fraser launched back in 2007.
More recently Fraser launched Uneeqlee in mid 2013. Uneeqlee had no retail offering and was pretty much a stock-standard recruitment driven opportunity. Not surprisingly, it too went nowhere after launch.
At the time of publication the Uneeqlee website is still up and crediting Fraser as the company's CEO and Founder. Whether or not the site will be pulled now that Fraser is involved in Kannaway is unclear.
Moni Patterson (Field Leader)
Moni Patterson has previously been an affiliate in the now defunct Minerva Rewards (personal care and weight loss) and Evolv (health and nutrition).
Troy and Jason (?)
Hussey credits "Troy" with "pulling the strings" behind Kannaway, however his specific position or full name is not disclosed. Based on what he talks about in the Hangout, Troy appears to be involved in the product-development side of the business.
Charles Vest (?)
Charles Vest appears to have microphone problems so doesn't initially speak on the Hangout. Further research however reveals him to be the Vice-President of Communications at HempMedsPx. This company appears to be the product supplier for Kannaway, but we'll go more into that in the "Kannway Products" section of this review.
In addition to HempMedsPx, on his LinkedIn profile Vest also credits himself as a "Marketing Director" with World Ventures. World Ventures is a long-running travel niche recruitment-driven scheme, with the company recently being declared a pyramid scheme in Norway.
Vest lists his involvement with World Ventures dating all the way back to 2005, during which he claims to have
created a team of over 6000 reps and trained them regularly to achieve maximum resuls (sic).
Kannaway does not appear on Vests' LinkedIn profile, so his position within the company is not immediately clear.
Billy Funk (?)
Billy Funk, like appears to be involved in the affiliate marketing side of Kannaway, but no specifics were discussed on the Hangout.
On his Facebook profile Funk credits himself as the Chief Marketing Marketing Officer of "Plus Marketing", with Plus Marketing's own Facebook profile stating it's
Plus Mastermind is a course and education website that teaches the principles of Google Plus marketing, strategy, and much more.
Funk seems to focus heavily on what he calls "reverse marketing". On a YouTube video published on March 9th 2013 titled "Reverse Marketing 101 for Network Marketing", Funk shares one of his MLM marketing strategies. Funk, using Amway as an example, advises viewers to
type in Amway (into Google and) put in parenthesis any area code around the country.

I would hit search and I would start clicking on every link that was generated under that search box. And what you're gunna find is a lot of reps with their phone numbers – and I would start calling them.

If I was to call you and you were an Amway rep, or you were previously an Amway rep and your name was "John", I would say:

"Hey John this is Billy Funk. I'm an entrepreneur and I was actually researching Amway online (and) I'm just cuious; Are you still active with Amway?"

Right away, however he answers that, you're gunna find out if he's still working Amway. Anything other than "Amway is absolutely fantastic. I love it, how can I help you?"… (and) you know that Amway is not working for him anymore.

I ask them questions a build a repoire, it's almost like an interview… and they won't even know what hit 'em.

At some point during the conversation though I'm gunna say:

"Well hey John, y'know I'm an entrepreneur like yourself. I love working with sharp people and I've got one question for you: "Do you keep an open mind when it comes to making additional income outside of Amway, or are you married to that company?""

And you pause. You mute yourself and you wait for him to say "yes".
Jeff Rogers (Founder, CEO & President)
Jeff Rogers is referred to as "the CEO" on Hussey's Hangout, however I don't believe he is mentioned by name. Being the CEO of Kannaway I've nonetheless included his name on this list for obvious reason.
I did try to research Rogers' MLM history but failed to turn up anything specific beyond Kannaway.
The Kannaway Product Line
Kannaway's product line revolves around hemp, specifically as an oil. During their "buzz" prelaunch phase, Kannaway are offering two products:
a "Cannabis Beauty Defined Salve" for $50 and
a cannabis vapor inhaler called "HempVap" for $70.
Note that both products can be bought together as a combo pack for $125.
As mentioned earlier, Charles Vest works (worked?) for HempMeds PX, and they appear to be behind Kannaway's initial product offering.
Kannaway's salve appears on the HempMeds PX website as "CibaDerm", retailing for $49 a tub.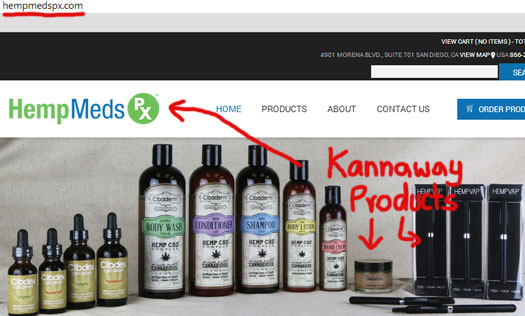 As above, HempVap also appears on the HempMeds PX website, however unless I'm missing something obvious it does not feature directly in their online product catalogue.
HempMeds PX have a wholesale program, which apparently anyone can sign up for:
Thank you for your interest in becoming a wholesaler. If you are a company or sole proprietor looking to expand your sales and marketing base, HempMedsPX offers a flexible wholesale program that is designed to accommodate wholesale customers worldwide.

Whether you are a small dispensary, a chiropractor, private practitioner or retail chain, our wholesale program offers organizations and individual practitioners substantial savings on bulk purchases of all HempMedsPX™ products.

HempMedsPX will handle the logistics and fulfillment for each sale no matter how large or small.

In addition to our streamlined logistics capabilities, our wholesalers have access to our suite of affiliated and informational sites that direct sales to the HempMedsPX portfolio of products.

We want to make the process from sale to store as easy and as profitable as possible for you!
Other than the possibility of Charles Vest I can't see any corporate cross-over between the two companies, so presumably Kannaway have simply signed up as a wholesaler of HempMeds PX.
The Kannaway Buzz Launch Compensation Plan
The Kannaway Buzz launch compensation plan revolves around the recruitment of affiliates and the mandatory purchase of Kannaway products.
In a nutshell, affiliates sign up and then are required to purchase Kannaway products to secure their position in the company's compensation plan. Affiliates who do not purchase Kannaway products are sent to the back of line and given another three days to make a purchase.
Once an affiliate has purchased their Kannaway products compensation plan position, they are locked in the queue.
Then, at the end of the Buzz prelaunch period, all the money Kannaway collected from affiliates is pooled and paid out to those who did the most recruiting during the prelaunch.
After the Buzz prelaunch Kannaway will require affiliates to pay an "IBO fee" (purportedly $15 a month). Once they've done this they'll be eligible for shares in one of twelve pools. Note that the recruitment criteria below is for the duration of the Buzz prelaunch period.
Pool 1 -recruit 1 to 3 affiliates
Pool 2 – recruit 4 to 6 affiliates
Pool 3 – recruit 7 to 9 affiliates
Pool 4 – recruit 10 to 12 affiliates
Pool 5 – recruit 13 to 15 affiliates
Pool 6 – recruit 16 to 18 affiliates
Pool 7 – recruit 19 to 21 affiliates
Pool 8 – recruit 22 to 24 affiliates
Pool 9 – recruit 25 to 27 affiliates
Pool 10 – recruit 28 to 30 affiliates
Pool 11 – recruit 31 to 33 affiliates
Pool 12 – recruit 34 or more affiliates
Money in the pools is determined by the sales volume generated by all the affiliates in any given pool. An affiliate's individual share in the pool they qualify for is determined by the amount of sales volume that occurred under them in the prelaunch straight-line queue.
Joining Kannaway During Prelaunch
Kannaway don't charge affiliate fees per say, however all affiliates must make a purchase if they wish to acquire a position in the company's prelaunch compensation plan.
Thus the defacto affiliate membership fees for Kannaway's prelaunch are tied to their product prices ($50 – $125).
Conclusion
I'll let you draw your own conclusion about the lack of information put out by Kannaway on their corporate management. Save to say that, based on the names of those involved that have been made public, the company appears to be attracting a specific type of network marketer (recruitment-orientated).
While we can't comment on Kannaway's launch compensation plan, what I can tell you now is that there are some major red flags evident with their prelaunch model.
First and foremost is the glaring requirement of mandatory product purchases by affiliates to qualify for commissions. Simply put, if an affiliate does not make a purchase, they don't get a prelaunch position and no commissions are earnt.
Thus what is actually being traded here are positions, with purchases being made on the implied future promise of commissions paid out greater than the product purchase itself.
Kannaway are quite openly honest about this, which is worrying:
Pre-enrollees must purchase one of the three retail product packs within their first three days of enrolling to secure their position in the Powerline.

Pre-enrollees who do not purchase one of the three retail product packs within three days will forfeit their position and be placed in the next open position at the bottom of the Powerline structure and given a new time and date for their enrollment.

Again, a position is not secured until the Pre‐enrollee purchases one of the three retail product packs. This process will continue until March 31st when The Buzz Campaign ends.
Forcing affiliates to purchase any product to qualify for commissions is a red flag in MLM as it calls into question the motivation behind the purchase. Here you have Kannaway openly telling affiliates that if they don't make a purchase, they'll lose their spot in the compensation plan.
Thus the value of the Kannaway products themselves is deemed irrelevant under the guise of affiliates purchasing "Powerline positions".
As an aside, I'm at a loss as to why Kannaway refer to these affiliate purchases as "retail packs". Clearly affiliates purchasing product from the company is not retail.
Things only get worse when one considers that all of this prelaunch affiliate money is then divvied up and paid out to those who did the most recruiting. If an affiliate joins Kannaway, makes a purchase and recruits nobody – they get squat.
This is foundation Kannaway are building their MLM opportunity on, so expectations on the legitimacy of their company in the future are already soured. When you launch a prelaunch that's so blatantly focused on affiliate recruitment (retail sales aren't even possible), you can be guaranteed to attract the cross-section of MLM regulars who flock to these sorts of schemes.
Effectively those that purchase their Kannaway prelaunch compensation plan position the earliest stand to make the most post-launch. This characteristic is in line with your typical pyramid scheme, and to be perfectly blunt I'm not seeing any distinction here.
No doubt some Kannaway affiliates will proclaim the presence of products marks the company apart from a pyramid scheme, but when you're forcing affiliates to make purchases and pay fees just to qualify for commissions, and said commission funds consist 100% of affiliate money, having products or not is entirely irrelevant.
Affiliate money flows in and is then paid out pro-rata to those who did the most recruiting.
On the product side of things I'm not really sure how HempMeds PX selling their products in direct competition with Kannaway is going to work. The two products the Kannaway are launching with both appear to be retailed by HempMeds PX at the same price Kannaway are charging affiliates. Whether or not Kannaway will increase the cost once these products are offered to actual retail customers is unknown.
Even if they don't though, the possibility of Kannaway being undercut by HempMeds PX if they have a sale is a bit awkward. Kannaway, having to pay out affiliate commissions, is going to have a hard time competing. And if not with HempMeds PX directly, than surely with the company's other wholesalers?
If I can buy HempVap from another HempMeds PX wholesaler at the same price or cheaper than at Kannaway, as  retail customer I'm at a loss as to what the incentive is. Short of the income opportunity, there doesn't appear to be any real value within Kannaway.
Things get even murkier when you consider that the corporate address provided on the Kannaway website matches an address listed on several "Kannaway LLC" trademark applications: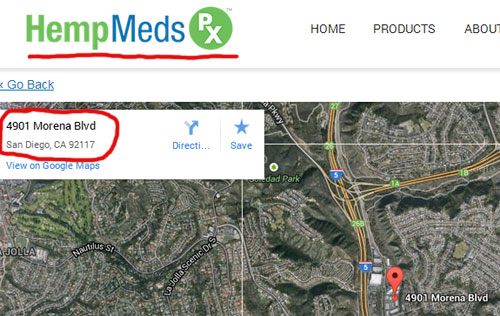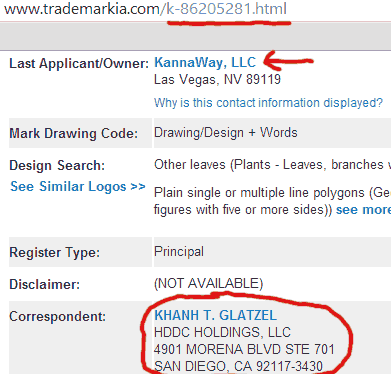 Surely if this is one and the same company that would at least warrant a mention somewhere on the Kannaway website?
Also note that Kannaway LLC is listed as a Nevada corporation. This is not what is presented on the Kannaway website, with the company clearly giving off the impression they are based out California: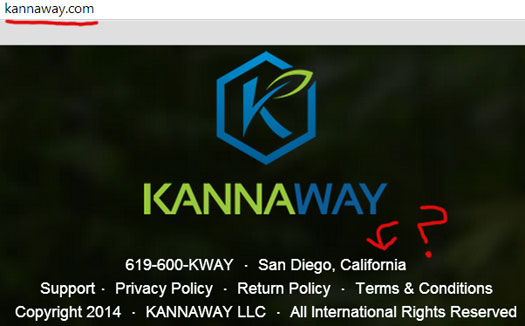 And whilst I'm certainly not suggesting anything nefarious happening over at HempMeds PX (by association with Kannaway or otherwise), I can't help raise the potential regulatory red-flag with the name "HempMeds PX".
Oh and did I mention that HempMeds PX is 'a corporate portfolio company of Medical Marijuana, Inc.'?
"Medical Marijuana Inc.??? What was all that crap about hemp not being marijuana then?! With Kannaway it clearly is, even if in name only.
Without a doubt that the name HempMeds PX sounds pharmaceutical in nature (and Medical Marijuana is a no-brainer) and… well we all know how the FDA feels about MLM companies and medical claims.  When the company's own name itself is somewhat suggestive, that leaves the door wide-open for affiliates to abuse how it sounds in their marketing.
And if they aren't now I can guranatee you some bright spark is eventually going to try to capitalize on HempMeds PX or Medical Marijuana's pharmaceutical-sounding company names.
Finally I think the type of product Kannaway are going to market also needs to be considered. No I'm not going to lecture you on marijuana or help – you guys can make up your own minds on that. But by and large I imagine most Kannaway affiliates are going to memorize their answer to "isn't this just marijuana" pretty quickly.
There's just no getting around the fact that to most of the population (in the US or elsewhere), hemp = marijuana. And Kannaway certainly aren't doing themselves and favors by referring to their Prelaunch as "the Buzz" campaign. Ditto adopting the tagline "aspire higher" too:

And the vapor product?
I predict that a great deal of time is going to be spent convincing people that Kannaway's product line isn't just a different way to get high.
Yeah I get it, it's hemp… but you're going to show me a huge-ass video on explaining how hemp is not marijuana and then get all tongue in cheek with the drug culture references? Cmon guys.

The take-away?
On its own the Kannaway prelaunch compensation plan is massively problematic at best. It's basically a recruitment game with defacto affiliate fees pooled and paid out to top recruiters post prelaunch. The hit and run numbers are going to be astronomical.
Couple that with hemp… and whilst the chemistry might be different, separating themselves from marijuana culture (especially with all the legalisation going on now), is going to be Kannaway's biggest challenge.
Well, maybe second after retaining all the top-recruiters who are going to bail after those bonus pools have been paid out (it's a one-time payout).