InfusionSoft cut off ILN for being "get rich quick scheme"

Readers began contacting BehindMLM late last week advising that Internet Lifestyle Network affiliates were locked out of their InfusionSoft accounts.
InfusionSoft play a critical role in the day-to-day operations of Internet Lifestyle Network (ILN), providing the sales and commission tracking for affiliates company-wide.
At the time, ILN were circulating the reason behind the lockout as server issues on InfusionSoft's end. This appeared to be based on information provided to ILN management from InfusionSoft themselves.
Information I received pointed to InfusionSoft cutting off ILN due to concerns about the company's business model itself, however other than reports from readers, I couldn't find anything official from either ILN or InfusionSoft confirming this.
Quite obviously though, something was up between the two companies and finally, in a YouTube video uploaded by ILN co-founder Vincent Ortega Jr. yesterday, what exactly is going on was revealed.
Turns out InfusionSoft think ILN is a "get rick quick scheme".
[01:59] InfusionSoft has a new policy over there, (where) they don't allow companies like ours to work with their system anymore.
At first glance, it would appear InfusionSoft's purported policy changes might prohibit MLM companies from signing up as clients, however this doesn't appear to be the case:
[02:12] We told them (InfusionSoft) over a year ago that we wanted to go four levels deep, which turns it into a sort of affiliate network marketing company, and they were totally fine with that.

[02:24] It was just a couple of months ago they were telling us that they've changed their guidelines now to where they don't want to do anything like that.

So now they categorise us as a get-rich-quick scheme.
Dismissing any due diligence InfusionSoft's own compliance and legal department might have conducted into ILN, Ortega instead blames the shutdown on "scammers and spammers":
[00:09] There's people that target these companies to try to shut them down.

[06:24] For whatever reason, the scammers or spammers are really contacting InfusionSoft hard and trying to get our company shut down. And they've done a great job.
If Ortega is to be believed, InfusionSoft are completely incapable of assessing the business model of their clients. He instead contends that InfusionSoft populate their compliance and legal departments with mindless drones:
[06:57] All these people are doing, who'd say "hold on this account" or whatever, or "stop this account activity", is they're just people working behind a computer desk that look at statistic numbers and look at emails coming in and say, "Well, this is what we have to do in this situation and this is it".

But if they don't feel the community at whole, their heart, their spirit, their mind, their soul, what else do they have to go off of?

[05:34] All InfusionSoft knows, is a couple of scammers saying "Internet Lifestyle Network is a pyramid scheme".

[09:15] All they know is that where you bring people in to make money. They don't understand our products.
What ILN's products have to do with regulatory compliance though, I have no idea. As per the May 2014 BehindMLM review of ILN, the company appears to have no retail offering whatsoever.
This means that all revenues generated by the company are sourced from affiliates. This same revenue is then paid out to ILN affiliates, primarily based on the recruitment of new affiliates.
In the video, Ortega reveals the extent to which ILN is receiving funds from newly recruited affiliates:
[04:35] Two months ago we did $500,000, this last month we did over $630,000 or something like that. It's crazy.
Not withstanding "profit guarantees" featured on the ILN website and claims by Ortega himself that ILN generates money "on autopilot". But uh yeah, as ILN's payment processor, InfusionSoft couldn't possibly give a crap about any of that… rogue "scammers and spammers" is obviously a more plausible explanation.
Whether or not any company funds have been frozen as a result of InfusionSoft shutting down ILN's account is unclear, but as it stands now ILN's business operations have come to a complete stand-still.
Ortega advises that he's in talks with InfusionSoft to get their account opened back up, but evidently has little confidence in corporate negotiations. Instead, Ortega seems to think that getting that ILN affiliate-base to spam InfusionSoft might encourage them to reverse their decision.
Providing the email addresses of InfusionSoft's abuse, sales and billing departments, along with that of Zachary Sverdrup (InfusionSoft tech support), Ortega urges ILN affiliates to flood the company with emails titled "Please bring Hoverson InfusionSoft application back":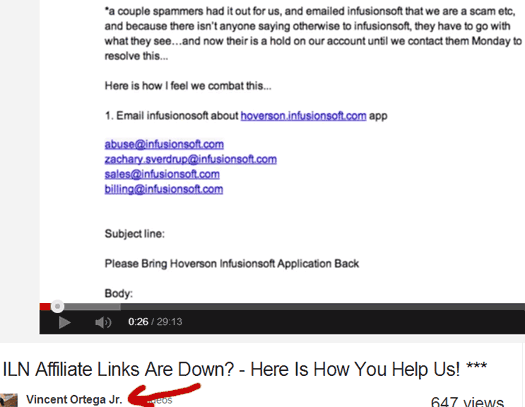 The app account in question belongs to Mark Hoverson, who is another of ILN's co-founders. According to Ortega, Hoverson's account with InfusionSoft is "ten years old". The account appears to have been problem-free until ILN's business model was attached to it.
Believing that copious amounts of spam might trump any due diligence InfusionSoft themselves conducted into ILN, Ortega suggests affiliates send InfusionSoft their "life-changing" stories.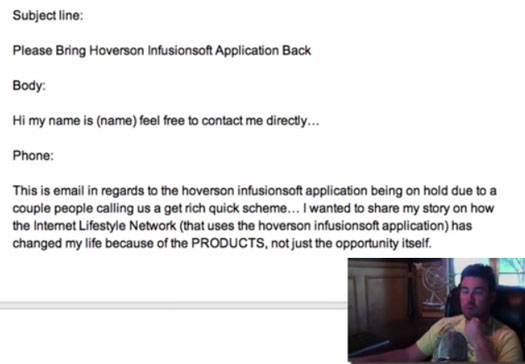 [3:18] (InfusionSoft) need to see that we have products, that people's lives are being changed and all that stuff that we promise. Um, because there are people out there now, that becuase we're so big they're trying to attack our system.
Ortega mentions that recently he had his YouTube account shutdown, and after getting his affiliates to flood YouTube with complaints, had the account restored. Success with YouTube would appear to be behind Ortega's hoping that a repeat performance might work with InfusionSoft too.
And if it doesn't, Ortega mentions that ILN were supposedly getting ready to dump InfusionSoft "anyway":
We're currently moving off of InfusionSoft anyway, (but) we need this to temporarily keep running so you all can stay getting paid through the transition.
Ortega's mention of him personally "watching" how people react suggests that affiliate reactions to InfusionSoft's move are mixed.
Stating that he loves ILN, Paul Darby recently put out a video announcing that he's dropped the company from his co-op downline feeder platform.
On ILN's Facebook page, Darby is credited as being the sixth highest earning affiliate for the month of May: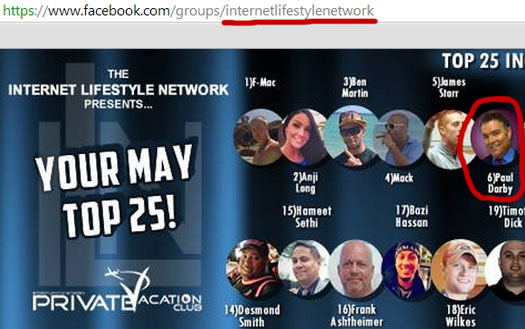 Darby, who blames InfusionSoft's decision on "the Jerry Springer crowd", claims that the shutdown of ILN will cost him "ten to twelve thousand a month". Darby is no stranger to recruitment-driven schemes, having launched his own late last year.
YouGetPaidFast was a cash gifting scheme that charged affiliates $28 to qualify to receive $28 payments from newly recruited affiliates. When the inevitable recruitment slump hit, Darby launched "My New Internet Business". This served as a $100 second tier to the original YouGetPaidFast scheme.
Noticeably frustrated, in his latest video Darby reveals the fate of both schemes:
[07:45] I had a program recently called MyNewInternetBusiness, it was literally my pride and joy. And we had some people go "oh they're, y'know scammers", and our merchant account got shut down and all the money got seized and it literally broke my heart.

And I had so many people, just thousands that just… and we lost our merchant account.

And as soon as they came back up, I put the other merchant account back on. And they go "Oh well if that merchant account shut you down then…"

So we went to lawyers and attorneys and I spent everything I had and borrowed everything I could, self-funded everything…
As I understand it, at the time of publication Darby's YouGetPaidFast and MyNewInternetBusiness funds remain seized.
Sound familiar?
It should. In both instances (ILN and Darby's companies) you have businesses with no retail activity taking place. Rather than acknowledge this regulatory red-flag though, the owners instead blame "scammers and spammers" and "the Jerry Springer crowd".
Gotta love those MLM underbelly conspiracy theories…
Update 11th June 2014 – Less than 24 hours after this article was published, Vincent Ortega deleted the YouTube video referenced in this article. I haven't been able to find a reason why.