Brazilian authorities execute iFreeX search warrants

In what is either the mother of all coincidences, or proof Sanderley Rodrigues was running the scheme, the iFreeX website went offline within days of Rodrigues' arrest for visa fraud.
Over a year since the iFreeX website went offline, authorities in Brazil have now acted on four search warrants connected to an investigation into the scheme.
On Wednesday morning (June 15th) Federal Police initiated "Operation Mintaka".
Operation Mintaka aims to 'dismantle a criminal organization who, without authorization of the competent authority, distributed securities'.
A press-release issued by the Brazilian Federal Police states;
Federal police have complied with 4 search warrants, in the Holy Spirit, Paraíba, Mato Grosso and Bahia.

As per our investigations, the group announced astronomical profits for those who join the network and acquire a certain application to send messages to smartphones, created especially by those involved.

The goal, however, was not to sell the application, but rather to seek to enlist the largest number of people. The product was therefore just a device used to conceal fraud.
BehindMLM concluded as much in our own iFreeX review (September 2014).
As announced on the Internet, the group has offices in Belize, Hong Kong and Panama and operations in different countries.

The organization ran from November 2014 to May 2015 and ended its activities shortly after the leader of the organization fled the country and was arrested by US authorities.

Unlike other organizations in the past who have developed similar illegal activities to those that are currently being investigated by police, this group chose not to create a formal company in Brazil with the aim of hindering law enforcement activity.
The release doesn't mention iFreeX by name but from the included information it's pretty obvious who "the organization" being investigated is.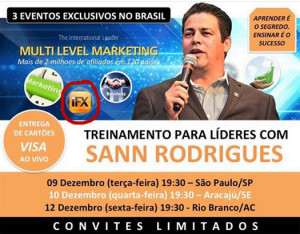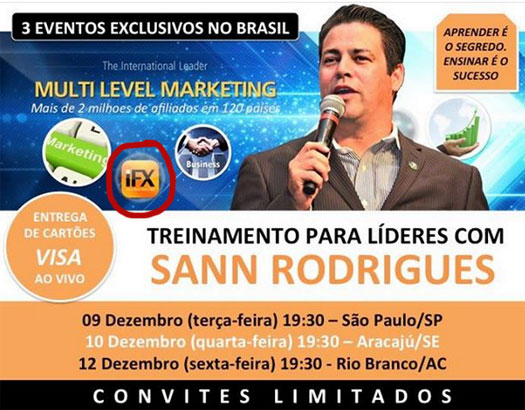 Rodrigues for his part maintains that he is not the owner of iFreeX. He is currently wanted by authorities in Brazil for tax evasion and failing to obey a judicial order.
In an "exclusive interview" with Gazete Online, Rodrigues answered "I don't know" when asked who the owners of iFreeX are.
My role in Ifreex was only independent distributor.

I was just doing a lecture at an iFreeX event. I do not run the company.
Rodrigues heavily promoted iFreeX on social media and was the organizer of all of their public events.
When asked if he lost money in iFreeX, Rodrigues replied "I do no want to talk about my losses in iFreeX". Rodrigues also didn't want to talk about the current status of his visa fraud case.
Looking forward, Rodrigues claims to have moved on from MLM.
You said to have abandoned the multilevel marketing. How do you live now?

I'm a lecturer, I sell courses, my lectures and earn money from it.

I had a life before Telexfree, before any multilevel marketing I did. I earned a lot of money with my talks and workouts.
For some reason Rodrigues failed to mention his new role in trucking admin. I guess he just didn't want to talk about that either…
As of yet no information has surfaced on whether authorities learnt anything from the iFreeX raids yesterday. We'll keep an eye out for any updates.