Blockchain Global losses climb to $48.9 million AUD

Blockchain Global investor losses, originally pegged at $21 million, have now climbed to $48.9 million AUD (~$34.8 million USD).
Blockchain Global's adjusted investor loss amount is a result of ongoing liquidation proceedings in Australia.
Blockchain Global, a cryptocurrency exchange owned by Ryan Xu and Sam Lee (aka Zijing Xu and Xue Lee), collapsed in October.
As reported by Australian media;
Failed exchange Blockchain Global, which operated the ACX cryptocurrency platform, was originally thought to owe $21 million, according to administrators Pitcher Partners.

But 107 claims have now been submitted, taking the money owed by the company up to $48.9 million, Andrew Yeo, the administrator in charge, told The Australian.
In the months leading up to Blockchain Global's collapse, Xu and Lee fled to Dubai. They have since gone into hiding and are refusing to cooperate with liquidators in Australia.
Documents lodged in relation to Blockchain Global with the Australian Securities and Investments Commission showed creditors are owed amounts ranging from a few thousand to as high as $8.3 million.

Uncovering the state of the company's finances had been complicated with directors residing overseas.
Xu and Lee ditched Blockchain Global to focus on their HyperTech Ponzi schemes; HyperCapital, HyperFund and now HyperTech.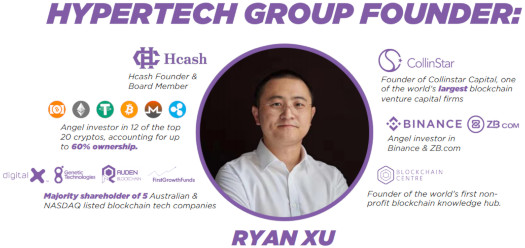 Hyperverse is a reboot of HyperFund. HyperFund itself is a reboot of HyperCapital.
Unlike HyperCapital, which collapsed, Xu and Lee managed to launch Hyperverse before HyperFund officially collapsed.
How close HyperFund was to collapsing prior to Hyperverse's launch is unclear.
As of yet Xu and Lee have yet to surface. The pair have only made an appearance via undated pre-recorded video, shared a few days ago as part of Hyperverse's virtual launch event.
It is believed the entire hour and a half presentation was pre-recorded.
Hyperverse's website went live over a week ago but remains mostly non-functional. In addition to various Hyperverse front-end assets, affiliates are able to log in to the old HyperFund backoffice and see their monopoly money balances.
BehindMLM can reveal Hyperverse's website design is an off-the-shelf template:

Nextgen by Craftengine costs $79 USD. From the developer's online store;
Nextgen – ultimate multi-purpose video gaming and eSports Webflow template & UI Kit.

Nextgen template was carefully crafted with the latest gaming design trends.

You will have a premium website and a great start for your new release.

This template contains everything you may need, all in one place.
Presumably, whatever crappy game Hyperverse hides its NFT Ponzi scheme behind, will also be an off-the-shelf solution.
Hyperverse's website domain, "thehyperverse.net", was only registered a few weeks ago on November 18th.
"Caden Li" is listed as the owner, through an incomplete (and presumed bogus) address in Dubai.
Whether Caden Li actually exists is unclear.