HyperCapital Review: HyperCash resurrection Ponzi scheme

HyperCapital's website provides no information about who owns or runs the company.
A HyperCapital marketing presentation claims the company is "founded by crypto industry giants". Ryan Xu, founder of HyperCapital, is the only HyperCapital executive named.
Although Xu is presented as a "crypto giant"…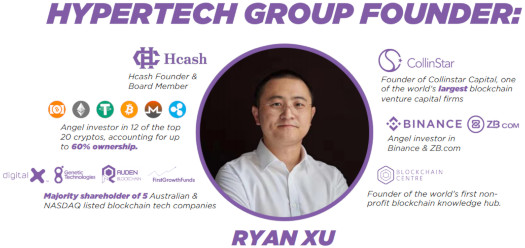 …in reality I couldn't find anything other than a few failed cryptocurrency company launches. You know the deal, blockchain this, blockchain that – launch after launch and nobody cares.
I'm not going to follow every Ryan Xu rabbit hole (because there's no point), but with respect to HyperCapital you have HyperTech Group: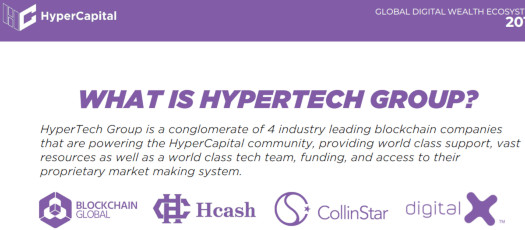 Inside HyperTech Group you have Blockchain Global, HCash (HyperCash), CollinStar and Digital X.
Blockchain Global claims it's "funding the future of blockchain". The company's website currently has an Alexa ranking of 1.9 million (#RIP).
HyperCash (HC), "formerly known as Hcash" according to CoinMarketCap, is an altcoin launched mid 2017.
HC pumped to $43.17 in August 2017. The typical shitcoin dump followed and HC is currently trading at $1.22 (#RIP).
CollinStar bills itself as a "venture capital company in the City of Melbourne, Australia".
The company's website (as per their official Facebook page), appeared to be down at the time of publication (#RIP).
I had difficulty tracking down information on Digital X. Here's a snippet from Blockchain Global's Wikipedia entry;
In August 2016 Bitcoin Group rebranded as Blockchain Global to reflect a broadened focus including management consulting and business incubation.

The company later developed the blockchain exchange platform ACX.io; in February 2017 it reached an agreement with Digital X to take over the function of that company's blockchain exchange platform, Digital X Direct.
Unless I'm missing something neither Digital X or Digital X Direct exists today. So I'm assuming they were rolled into ACX.
ACX is an Australian focused cryptocurrency exchange. ACX's website has a current Alexa ranking of 947,611 (almost #RIP).
Ryan Xu's connection to HyperCash appears to be through HCash Tech, of which he is a co-founder.
Hcash Tech Pty. Ltd. is an Australian technology company which provides technology consulting services, provided technical assistance in developing the parallel dual-chain & dual token ecosystem to, and is an investor in Blockchain giant, HCASH.

They have been working closely with HCASH for development, and will continue to do so in the future.
The exact nature of Xu's involvement in HyperCash is surrounded in typical layers of bullshit associated with cryptocurrency.
Is he a mere "advisor" or something more?
A 2017 SteemIt post by author gobbleguts reveals HyperCash was then going by "HCash" – and there's a link to seemingly now defunct CollinStar.
Back then Ryan Xu was also going by his actual name, Zijing Xu.
An announcement by CollinStar America dated December 2017 reveals Ryan Xu is/was Collinstar's Chairman: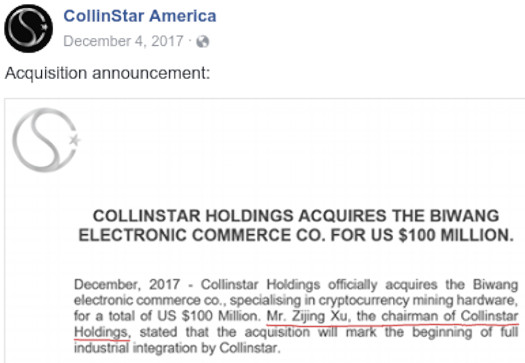 With that in mind, two months earlier this press-release ties CollinStar to the development of HCash, now known as HyperCash (HC).
CollinStar Capital is the lead manager of the Hcash project, one of the most advanced blockchains that took advantage of many technological breakthroughs that were not available to early blockchain developers.
So to summarize, although he's not working alone, Ryan Xu == Zijing Xu == Collinstar == Hcash == HyperCash (HC).
But alas, you won't find that in any of HyperCapital's marketing documents.
Late 2017 was evidently a busy year for Xu. As he was launching HyperCash, his Media Chain scheme was also coming to an end.
Media Chain was a MDC shitcoin ICO that appears to have primarily targeted Chinese investors.
Upon raising "nearly 100 million yuan from investors" ($14.4 million USD), Xu and his co-conspirators purportedly did a runner.
And that might not be the only ICO scam Xu had a hand in:
More absurdly, Ryan XU, or Zijing Xu, serves as an adviser for this project.

Many blockchain projects backed by Mr.Xu are labeled as scams, like HPS, HRS. MediaChain follows suit.
So uh yeah, "cryptocurrency giants" hey.
As HyperCash circled the gurgler in 2019 and continues to do so in 2020, the cynic in me believed HyperCapital is a desperate attempt to resuscitate the shitcoin.
Read on for a full review of HyperCapital's MLM opportunity.
HyperCapital's Products
HyperCapital has no retailable products or services, with affiliates only able to market HyperCapital affiliate membership itself.
HyperCapital's Compensation Plan
HyperCapital affiliates invest 1000 USDT on the promise of a 3500 USDT ROI.
You deposit USDT into our app and then purchase a Hyper Wealth Package worth 1000 USDT and that's it!

Once you've purchased the package, you will start accumulating up to 15%-30% per month until you've earned 3500USDT.
Rather than pay out in USDT however, HyperCapital pays returns and commissions in HyperCash (HC).
Rewards are converted to HCash (HC) upon withdrawal.
Residual Commissions
HyperCapital pays residual commissions via a unilevel compensation structure.
A unilevel compensation structure places an affiliate at the top of a unilevel team, with every personally recruited affiliate placed directly under them (level 1):

If any level 1 affiliates recruit new affiliates, they are placed on level 2 of the original affiliate's unilevel team.
If any level 2 affiliates recruit new affiliates, they are placed on level 3 and so on and so forth down a theoretical infinite number of levels.
HyperCapital caps payable unilevel team levels at twenty.
Residual commissions are paid out as a percentage of daily returns earned across these twenty levels as follows:
level 1 (personally recruited affiliates, must recruit at least one affiliate to qualify) – 20%
level 2 (must recruit two affiliates to qualify) – 15%
levels 3 (must recruit three affiliates to qualify) – 10%
level 4 (must recruit four affiliates to qualify) – 5%
level 5 (must recruit five affiliates to qualify) – 5%
level 6 (must recruit six affiliates to qualify) – 5%
level 7 (must recruit seven affiliates to qualify) – 2%
level 8 (must recruit eight affiliates to qualify) – 2%
level 9 (must recruit nine affiliates to qualify) – 2%
level 10 (must recruit ten affiliates to qualify) – 2%
level 11 (must recruit eleven affiliates to qualify) – 2%
level 12 (must recruit twelve affiliates to qualify) – 2%
level 13 (must recruit thirteen affiliates to qualify) – 2%
level 14 (must recruit fourteen affiliates to qualify) – 2%
level 15 (must recruit fifteen affiliates to qualify) – 2%
level 16 (must recruit sixteen affiliates to qualify) – 1%
level 17 (must recruit seven affiliates to qualify) – 1%
level 18 (must recruit eighteen affiliates to qualify) – 1%
level 19 (must recruit nineteen affiliates to qualify) – 1%
level 20 (must recruit twenty affiliates to qualify) – 1%
VIP Reward
HyperCapital's VIP Reward is a bonus qualified for via total unilevel investment volume, excluding the largest unilevel leg (based on investment volume).
1 Star VIP Bonus is 5% and to qualify an affiliate must have $1 million in total unilevel team investment volume
2 Star VIP Bonus is 6% and to qualify an affiliate must have $3 million in total unilevel team investment volume
3 Star VIP Bonus is 7% and to qualify an affiliate must have $5 million in total unilevel team investment volume
4 Star VIP Bonus is 8% and to qualify an affiliate must have $10 million in total unilevel team investment volume
Note that while the VIP Bonus is calculated based on USDT investment volume, it is paid out on daily returns.
I.e. You are paid a percentage of daily returns earned by your entire unilevel team, excluding the largest leg (based on investment volume).
Global Reward
HyperCapital takes 4% of company-wide investment volume each month and places it into four Global Reward Pools (split 1%).
Each 1% is paid out based on VIP Bonus Star ranks (see "VIP Rewards" above for qualification criteria)
1 Star VIP Bonus ranked affiliates earn a share in a 2% pool
2 Star VIP Bonus ranked affiliates earn a share in a 1% pool
3 Star VIP Bonus ranked affiliates earn a share in a 0.5% pool
4 Star VIP Bonus ranked affiliates earn a share in a 0.5% pool
Commission Withdrawal Restrictions
HyperCapital withholds 20% of earned commissions (excluding the daily ROI).
This withheld balance must be invested in shit tokens HyperCapital pushes through their "HyperLand tech incubator".
Joining HyperCapital
HyperCapital affiliate membership appears to be free.
Full participation in the attached income opportunity requires a minimum $1000 USDT investment.
Conclusion
Ryan Xu is no doubt sitting on a ton of HyperCash coins. HyperCash has pretty much nothing going for it and will continue to decline in value over the long-term.
That brings us to the typical MLM shitcoin launch scenario:
Herp derp I launched a shitcoin and it went nowhere. Now I'm sitting on a ton of this worthless rubbish.
Oh I know, I'll start my own MLM shitcoin Ponzi scheme to get rid of them.
HyperCapital represents it generates external revenue via (quoted verbatim):
proprietary market making system through HyperLand, our blockchain tech incubator
through fees from HyperPay wallet and spread from HyperCash (HC) on exchanges
through mining and staking of our HyperCash (HC) token
commission & swap fees on our platform
In other words, there is no external revenue generated. HyperCapital simply generates HC out of thin air, in addition to what they already hold, and uses that to pay out an imaginary ROI.

The aim of this is to inject a bunch of new suckers into the HyperCash ecosystem. That drives trading volume, which in turn (at least theoretically), might resurrect HyperCash's public value.
Under all the bullshit, that's all HyperCapital is – a desperate attempt to resurrect HC from the shitcoin graveyard.
Being a passive investment opportunity, HyperCapital needs to register itself with securities regulators in every country it solicits investment in.
In researching this review, general consensus is that Ryan Xu is based out of Australia. Through his business dealings though, he also has strong ties to China.
There is a HyperCapital registered with ASIC: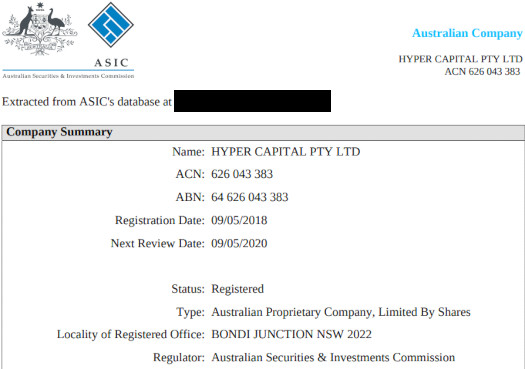 However to date (since May 2018), the only filings made are the initial registration (May 2018), and two change of details filings from February 2019.
HyperCapital's investment opportunity is not disclosed to ASIC. Not that it matters, as ASIC is not known for active regulation of MLM related securities fraud.
I couldn't find any disclosure by HyperCapital that it had registered elsewhere with a financial regulator, so outside of Australia HyperCapital is also committing securities fraud.
The Ponzi nature of the business exists by way of cashing out HyperCash. Public demand clearly isn't there so however they've set it up, any returns are paid out by HyperCash are going to recycled funds.
HyperCapital has no other form of verifiable revenue other than USDT investment.
Funneling HyperCapital investors into worthless HyperTech shit tokens is also something to be wary of.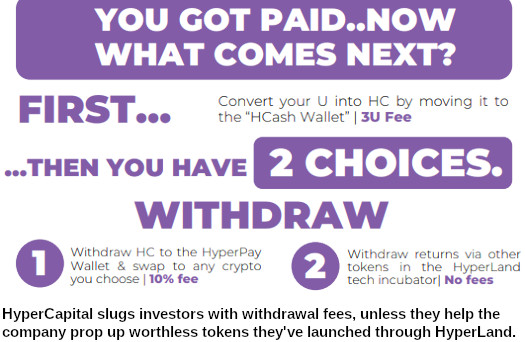 Like the resurrection of HyperCash, withholding commissions is a desperate attempt to prop up HyperTech's garbage token ICOs.
HyperCapital's exit-scam will play out by the company and Xu doing a runner. Media Chain 2.0 if you will.
While Ryan Xu stashes invested USDT who knows where, HyperCapital's affiliate investor will be left holding worthless HyperCash.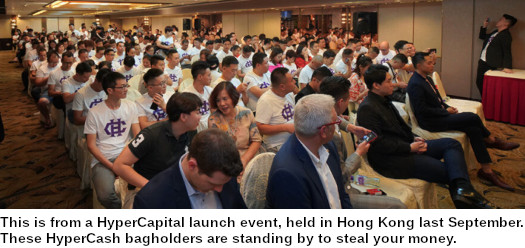 We obviously can't predict when HyperCapital will collapse, so losses are yet to be determined. Please stop falling for this nonsense.
Update 10th April 2021 – HyperCapital has collapsed. HyperTech has rebooted their Ponzi scheme through HyperFund.