GSPartners slaps 50% withholding fee on withdrawals

GSPartners' campaign to punish investors who withdraw continues.
Less than 24 hours after disabling weekly ROIs, GSPartners has implemented a 50% withholding fee on all withdrawals.
GSPartner's has named its latest ploy to screw over investors the "Market Protection Strategy" (MPS).
MPS kicks in when investors try to convert a GSPartners monopoly money shitcoin (of which there are many), to tether (USDT) for withdrawal.
Instead of paying out what is owed. MPS sees GSPartners pay out only 50% of the requested withdrawal. The other 50% is confiscated and withheld by GSPartners for 13 months.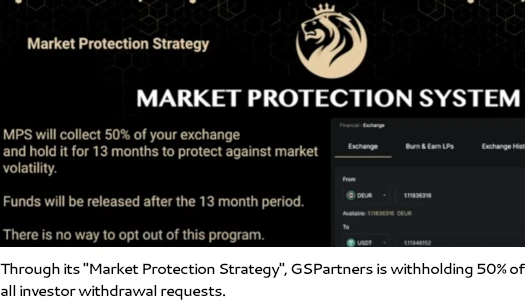 GSPartners disabling ROI payouts and introducing a 50% withdrawal withholding fee, follows securities fraud warnings from multiple regulators in Canada.
These include Alberta (GSPartners, G999, GSTrade), Quebec, British Columbia, Saskatchewan and Ontario.
Nonetheless Canada remains GSPartners' second largest source of new investors. US residents make up GSPartners largest investor-base, prompting the likelihood of an ongoing SEC and/or DOJ investigation.
The SEC warns consumers that securities fraud and Ponzi schemes go hand-in-hand.
Any investment in securities in the United states remains subject to the jurisdiction of the SEC.

We are concerned that the rising use of virtual currencies in the global marketplace may entice fraudsters to lure investors into Ponzi and other schemes.

Ponzi schemes typically involve investments that have not been registered with the SEC or with state securities regulators.
Federal US authorities and regulators do not issue public fraud warnings while investigations are active.
In an attempt to dodge further regulatory attention after the Canadian warnings, GSPartners rebranded its website to Swiss Valorem Bank in May 2023. The company still goes by GSPartners in its marketing.
Looking forward GSPartners' first round of metaverse certificates, offering 180% over 18 months, are set to expire towards the end of 2023. The next certificate tier, offering 215% over 24 months, will expire towards mid 2024.
In an attempt to keep investors reinvesting instead of withdrawing, GSPartners has continuously added new and higher certificate tiers.
The current "Success Series" batch were released in October 2023 (click to enlarge):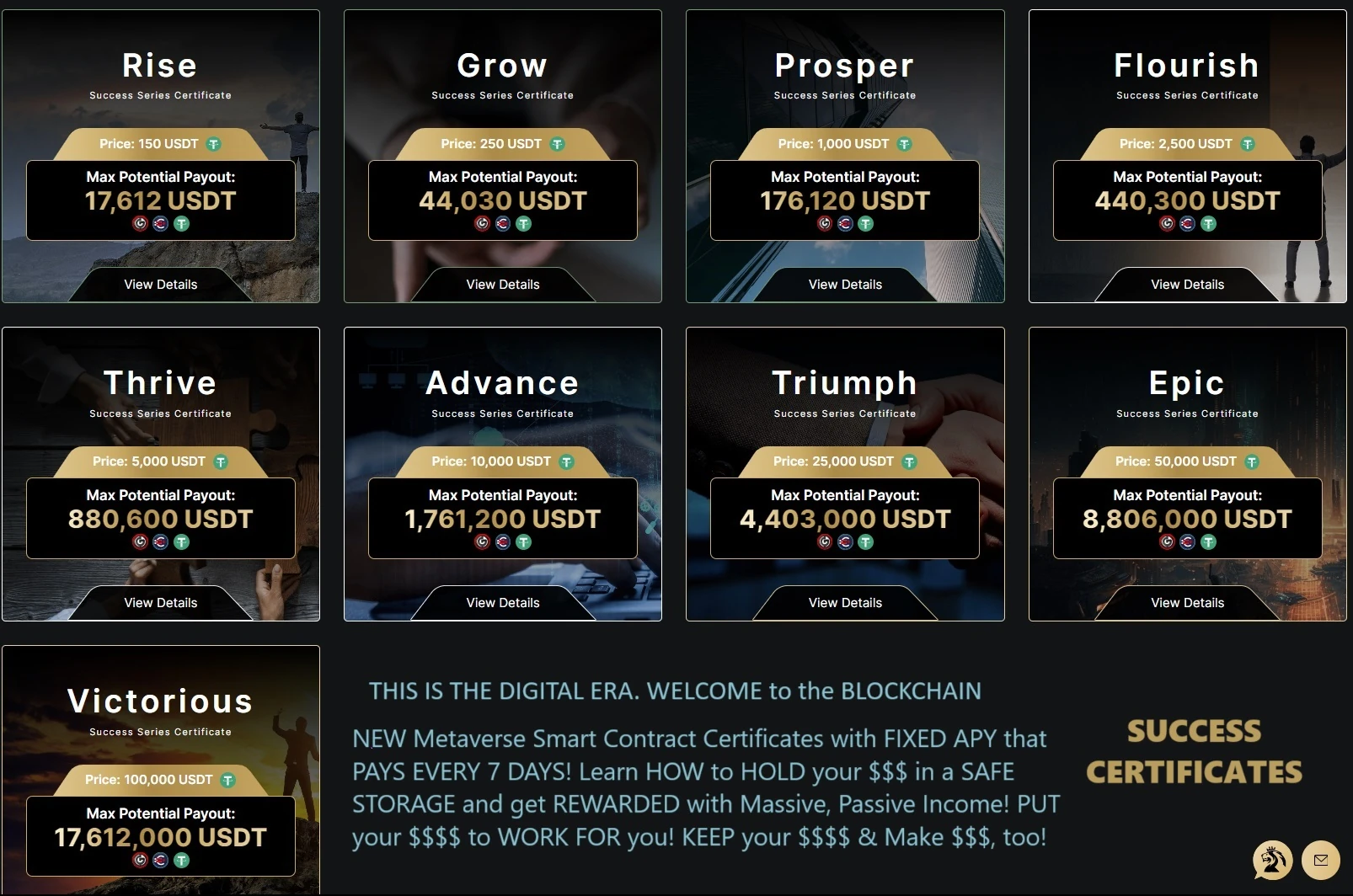 Through Success Series certificates GSPartners affiliates invest 150 to 100,000 USDT, on the promise of up to 17,612 to 1.76 million USDT in passive returns (subject to further weekly ROI disablings and the new 50% withdrawal withholding fee).
It's expected GSPartners will continue to implement restrictions as ongoing ROI liabilities spiral further out of control.
GSPartners who publicly complain about getting scammed are threatened with account termination.