GSPartners disables ROI payouts, holds funds hostage

GSPartners has disabled ROI payouts.
Instead of addressing investors himself, GSPartners founder Josip Heit had Bruce Hughes deliver the bad news.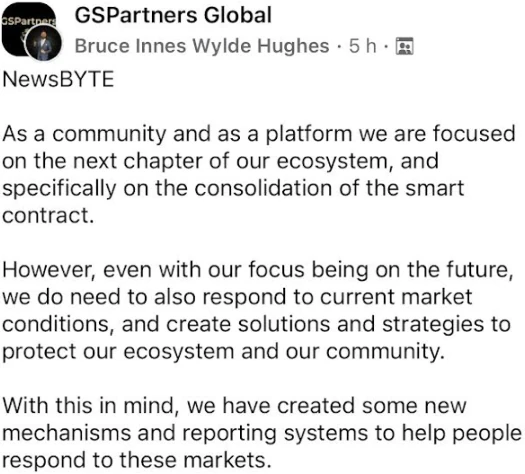 It's important to note that there are two classes of investors within GSPartners, those who compound and those who withdraw.
GSPartners who compound are unaffected by the disabling of ROI payouts. This is because they're compounding monopoly money that doesn't exist and not withdrawing.
GSPartners disabling ROI payouts is to stop withdrawals, which affects the rest of the investor-base.
To that end, GSPartners has framed disabling ROI payouts as "the next chapter of our ecosystem and … consolidation of the smart contract".
The Metaportfolio accounts have recently taken some loss trades in the market.

For those who didn't adopt a regular compound strategy, they absorbed some of the losses and had their loads DROP below 100%, thus causing their weekly rewards to pause.
GSPartners investors who have been withdrawing have been given three options:
Do nothing. Wait for contract period to end. Receive balance.
Top up load, and re-activate weekly reward. Receive LYLs.
Wait and see IF there is an exchange option into Blockchain Bonds.
do nothing and wait for their contracts to end, at which point they'll receive whatever is in their backoffice;
invest new money and continue to receive ROI payments in LYL; or
"wait and see if there is an exchange option into BlockChain Bonds" (read: hope new investors join to steal from)
GSPartners' Metaverse Certificates investment scheme launched in mid 2022. Returns of up to 480% were promised over 78 months.
I believe these returns were paid in GEUR, which GSPartners investors were able to convert and withdraw as tether in their backoffice.
The second option above re-enables withdrawals but now in LYL tokens. LYL is part of GSPartners' failed Lydian Lions' NFT investment scheme.
It's unclear whether LYL can be converted to USDT and withdrawn, or whether GSPartners affiliates who invest new USDT will be left bagholding LYL.
Following failed recruitment drives in India and Asia, GSPartners is currently trying to drum up new investment in Trinidad and Tobago.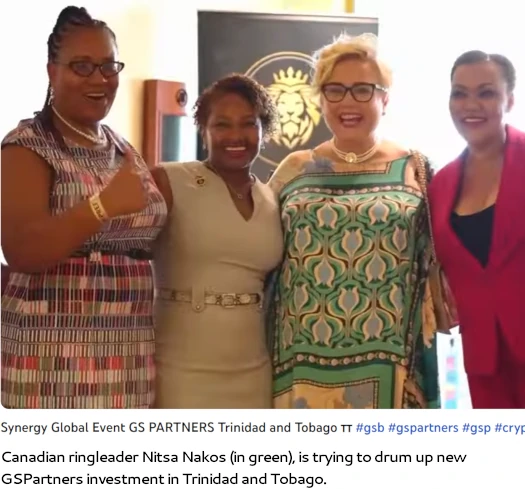 GSPartners disabling ROI payouts follows securities fraud warnings from multiple regulators in Canada. These include Alberta (GSPartners, G999, GSTrade), Quebec, British Columbia, Saskatchewan and Ontario.
Nonetheless Canada remains GSPartners' second largest source of new investors. US residents make up GSPartners largest investor-base, prompting the likelihood of an ongoing SEC and/or DOJ investigation.
The SEC warns consumers that securities fraud and Ponzi schemes go hand-in-hand.
Any investment in securities in the United states remains subject to the jurisdiction of the SEC.

We are concerned that the rising use of virtual currencies in the global marketplace may entice fraudsters to lure investors into Ponzi and other schemes.

Ponzi schemes typically involve investments that have not been registered with the SEC or with state securities regulators.
Federal US authorities and regulators do not issue public fraud warnings while investigations are active.
In an attempt to dodge further regulatory attention after the Canadian warnings, GSPartners rebranded its website to Swiss Valorem Bank in May 2023. The company still goes by GSPartners in its marketing.
Looking forward GSPartners' first round of metaverse certificates, offering 180% over 18 months, are set to expire towards the end of 2023. The next certificate tier, offering 215% over 24 months, will expire towards mid 2024.
In an attempt to keep investors reinvesting instead of withdrawing, GSPartners has continuously added new and higher certificate tiers.
The current "elemental" batch were released in May 2023 and offer up to 5% a week for 52 weeks.
It's expected more withdrawal restrictions will be introduced as GSPartners' ongoing ROI liabilities spiral further out of control.
Update 3rd October 2023 – Coinciding with GSPartners disabling ROI payouts was the introduction of new "Success Series" certificates (click to enlarge):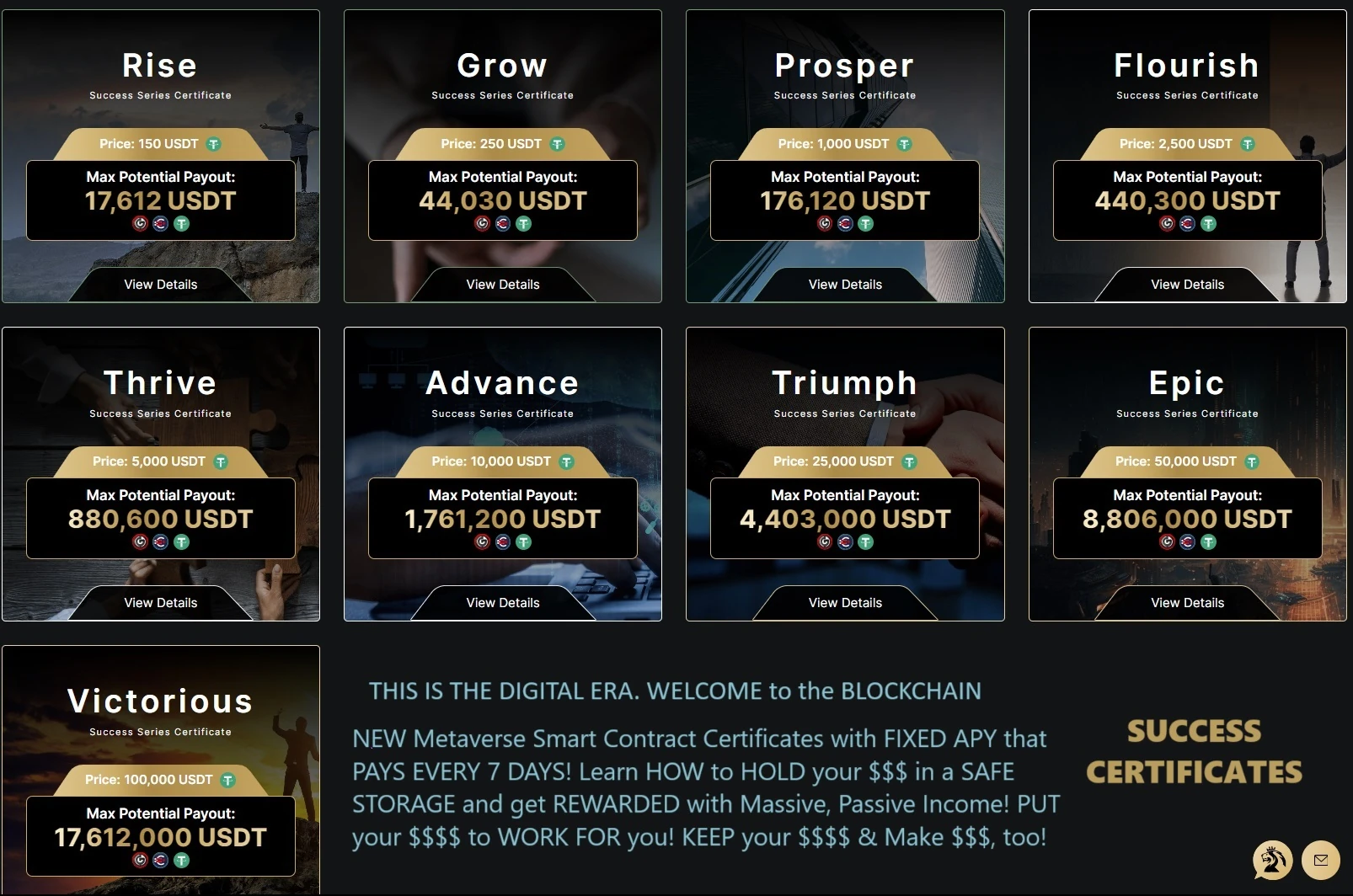 Through its Success Series certificates, GSPartners is now pitching a 17,612 USDT ROI off a 150 USDT investment.
On the top end GSPartners pitches a 17.6 million USDT return off a 100,000 USDT investment.
Update 4th October 2023 – GSPartners has now applied a 50% withholding fee on all investor withdrawal requests.