Griddy grilled over "unbelievable electricity bills"

Griddy Pro is the MLM arm of Griddy, a wholesale electricity retailer.
One the concerns raised in our Griddy Pro review late last year was having to keep track of fluctuating rates.
If a Griddy customer wasn't paying attention, they could easily rack up huge bills due to price spikes.
One historical example was a customer being charged $350 over eight days.
With Texas' Winter Storm Uri this year, turns out that was just the tip of the iceberg.
You've probably seen in your local news Texas' recent cold snap. In a nutshell a state used to mild winters at best went into full-blown apocalyptic ice age, resulting in widespread devastation.
Part of that devastation was Texas' power-grid, which failed miserably.
Rolling blackouts caused by a lack of supply saw energy rates soar, eventually hitting a state-imposed cap.
Griddy Pro's business model revolves around providing customers with a variable rate which, under ideal circumstances, is supposed to save customer's money.
Texas' wild weather instead pushed Griddy Pro bills in the opposite direction, emphasizing my biggest concern with the business model.
Ty Williams and his family in Alrington were among the lucky ones during this week's storm and never lost power.

However, he did pay the price in the form of a $17,000 electric bill for three meters over five days of use.

He is a customer of a company called Griddy.
Another Griddy Pro customer saw her Griddy bill cause havoc with her bank account.
On a typical February day, (Susan Hosford) pays Griddy less than $2.50 for power. But the one-day cost spiked to hundreds of dollars after the storm.

In all, she was automatically charged $1,346.17 for the first two weeks of February, which was more than she had in her checking account, causing her bank to charge her overdraft fees and affect other bills.

"This whole thing has been a nightmare," she said.
A pay-walled New York Times report detailed Griddy Energy bills up 7000%.
Scott Willoughby from San Antonio, Texas, was one resident who received an electricity bill far above what he usually paid.

He told The New York Times that he nearly emptied his savings account after his electric company charged $16,752 to his credit card, about 70 times what he usually pays.

Other Griddy customers have reported bills around $5,000 for their electric usage during that week, despite being without power and heat for periods of time.
CNN detailed one Griddy customer changing their payment method on file to a maxed out credit card, to avoid paying their bill.
Upshaw, (a) Dallas resident, has switched his credit card on file with Griddy to one that has been maxed out to ensure he can't be charged for more. Yet even as he has been conserving power, his bill continued to rise, he said.

Neighbors and friends who have accounts with Griddy told Upshaw that the charges "knocked out their entire checking account, went into their savings account, they can't pay their rent," he said.
For their part Griddy advised their customers to transfer to another provider last Monday. Due to lagging lead times however, many were unable to switch.
Griddy has since announced customers will be able to pay in installments. The company is also attempting to negotiate bill relief at a state-level.
Texas meanwhile has moved to prevent companies from cutting off customers who can't pay their bills.
I want to be clear here in that I don't think anyone should be cutoff in the middle of a snow storm due to non-payment of bills.
In a broader sense though I kind of do take issue with variable rate customers getting any preferential treatment over fixed rate customers. If Texas announces relief for utilities customers and treats them all the same then I'm all for it.
Hopefully this is a one-off and if something like Winter Storm Uri does happen again it's not any time soon. What Uri undoubtedly has done though is take the weakness of being charged a variable utility rate to the extreme.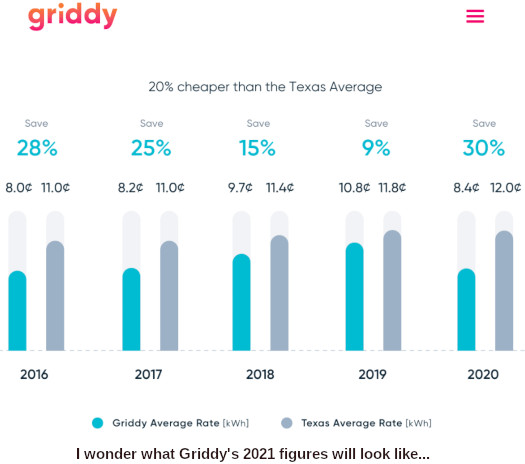 Griddy customers accepted that risk when they signed up. If you're going to take the savings, conversely shouldn't you also take the loss?
Bit of a difficult position to be in all round. Well, except for utilities providers.
Before Winter Storm Uri Texas' wholesale rate was sitting at around $50 p/MWh. The state-level cap, which was reached remember, is currently $9000 p/MWh.
Ouch.
Update 28th February 2021 – Griddy has been cut off from the electricity grid by Texas regulators.
Update 23rd March 2021 – Griddy has declared bankruptcy after it was sued by the Texas government.
As a result of the legal action and bankruptcy, Griddy's customers won't have to pay their Winter Storm Uri bills.