A Money Storm Review: No recruiting? Payout drought.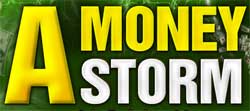 Promising 'guaranteed earnings' is all very well but if the money you can make with A Money Storm is entirely dependent on how many people you can recruit… well, it's not really guaranteed now, is it.
Read on for a full review of the Money Storm MLM opportunity.
The Company
A Perfect Money Storm list no information on their website about who owns or is running the company.

The domain aperfectmoneystorm.com however was registered on the 18th February 2012 and lists a 'Barry Alger' (photo right) and PO Box address from Warners Bay, New Castle in Australia.
Last year in May Alger launched '2 Times Back' which was a straight line recruitment scam. With 2 Times Back everyone was placed in a queue and each time 3 new people joined the company the person at the head of the queue cycled out and earned a commission.
Less than a year later the company is non-existent.
Other companies Alger has promoted over the years include Text Cash Network, '1Time2Dollars', EZButtonCash, 'The Profit Monster', EZ2x2 and Wealth Cycler.
Most of these appear to be short lived recruitment scams that Alger claims to have been trying to make money with since at least 2001:
Hello to Everyone.

My Name is Barry Alger.

I have been an Internet user for the past 6 years and in that time have made and lost money on Promises, Predictions, Pre-launches, MLM's, Auto Surfs and all the other "Promised Riches" ideas.
Alger's involvement in these short-lived scams appears to be foundation for his launch of Money Storm.
The Money Storm Product Line
A Money Storm doesn't have any products or services available at a retail level.  Members who join A Money Storm will find themselves marketing membership to the company to new recruits.
Some products are bundled with each membership purchase, however all A Money Storm state about these products is that,
once you are a Paid member, the items you receive are worth 10 times more than your Monthly membership.
Evidently these items are worth so much they don't warrant any specific details.
The Money Storm Compensation Plan
A Money Storm uses a 2×2 matrix commissions structure to pay out its members.
A 2×2 matrix starts with you at the top and has six member positions to fill underneath you.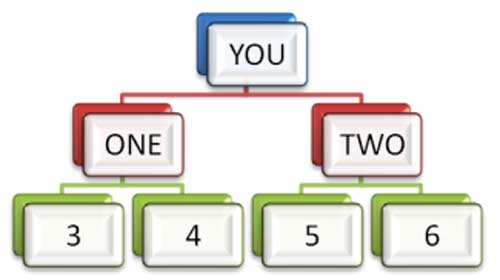 These member positions can either be filled by new recruits or existing Money Storm members cycling out of their existing matrices into yours (new recruits still need to be fed into the system for this to happen though).
Each time a member of Money Storm cycles they earn $45 and each time someone they've personally recruited cycles, they earn an $8 commission.
A Money Storm also pay out a membership commission of $2.50 a month each time personal recruits (your level 1) or their personal recruits (your level 2) pay their monthly membership fees.
Joining A Money Storm
Membership to A Money Storm is $15 a month.
Conclusion
There's not much to the Money Storm opportunity:
Just introduce your few friends to us and earn money as soon as you complete your matrix or they complete their matrix.
100% of the commissions paid out are derived from membership fees and without a constant influx of new recruits the matrices will stall and so will the commissions.
Alger claims that A Money Storm is 'a highly profitable system for generating a FULL TIME INCOME', but at $45 a matrix cycle unless we're talking a third-world income, I don't see it happening.