Solution2011: GiveOpp launches not so new product line
GiveOpp was launched on the 4th of July this year and is the brainchild of a series of ex-Liberty League and Polaris Media Group (now known as Polaris Global) members.
There's CEO Mark Cosby and marketing guy Don Glanville, both of whom were prominent members of Liberty League back in its hey day.
Also it's hard to go past John and Shannon Lavenia, EMC members of Polaris Media Group who left the company in late 2009. With them they brought several members from Polaris to bolster up GiveOpp's prelaunch numbers.
With most of the founding members of GiveOpp coming from a background in personal development and companies that market personal development cds, dvds and workbooks, GiveOpp's new product line shouldn't really come as a surprise. But it does still feel heavily cliched.
Introducing 'Solution2011 – Your plan for prosperous living', GiveOpp's new flagship product that consists of… you guessed it, cds, a dvd and a workbook.
Solution2011 consists of 7 audio cds, one dvd and a workbook and is designed to enhance 'several prime categories of prosperous living: Relationships, Health and Wellness, Finance, Education, Personal Achievement and Business Success' in your life.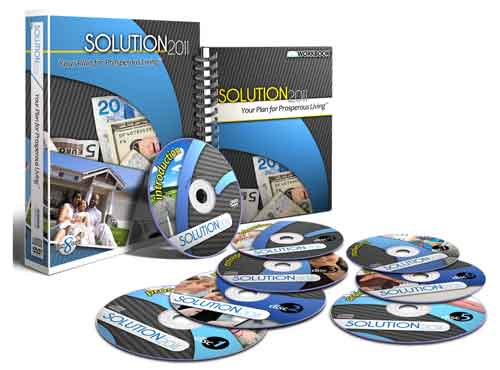 Sound familiar? It should as this is pretty much what every other personal development company promises along with a similar accompanying cd/dvd/workbook course.
GiveOpp have attempted to set Solution2011 apart from the competition however by promising to update it yearly. GiveOpp are calling this 'perpetual leverage' and that means yes, there will be a Solution2012 released at some point in the future and, if GiveOpp are still around, a Solution2013 and Solution2014 etc.
This in effect counts as an annual recurring consumable product which members can market and profit on. An annual release of Soluton2011 does raise the question though of just how much do the areas of entrepreneurial success change from year to year.
Presumably being the first product from GiveOpp, Solution2011 will contain tons of entry level information. For Solution2012 however they'll presumably be wanting to look forward and expand on the ideas presented in 2011's edition.
For areas like social media which have updated over the past year this will relevant but what about the rest of the information? Either GiveOpp have to rehash the same introductory information to provide a complete solution or expand their ideas, which means if I've just joined the company I'm going to have to backorder Solution products to get the complete picture.
What happens after a few years when there's three or four editions of 'Solution' out there?
This I think is definitely an issue with marketing an annual personal development guide that is going to cause problems later down the track. Either with long standing distributors complaining about the lack of new content, or new distributors complaining about having to backorder previous year's copies of Solution just to catch up.
Solution2011 begins shipping on November 30th, 2010, will retail to the public for $497 and can be bought wholesale from GiveOpp by distributors for $347.
With the Solution 2011 personal development course and existing travel club, GiveOpp World Travel, GiveOpp inches closer to becoming just like every other personal development MLM out there. The only thing missing at this point now are annual conferences.
And from the sounds of it, they aren't too far behind. GiveOpp's recently newly revamped website states GiveOpp plans to release 'additional products and/or services in the near future'.
Here's to rehashing the old and marketing it as the new.