Revealed: The GiveOpp.com business opportunity
A couple of days ago, reader Kat left a comment regarding a supposed new MLM business opportunity start up involving John and Shannon Lavenia of ex-EMC Polaris Global fame;
Heard John and Shannon Lavenia are raiding the Polaris nest also with some new business they are launching this week Oz ..

everything is secret about it with anyone wanting to know details signing Non Disclosure Forms.
Since then a bit more information has trickled about but mostly everyone seems to be in the dark over just what this new business opportunity involves.
So far it's been alleged that giveopp.com has something to do with travel, involves the Lavenias and is/was linked to their friend and business partner from Liberty League International Don Glanville.
Armed with nothing more then the above seemingly unrelated bits of information I decided to do some poking around and see if I could piece together anything.
Here's what I found.
The GiveOpp website domain name was registered on the 15th October 2009 through hosting company 'Retro Hosting'. The domain has been registered privately so information about who exactly registered the domain is not publicly available.
Retro Hosting however is currently in the process of being trademarked by none other then Don Glanville. An application for trademark was put in on 21st January 2010 but as of April 19th, 2010 the application status is 'Non-Final Action – MAILED'.
This means that there were issues raised with the trademark application that need to be addressed. A copy of these issues has been sent back to the owner for review and they have 6 months to take action.
Retro Hosting isn't Don Glanville's first web hosting venture. Glanville owns 'Quicklister' which back in the day provided web hosting for Liberty League Associates, similar to United Wealth Solutions.
Quicklister itself seems to be defunct (on the page of 'our members' scroll down just over half way to see John and Shannon Lavenia's testimonial), but the trademark for Quicklister is still registered to Glanville.
Interestingly the quicklister.com domain appears to have been transferred over to Retro Hosting on the 20th April, 2010, the day before Glanville applied for a trademark on Retro Hosting.
So thus far we know that ex-Liberty Leaguer Don Glanville's hosting company is the domain provider for giveopp.com. So what about the giveopp business opportunity itself?
Currently the GiveOpp website is a login page for existing GiveOpp members. The GiveOpp logo at the top of the page tells us the opportunity is in beta and that GiveOpp is trademarked.
An application to trademark Give Opp was put in by none other then Don Glanville on November 12th, 2009. As of April 13th, 2010 the application is 'Published for opposition'. This means that for 30 days from April 13th,  'any party who believes it will be damaged by the registration of the mark may file a notice of opposition'.
Details on how to become a member of Give Opp aren't known at this stage, presumably it's by invite only.
With the GiveOpp website being useless for actual company information for now, my efforts then lead me to the now defunct domain stageup.com.
Stagedup.com was registered on 13th October, 2009 (2 days before giveopp.com was registered), by a John Stalvey. Not surprisingly John Stalvey is involved in the MLM industry and lists himself as a 'Programmer at Numis Network'. The Numis Network is a MLM company that markets numismatic coins.
Stalvey's landing page for Numis is 15kprofits.com, which was registered on 17th September 2009. I wasn't able to find an exact date but I assume this is around the time Stalvey joined the Numis Network.
So what does John Stalvey and stagedup.com have to do with Give Opp I hear you ask?
Currently the Staged Up domain is parked and is just showing advertisements. Prior to that however it was a landing page for a business that gave you the opportunity to  'to make the income you want while giving back to people who are less fortunate'.
This information was lifted from the google cache of the 'Join Us' page of the Staged Up domain when it was active (working 29th April, 2010). Note the title of the page is 'GiveOpp' and it's also apparently trademarked. At the bottom of the cached pages is also the copyright information 'Give Opp (c) 2010'.
The registration information for GiveOpp.com was last modified on the 11th January 2010. I'm not sure if Stalvey still owns the domain, or if he's sold it but still kept the registration through his Retro Hosting company.
Presumably if he's off selling the Numis Network he's sold giveopp.com to whoever is launching the current business opportunity. It's unknown whether Stalvey was involved in GiveOpp directly when it was running through Stagedup.com (which is still registered to Stalvey).
The cache for the Staged Up 'Privacy Policy' page also provides two direct links to giveopp.com;
We have set our software so that your browser will only return cookie information to the domain where the cookie originated (giveopp.com).

For questions or concerns, please send an email to: privacy@giveopp.com
I'm not sure if stagedup.com was redirecting to giveopp.com or viceversa. It doesn't make any sense that the two websites would be online in tandem though.
The source code of the cached StagedUp privacy policy page reveals a Facebook account for Give Opp which appears to be active. The cache date for the privacy policy page is dated 25th February 2010 so presumably the Facebook page was running whilst GiveOpp was still using the StagedUp domain.
Note that the Facebook account logo for GiveOpp is the same as that featured on the GiveOpp.com webpage.
The GiveOpp facebook page finally reveals what the GiveOpp business opportunity is about;
GiveOpp Permaculture provides communities with sustainable agriculture, water resources and social well-being. An amazing mission!
Permaculture is
an approach to designing human settlements and agricultural systems that mimic the relationships found in natural ecologies.

The intent is that, by rapidly training individuals in a core set of design principles, those individuals can design their own environments and build increasingly self-sufficient human settlements.
How marketing permaculture to the third world translates into a business opportunity I'm not sure but it does explain the 'travel' comments people were bringing up.
The Facebook states that the Give Opp prelaunch was last Tuesday which co-incides with reader Ty's recent comment the day after;
They had a call yesterday, sounds like some kind of Scientology travel scam. Don Glanville was the scam artist behind the Reverse Funnel System, and John and Shannon Lavenia were instrumental in launching Polaris Global.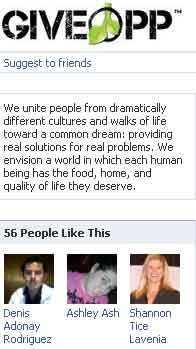 I don't know what the connection between permaculture and a MLM business is yet as the only information provided on the Facebook page is vague;
We want you to be an active catalyst for cultural change while you develop financial stability for you and your family.
As for the Lavenias involvement in GiveOpp, the screenshot on the right shows Shannon Lavenia has 'liked' the GiveOpp profile. Whilst this doesn't mean she's necessarily involved, it's a strong indication the Lavenias have got something to do with the company.
Why GiveOpp revolving around permaculture needs to be under a non disclosure agreement I've got no idea. If anyone else finds anything else out feel free to share the information below with a comment.