Generation Zoe metaverse architect arrested in Argentina

One of the architects behind Generation Zoe's metaverse ruse has been arrested in Argentina.
Giovanni Tomás David Caroglio was arrested following "a wave of raids" in Mendoza on July 7th.
Following a Cybercrime Specialised Prosecution Unit (UFECI) investigation, Public Prosecutors allege Caroglio was at the center of a "mega-sam focused on the metaverse".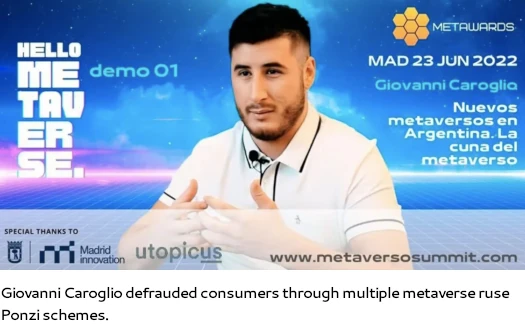 As it turns out, Caroglio was running multiple metaverse grifts. The one the UFECI busted Caroglio for was called "Crypto Country".
Crypto Country was pitched as a "digital land sale", while on the backend passive returns were offered on purported stock trading.
There of course was no trading, and so far thirty victims have come forward detailing around $800,000 in losses.
Prosecutors are hoping to gain access to Crypto Country's financials, through which they will establish the total number of victims and amount lost.
Crypto Country's records might all shed light on Caroglio's specific involvement in Generation Zoe.
In addition to Caroglio, accomplices Ignacio Manduca and Chilean national Hans Dieter Breuer Vargas have also been charged. Caroglio's brothers, Genaro and Gitanjali are also suspects.
As documented by Javier Smaldone, Caroglio worked with Leonardo Cositorto on Generation Zoe's "Zoe Paradise" metaverse grift.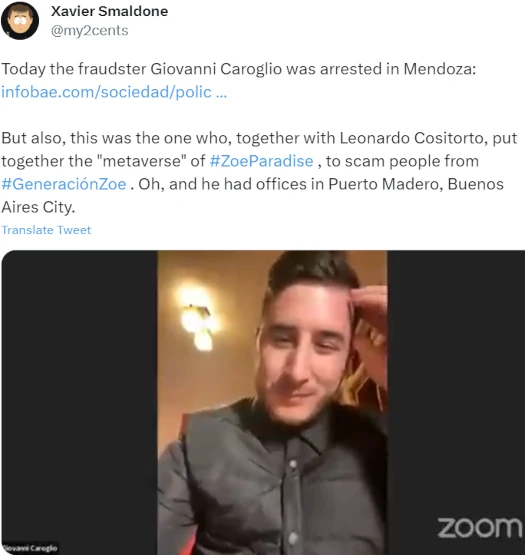 Generation Zoe began as a simple smart-contract Ponzi scheme. The metaverse grifts began towards the end of Generation Zoe's run in early 2022.
Generation Zoe founder Leonardo Cositorto was arrested in the Dominican Republic in April 2022.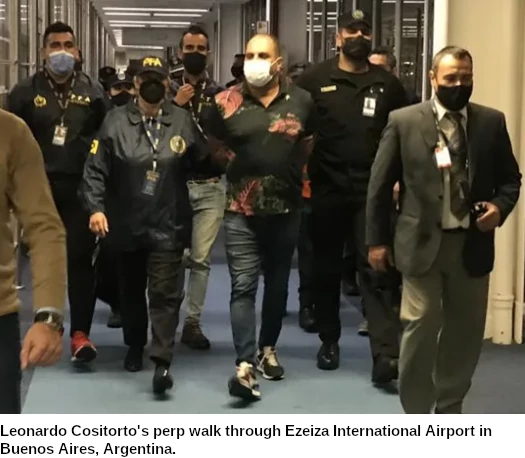 Cositorto has been charged with multiple counts of fraud and is awaiting trial.