FTC & Arkansas file for BINT summary judgment

The FTC and State of Arkansas have filed for summary judgment against Blessings in No Time and owner operators LaShonda and Marlon Moore.
The motions for summary judgment follow a January 18th filed Joint Status Report;
At this time, this case is unlikely to settle without Court intervention.

The parties have agreed in principle to injunctive relief. However, the parties have been unable to reach an agreement concerning monetary relief.

Defendants have represented that they require this matter settle as part of a global settlement with the Texas Attorney General's Office, which has brought a parallel case in Texas state court for similar claims against Defendants.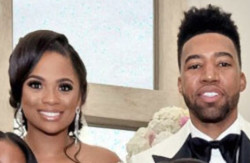 Regarding monetary relief, as of September 2022 the Moores (right) are crying poor.
Through their attorney, the Moores claim most of the money they stole through BINT had been "either spent or used to pay down the Moore Defendants' considerable debt."
This stalemate prompted the FTC and State of Arkansas to file for summary judgment on January 27th.
As per the FTC's motion;
The undisputed facts show that Defendants have operated an illegal pyramid scheme that targeted African Americans and took advantage of financially distressed individuals during the COVID-19 pandemic.

Defendants' scheme, which harmed thousands of consumers nationwide, violated the FTC Act and the Consumer Review Fairness Act.

As there is no genuine dispute of material fact, the Court should grant the FTC's motion for summary judgment and enter an injunction to prevent Defendants from harming consumers in the future.
If the motions from the FTC and State of Arkansas are granted, the monetary relief issue will be resolved. The injunctive relief is a non-issue, as per the January 18th Status Report.
In layman's terms, there is no dispute as to Blessings in No Time being a $29 million dollar gifting pyramid scheme.
Defendants operated an illegal pyramid scheme targeting African Americans with promises of a quick, guaranteed return of up to 800 percent.

(The) evidence proves that Defendants BINT Ops, LaShonda Moore, and Marlon Moore have operated an illegal chain-referral or pyramid scheme that ensnared consumers throughout the United States (and Arkansas specifically).

In furtherance of their scheme, Defendants have made numerous material misrepresentations and have unfairly and illegally prohibited truthful commentary regarding their activities using form contracts, threats, and intimidation.
The court just needs to decide disgorgement and financial penalty amounts.
As of February 6th, the a decision on the FTC's and State of Arkansas' summary judgment motions remain pending.
Update 9th March 2023 – Still no decision on the summary judgment motions.
Due to those motions being unresolved, in addition to three other pending motions, the court will reschedule the May 22nd trial.
The Court removes this case from the May 22, 2023, trial calendar and suspends all unexpired pre-trial deadlines.

The Court will set new pre-trial deadlines, extended by no less than 120 days, and a new trial date by separate Order.
That order was made on February 24th. At the time of this update, a new trial date has yet to be scheduled.
Other than that we have three Status Reports filed by the parties, confirming settlement negotiations are ongoing.
Update 11th April 2023 – A bench trial has been scheduled for the week beginning October 2nd, 2023.
Update 13th July 2023 – LaShonda and Marlon Moore have reached a settlement with the FTC.
The settlement has been presented to the FTC Commissioners for approval, after which it will be filed with the court.
Update 26th July 2023 – The Moores have settled BINT fraud charges for $9.7 million.