BINT scammers cry poor, plead with court for protection

Blessings In No Time owners LaShonda Moore and Marlon Moore have asked for protection against FTC depositions.
For those unfamiliar with the term, a deposition is a part of the discovery phase of a case.
In a deposition a witness provides sworn, out-of-court oral testimony. Recorded depositions and transcripts of depositions can be used later in the case.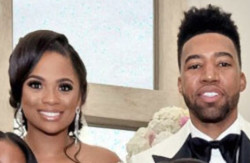 As alleged by the FTC in their June 2021 complaint, Blessings In No Time (BINT) was a gifting scheme run by the Moores (right).
The FTC is seeking deposition of the Moores, as sole Officers of BINT.
The Moores' claim they can't afford to appoint a third-party corporate representative, and so have asked the court for protection against self-incrimination.
At the onset of this case, the Moore Defendants obtained criminal defense counsel.

The Moore Defendants began asserting their Fifth Amendment rights against compulsory self-incrimination.
LaShonda Moore lays out the Moores' claimed financial situation in an accompanying declaration;
As of the date of the FTC's Complaint (i.e., June 16, 2021), BINT's assets comprised merely of cash on hand or held in financial institutions in the amount of approximately $175.00, merchandise (hats, t-shirts, etc.) and various intangible assets with little to no market value.

As of today, BINT's assets still only comprise approximately $175 of cash in hand or held in financial institutions.

In contrast, BINT's liabilities total roughly $90,000.

This includes approximately $45,000 of debt to credit card companies and approximately $45,000 owed to the Internal Revenue Service.

I am married to Marlon DeAndre Moore. Individually, we are both insolvent.

Together our assets comprise of less than approximately $25,000.00, if that.

We do not own a home. We do not even have equity in our vehicles.

A little over a month ago, we inquired on a trade-in price of one of our vehicle, but we were "upside down" by approximately $8,000.00.

We currently have two dependent minor children.

As of this date, my husband and I are indebted to various lenders, including lines of credit, in excess of $540,000.

As of this date, I am currently unemployed, but I am actively seeking employment and optimistic I will obtain employment.
The Moores' attorney claims that, although BINT was a $29 million gifting scheme,
the Moore Defendants did not receive tens of millions of dollars. Such amounts were transferred between the participants themselves in nearly all instances.

Discovery to date shows the Moore Defendants received compensation of a very different nature and — more germane to this Motion — it was either spent or used to pay down the Moore Defendants' considerable debt.
The Moores' motion was filed on September 14th. At time of publication a decision by the Court remains pending.