Eternyon Review: $100 – $2400 Ponzi investment scheme

There is no information on the Eternyon website indicating who owns or runs the business.
The company does have an "About Us" page, but only the following vague marketing copy is provided:
Eternyon is an international company specialized in advertising, technology and E-commerce, that utilizes the Network Marketing as a means of expanding its Global Direct Sales of products and services through our Independent Associates and Corporate Partners.
Eternyon affiliate marketing material suggests that the CEO of the company is a one Mr. George Lima. Lima is credited as a founder of Eternyon along with Wayne Howe: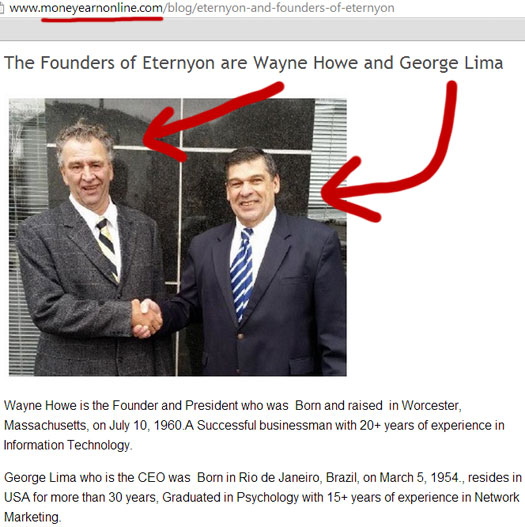 Wayne Howe is the Founder and President who was Born and raised in Worcester, Massachusetts, on July 10, 1960.A Successful businessman with 20+ years of experience in Information Technology.

George Lima who is the CEO was Born in Rio de Janeiro, Brazil, on March 5, 1954., resides in USA for more than 30 years, Graduated in Psychology with 15+ years of experience in Network Marketing.
Why Eternyon do not provide this information on their website is a mystery.
Several Eternyon corporate videos confirm that Lima is the company's CEO, Howe however appears to prefer to stay out of the public eye.
Where exactly the paid are running Eternyon out of is unclear, however the company's website is hosted in Brazil and most of the marketing material for the company is in Portuguese. Additionally, Eternyon do refer to themselves as "Eternyon LLC" on their website, however where this LLC might be registered (if at all) is not clarified.
Further research reveals that Eternyon LLC is registered in the US state of Wyoming, however an address in Massachusetts is provided in the business registration listing: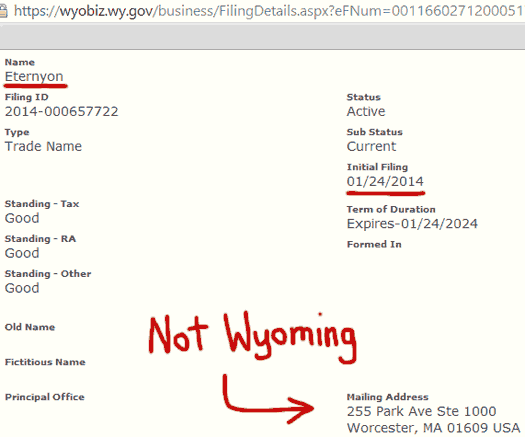 Worcester in Massachusetts would appear to be where Eternyon is being run out of, which fits with Wayne Howe's alleged backstory.
It's worth noting however that the applicant for the Wyoming filing is a "Tech Products LLC", with the same Massachusetts mailing address as Eternyon. At the time of publication, no such business registration for "Tech Products LLC" in Massachusetts currently exists.
Possibly due to language difficulties, I was unable to track any MLM history for Wayne Howe. Lima meanwhile, as above, is credited by Eternyon affiliates with having '15+ years of experience in Network Marketing' but again I wasn't able to find anything pre-Eternyon.
Read on for a full review of the Eternyon MLM business opportunity.
The Eternyon Product Line
Eternyon doesn't appear to have any retail product offering.
The company provides information (in Portuguese) on "PremiOne" coffee and something called "bestyclub" (appears to be an affiliate shopping portal), however there's no indication of whether or not these products and services are for sale, how much they cost or what their availability might be.
The Eternyon Compensation Plan
The Eternyon compensation plan has nothing to do with the products mentioned on their website, and instead revolves around affiliates investing in one of four "packages":
Bronze – $100
Silver – $600
Gold – $1200
Diamond – $2400
Recruitment Commissions
Eternyon affiliate are paid to recruit new affiliates and get them to invest. The size of the commission paid out depends on the amount the newly recruited affiliate invests:
recruit Bronze affiliate – $10
recruit Silver affiliate – $50
recruit Gold affiliate – $100
recruit Diamond affiliate – $180
Weekly ROI
Silver or higher level investments with Eternyon pay out a weekly ROI:
Silver – $40
Gold – $75
Diamond – $150
ROI withdrawals by affiliates are capped at $20,000 a day.
Note that affiliates are required to do "daily tasks" in order to qualify for their weekly ROI. This involves watching 30 second company-supplied advertisements.
Referral commissions are also paid out on affiliate ROIs. Gold and Diamond level affiliate investors receive a 2% referral commission on recruited affiliate investments, payable down six levels of recruitment.
Global Revenue Share
If an Eternyon affiliate personally recruits at least ten Diamond level affiliate investors, they receive a share in 2% of the funds Eternyon receives from affiliates globally.
Binary Commissions
Residual commission in Eternyon are paid out using a binary compensation structure. A binary compensation structure places an affiliate at the top of two binary positions: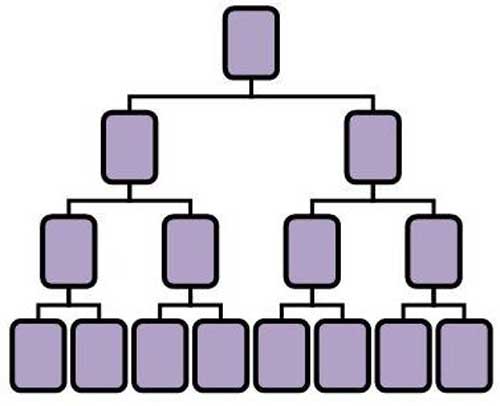 These two positions for the start of two binary sides, left and right. These two positions branch out into another two positions each, and so on and so forth down a theoretically infinite number of levels.
Each filled position in an Eternyon affiliate's binary represents a recruited downline affiliates investment in a package.
For the purpose of binary commission calculation, each investment package has a corresponding point value:
Bronze – 50 points
Silver – 200 points
Gold – 500 points
Diamond – 1000 points
For the purpose of commission calculation, 1 point is given a value of $1. At the end of each day new points are tallied up on both sides, with Eternyon affiliates receiving a percentage of the points generated by their lesser side.
How much of a percentage is paid out depends on how much an Eternyon affiliate has invested:
Bronze – 10%
Silver – 20%
Gold – 30%
Diamond – 40%
Binary commissions are capped at $20,000 a day, and affiliates must recruit at least two new affiliates in order to qualify.
Rank Achievement Bonus
Eternyon reward affiliates for encouraging recruited affiliates to invest. This is done via the tracking of accumulated points generated in an Eternyon affiliate's smaller binary side.
At certain accumulated point milestones, the following bonuses are awarded:
750,000 points = a Mont Blanc pen
30,000,000 points =1 a BMW X6 car
50,000,000 point = a Lamborghini
Joining Eternyon
Affiliate membership to Eternyon is $20 on top of a package fee:
Bronze – $120
Silver – $620
Gold – $1220
Diamond – $2420
Note that the $30 monthly fee also applies.
Packages are valid for a year, after which point an Eternyon affiliate must pay another $20 and package investment fee to continue participating.
Conclusion
With sham products, the targeting of Brazil, business activities related to Worcester, Massachusetts and weekly ROIs, it's hard not to look at Eternyon as just another TelexFree "me too" Ponzi scheme.
Launched in early 2014, Eternyon doesn't quite earn the title of "TelexFree reload Ponzi scheme", however it's evident the scheme only really took off when TelexFree canned their AdCentral Ponzi scheme payouts in late March:

Today however, it's evident that, minus the VOIP facade, Eternyon is obviously aimed at the Portuguese-speaking TelexFree affiliate-base in the US and Brazil (and other primary non-English TelexFree affiliate demographic groups).
Why Eternyon even bother to list products and services on their website I have no idea, as neither the coffee or shopping portal have anything to do with their comp plan or affiliate commissions.
Eternyon accept investments of up to $2400 from affiliates and simply use that money to pay off existing investors: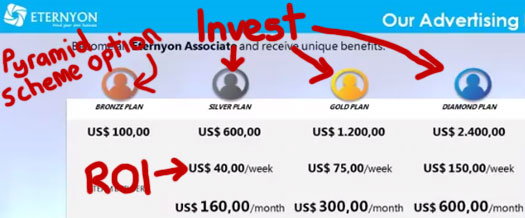 There's no ROIs paid out at the Bronze level, which instead operates as a pyramid scheme (Bronze affiliates are paid only to recruit new affiliates and get them to invest). Combine this pyramid scheme element with the investment scheme offered at the other three levels though, and you've got a TelexFree clone Ponzi/pyramid scheme hybrid.
I'm guessing due to the recent crackdown by Massachusetts on Ponzi schemes that target Portuguese-speaking communities (see Wings Network, TelexFree and WCM777), that the Wyoming registration was made in the hope that regulators there won't be as quick to react.
If they do eventually react or Eternyon themselves simply run out of new affiliate funds to pay existing affiliates with, all those involved can expect to lose their money.
With roughly a billion sunk into TelexFree and who knows how many millions being poured into the pool of reload schemes that emerged in the shutdown aftermath, one really has to wonder just how much investment fraud the Brazilian/Massachusetts Portuguese-speaking communities are willing to endure.
Many of these people still think TelexFree was legit, so I suppose it'll probably be a while more yet.