EminiFX victims have until December 18th to file claims

EminiFX victims have until December 18th. 2023 to file claims through a portal set up by the Receivership.
The portal can be accessed through the EminiFX Receivership's website.
The bar date was revealed in a Third Quarter Status Report, filed by the EminiFX Receiver on October 27th.
The EminiFX portal went live on September 12th. Since then ~12,000 users have interacted with it, verifying over $126 million in EminiFX deposits (approx 44% of total transactions within the Ponzi scheme).
As of the end of Q3 2023, the Receiver is sitting on $154 million in recovered funds.
The Receiver notes that interest income continues to cover expenses, and that the $154.2 million in cash under management exceeds the $151.3 million in turned over assets (cash plus liquidation value) by nearly $3 million.
Further recovery via litigation against third-parties continues to be explored.
Looking forward, after the December 18th claim deadline passes and while unresolved claims continue to be dealt with, the Receivership will eventually propose a "distribution plan for court approval".
EminiFX was a $260 million "forex trading" ruse MLM Ponzi scheme run by Eddy Alexandre.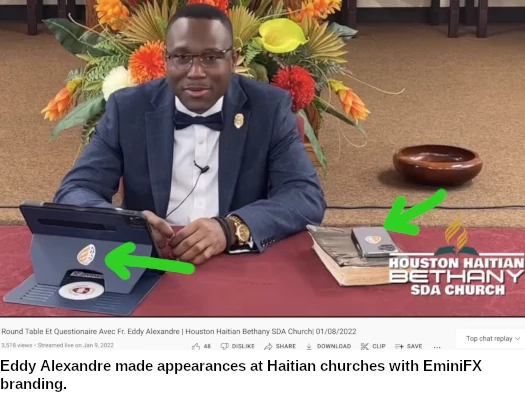 After pleading guilty to a fraud charge back in February, Alexandre was sentenced to 9 years in prison in July.