How the FBI took down EminiFX & Eddy Alexandre

On May 12th EminiFX founder and CEO Eddy Alexandre was arrested.
The bust was part of a joint operation between the DOJ and CFTC. Part of that operation was an FBI sting that began in or around March 2022.
In this article we examine how the FBI took down Alexandre and, following his arrest, what happens next.
Eddy Alexandre is a Haitian national that incorporated EminiFX in New York in September 2021.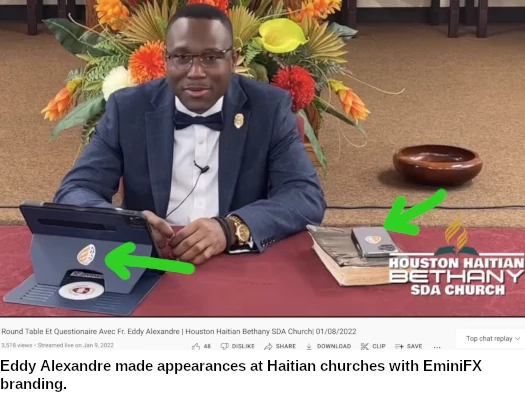 Alexandre launched EminiFX from a New York office shortly thereafter.
Following on from a joint investigation opened by the DOJ and CFTC, the FBI commenced surveillance of Alexandre in New York.
This surveillance lead to collection of evidence, demonstrating Alexandre simply made up the weekly ROI paid to EminiFX investors.
A screenshot from video surveillance of EminiFX's office on March 22nd depicts a whiteboard: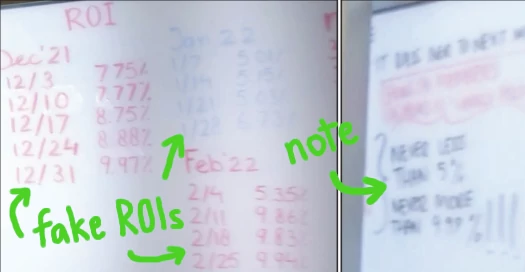 On the whiteboard the daily ROI paid to EminiFX investors was recorded by Alexandre. On the right a note reads, "NEVER LESS THAN 5% NEVER MORE THAN 9.99%!!!"
As opposed to being tied to trading, Alexandre simply made up the weekly ROI rate. He recorded the rate on his office whiteboard, always making sure it was between 5% and 9.99%.
Other methods used the FBI used to investigate EminiFX included witness interviews, attending weekly investor webinars and surveillance of social media, including YouTube.
As per the the sealed complaint that lead to Alexandre's arrest warrant;
Certain EminiFX investors have posted publicly available videos in which they log in to their EminiFX account through the Website and display the EminiFX investor "Dashboard."

For example, a publicly available video posted on a social media website shown below indicates that the EminiFX "weekly profit" for a given week was listed as 9.94% on the Website.
A screenshot of the video was submitted as evidence of EminiFX's fraudulent business operations.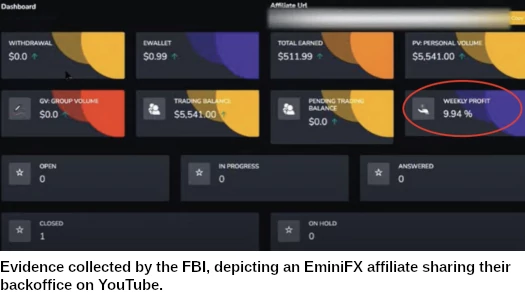 As of May 4th, approximately $35 million remained in EminiFX's account. The FBI noted that on an April 22nd webinar. Alexandre falsely claimed in-person events held at his New York office
had "put to rest many of the questions" that investors had had about whether the EminiFX address was fake and whether the office did not exist.

ALEXANDRE described these questions as "a bunch of nonsense."

ALEXANDRE also indicated that after the Sunday event at the EminiFX office, EminiFX investors, including existing investors, invested more than an additional ten percent in capital within a few days of the Event, bringing the total of EminiFX investor funds to over $114 million.
Analysis of EminiFX accounts used by Alexandre cap invested funds at $59 million. As of May 4th EminiFX had "a balance exceeding $35,000,000".
Based on the bank account activity … which shows that ALEXANDRE failed to invest the majority of investor funds, it appears that the only way that EminiFX can fund investor withdrawals is by using the funds of existing investors, or the funds of new investors, in a Ponzi-like fashion.
Alexandre was arrested on May 12th. He was presented in court later that same day.
Looking forward
There appears to be admin issues blocking access to Eddy Alexandre's criminal case docket. I'm expecting these will be resolved on Monday, after which I'll be able to provide an updated status.
What we do know, courtesy of Matthew Russell Lee of Inner City Press, is that Alexandre was released on bail at his May 12th appearance.
The DOJ are worried Alexandre might flee to Haiti. If Alexandre were to flee, Haiti wouldn't extradite him back to the US.
The court dismissed these concerns and released Alexandre on a $3 million bond. He is subject to self-funded home incarceration, which he is forbidden to pay for with cryptocurrency.
At the conclusion of the hearing,
Alexandre then sat at defense table speaking into his Federal Defender's cell phone (to his wife), until the Marshals put handcuffs on him and took him away.
Earlier today BehindMLM covered the CFTC's civil fraud case against Alexandre.
Stay tuned for an update next week on Alexandre's ongoing criminal proceedings.
Update 17th May 2022 – Alexandre's criminal case docket is now public so I've published the current status of the case.