Nasgo hitches itself to Ryze unregistered securities opp

Ryze first popped up on our radar in 2017. Since then, every MLM company the trading robot scheme has been attached to has failed.
As its ShareNode pyramid scheme begins to stall, Nasgo has emerged as the latest company to try its luck.
For those unfamiliar with the platform, Ryze AI is a forex trading bot, attached to the free MetaTrader4 trading platform.
In mid 2017 we reported on Ryze's doomed partnership with Divvee, which followed their doomed partnership with Hodo Global.
We next came across Ryze in December 2017, as part of Wealth Generator's MLM offering.
In mid 2018 it emerged the FTC had fined Investview $150,000 because Wealth Generators was operating illegally.
Whether Ryze attached itself to other opportunities between mid 2018 and 2019 I can't say for sure.
Around March this year though, it appears Ryze reemerged as an opportunity within Nasgo.
Nasgo launched as a cryptocurrency platform in early 2018.
The concept flopped, and it wasn't until Nasgo launched the ShareNode pyramid scheme on its platform that things picked up.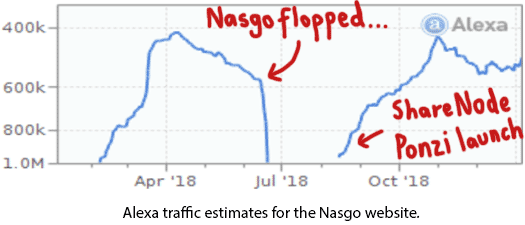 ShareNode launched with its own SNP token. That meant for the most part NSG still had no organic interest, eventually leading to ShareNode suspending NSG payouts.
As far as I can tell, integrating Ryze into Nasgo is an attempt to generate token demand – where otherwise there is none.
Nasgo marketing material showcasing Ryze appears to have begun on or around April 2019.
Four months later things are still pretty hush-hush.
Nasgo's integration of Ryze is being marketed as Ryze One. There's a website set up over at "ryze.one", but all you can do as a non-member is generate a QR Code.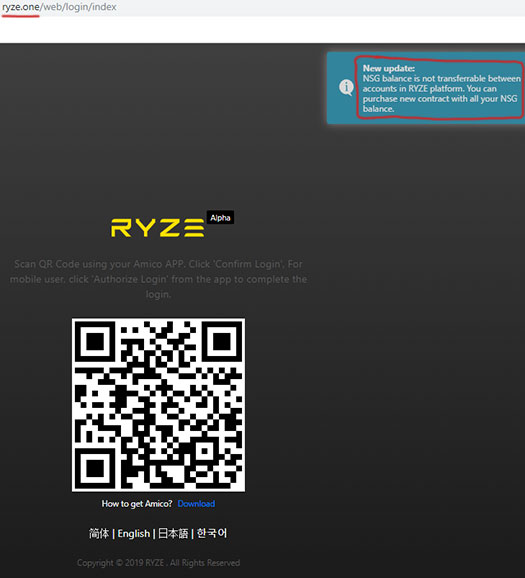 That QR Code is supposed to grant you access to the investment opp, through Nasgo's Amico app.
Nasgo is soliciting NSG investment from its affiliates under the guise of Rise trading contracts.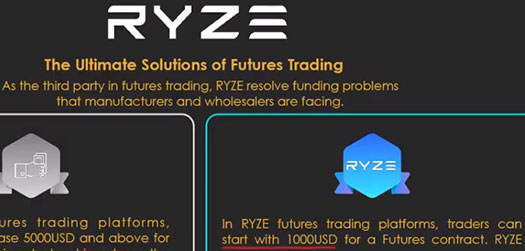 Once Nasgo affiliates acquire NSG (from Nasgo), they convert their NSG tokens into Ryze tokens at a 1:1 ratio.
Like ShareNode's SNP tokens, Ryze tokens are yet another layer of fraud within Nasgo.
Also like ShareNode's SNP tokens, Ryze tokens hold no value outside of Nasgo itself.
Nasgo marketing material suggests that investment in a Ryze contract costs $1000.
Nasgo affiliates invest in Ryze contracts on the expectation of advertised "stable profits".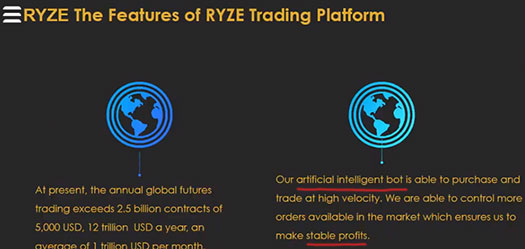 Through an MLM compensation plan, Nasgo affiliates are also financially rewarded for recruitment of new investors.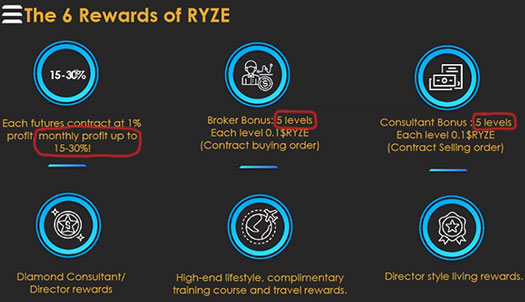 The problem with all of this?
Ryze AI is just as illegal today as its ever been. And now, in addition to running a pyramid scheme, Nasgo has partnered up with Ryze to commit securities fraud.
At the time of publication Alexa estimates the US accounts for 92% of traffic Nasgo's website. Traffic isn't significant enough to the Ryze One website yet to provide accurate estimates.
Neither Ryze or Nasgo are registered with the SEC, meaning once again Ryze's passive investment opportunity is being offered illegally to US residents. By proximity, Nasgo are an accessory-after-the-fact.
Outside of the US Nasgo and Ryze are just as illegal. Neither company provides any evidence it has registered its passive investment opportunity with financial regulators in any jursidiction.
Nasgo is headed up by co-founders Eric Tippets and Steve Chiang.
According to Nasgo's marketing material, Ryze is headed up by Global Platform Officer David Warden.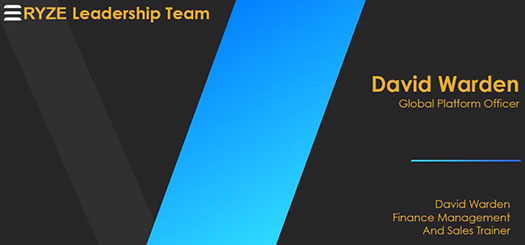 As per Tippetts' social media postings, he and Warden work closely together.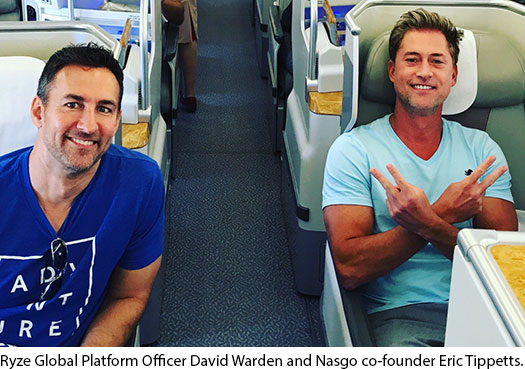 Neither Eric Tippetts, Steve Chiang or David Warden are registered to offer securities in the US.
During the Divvee and Wealth Generators era, Ryze was publicly fronted by Travis Bott.
Bott is currently committing securities fraud through Onyx Lifestyle. Whether he's still involved with Ryze is unclear.
Having taken a bite out of Ryze before, it appears the CFTC needs to finish what they started. Or in the alternative, punt the case over to the SEC.
Failing which it's important to remember that Ryze has never filed audited trading revenue reports with a regulator.
The only reason for this is they aren't doing what they say they are. I.e. Ryze is your typical trading bot Ponzi scheme.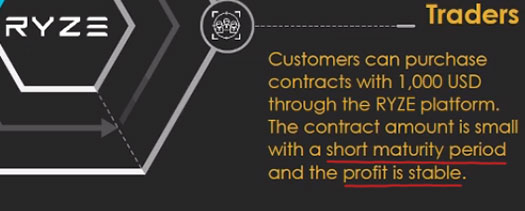 As with all Ponzi schemes, once new investors dry up so do your imaginary returns.
Best of luck selling worthless Ryze tokens to non-existent buyers.