Rippln, securities fraud, Terry Lacore & the SEC

Much of the confusion and uncertainty surrounding Rippln can be attributed to the manner in which the creators have marketed the scheme.
A silly affiliate NDA, lack of information on the corporate structure and ownership of Rippln, a compensation plan and business model that appears to have not been finalised,  nothing concrete on the app the company is supposedly based around… and the list goes on.
Despite the company's best efforts to thwart those interested from conducting thorough due diligence into the company, a purported 200,000+ people have handed over their personal information and signed on.
At the time of publication, any and all efforts to acquire specific details on the MLM side of Rippln have been met with a tin-can "we are currently in buzz marketing mode now and not accepting payment from affiliates, so we're not currently  disclosing anything further" type response.
Despite these efforts however, today we take you behind the Rippln veil and share what has thus far been uncovered.
Suspicions first arose with the April 24th announcement from Rippln's lawyer, Jennifer Grace:
Hi Everyone- I thought I would jump on really quick and put the minds to rest of those that hasveseen (sic) the negative press about Rippln CEO, Brian Underwood.

I have worked with Brian Underwood over the last six years, and have known him to be both honest and forthright. The allegations of Brian Underwood being sued or investigated by the SEC or in another lawsuit are false.

Anyone wanting to verify this themselves can always search the public records of Edgar Online. Mr. Underwood has been in the industry for many years as a distributor and more recently as a corporate officer.

As a Corporate Officer Brian has performed all duties in the best interests of the company.

Happy Rippln, and Kind Regards,
Jenifer Grace
Counsel for Rippln, Inc.
So Brian Underwood has never been sued or investigated by the SEC? Got it and thanks for clearing that up.
The problem?
To the best of my knowledge, nobody had ever suggested or implied that Brian Underwood had been investigated or sued by the SEC.
We'll leave Jenifer Grace's peculiar press release about Brian Underwood and the SEC at that for now, and move onto efforts to establish the exact corporate executive structure and ownership of Rippln.
Despite attracting an alleged 200,000+ affiliates, Rippln's website still provides no information on the company or those running it: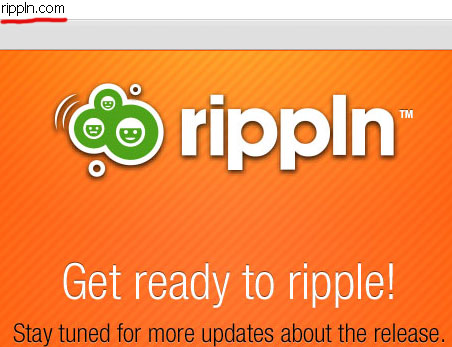 A few names have been thrown around by affiliates, of which the most visible was Brian Underwood, named as CEO on Rippln's Facebook page: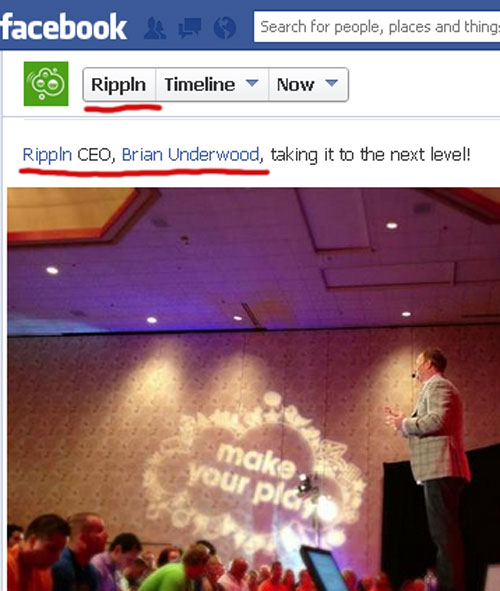 Further digging revealed what appears to be a Blogspot blog set up to pre-empt public searches for background information on Underwood: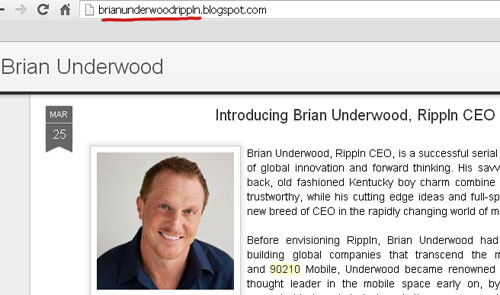 The blog is owned by the Blogspot account "Rippln", which was created in March 2013:
As you can see, several other blogs have been set up in what appears to be a marketing attempt to pre-empt public background searches on Jim Bunch, Jonathan Budd and Brian Underwood in connection to Rippln.
As mentioned previously, Brian Underwood is credited as Rippln's CEO. Jim Bunch and Jonathan Budd are simply credited as being Rippln co-founders: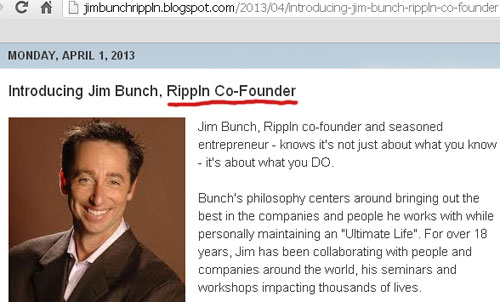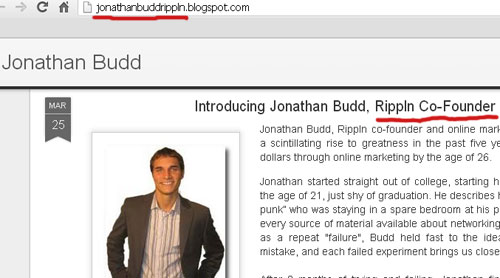 The fourth "Rippln" blog listed is used to republish information that appears on Rippln's Facebook account.
Curiously, a fifth blog was also set up on March 25th, naming Terry Lacore as a fourth co-founder of Rippln:
Why am I displaying a screenshot of Google's search results above rather than the blog itself?
Because it no longer exists. Sometime over the last fortnight Rippln deleted it:
Why did they do that? Well as it turns out not all co-founders are created equal, and that brings us to uncovering the exact geographical location of Rippln.
Not publicly disclosed or acknowledged by Rippln but nonetheless discreetly uploaded to their site are the company's "Terms and Conditions". And if you scroll down to the bottom of the terms, Rippln request that anyone who has any
questions or comments or complaints or claims with respect to Product (to) please contact:

Rippln, Inc., 901 Sam Rayburn Highway, Melissa, Texas 75070.

Along with Rippln, Corporation Wiki lists a boatload of corporations and persons operating out of and in connection to this address: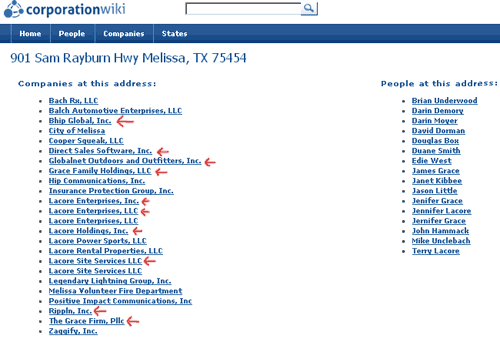 As above, of particular note are "Lacore Enterprises" and "Bhip Global Inc." and "Direct Sales Software Inc.". Corporation Wiki also ties Lacore to GlobalNet Outdoors, a failed outdoor niche shopping mall MLM company that launched in March 2012 and but had collapsed by November the same year: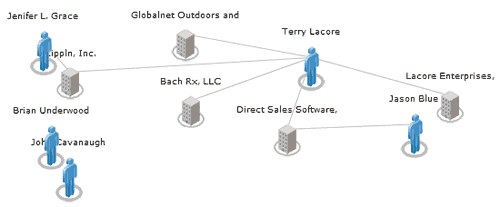 Bhip Global is a  MLM opportunity was founded by Terry Lacore back in 2007: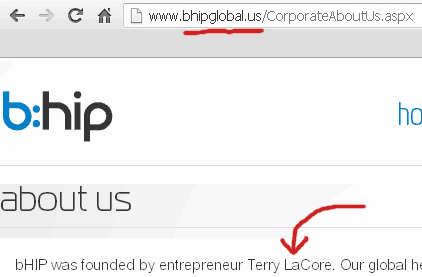 I wasn't able to clarify anything concrete on Direct Sales Software Inc, but as the name suggests this appears to be a software based corporation. Putting two and two together Direct Sales Software is most likely behind the "app" component of Rippln.
Meanwhile Lacore Enterprises would appear to be the umbrella all of these corporations falls under. As the name suggests, Lacore Enterprises is of course owned by Terry Lacore (credited as "Officer" and "Director" by Corporation Wiki).
So where does Rippln fit into all of this?
A report by Rob Hicken published in the Idaho Statesman on April 25th indicates that Lacore Enterprises are behind Rippln:
When Tricia Stoesser, marketing director for the Stage Coach Theatre, sent me a note about a new app called Rippln, hers was the 20th question I'd received.

The network marketing company Lacore Enterprises, in Melissa, Texas, raised questions as it launched under the auspices of changing the way we view social media marketing.

On the company's website, officials claim in YouTube videos that traditional social media built its reputation on the backs of the users and took the profits from that network to pay for expansion and growth – one video cites groups like Twitter, Facebook and Instagram. On another video, it claims games that extolled by networking reaped the profits.

The promise, made in the videos, is that once established, Rippln will pass along marketing profits to the members.

Lacore was founded in 2011 as an advertising agency and is a privately held company. Its attorney did not return calls.
Why Rippln's attorney, Jenifer Grace, didn't return Hicken's calls I have no idea but while we're on the subject it's worth noting that she might have a far more involved interest in Rippln beyond that of attorney.
BehindMLM reader "Skeptic" reports that after purchasing an official record of formation from the Texas Secretary of State, he discovered that Jennifer Grace and Terry Lacore were both listed as sole directors of Rippln.
CorporationWiki ties Jennifer Grace into "Grace Holdings LLC", which indicates a possible financial stake in Rippln in addition to her role as their attorney (and Director). Grace Holdings LLC are listed as operating out of the same Melissa, Texas address as Rippln and the rest of Lacore's companies.
Now that we've established ownership of Rippln, the question arises as to why Rippln are not willing to disclose any of this publicly, and why they pulled from publication a blog they themselves had created advertising Terry Lacore's involvement in the company.
Here's what Rippln had published on the now deleted Terry Lacore Rippln blog (with compliments from Google cache):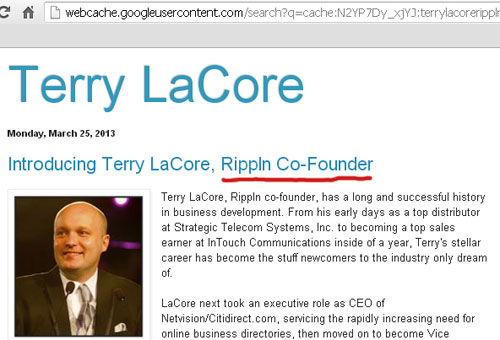 Terry LaCore, Rippln co-founder, has a long and successful history in business development. From his early days as a top distributor at Strategic Telecom Systems, Inc. to becoming a top sales earner at InTouch Communications inside of a year, Terry's stellar career has become the stuff newcomers to the industry only dream of.

LaCore next took an executive role as CEO of Netvision/Citidirect.com, servicing the rapidly increasing need for online business directories, then moved on to become Vice President of Sales at beauty products distributor Kaire, earning promotion to CEO in just a few short months.

As a member of the executive team at publicly traded Natural Health Trends Corp. in 2000, Terry spearheaded a number of highly successful business development strategies including the creation of a health products distributor, Lexxus International.
A "stellar career" that newcomers to the industry only dream of? Yeah, about that…
Rippln's marketing spiel credits Lacore as having "spearheaded a number of highly successful business developement strategies" during his time at Natural Health Trends Corp.
National Health Trends Corp. however have a a slightly different take on Lacore's time with them,
Natural Health Trends Corp. (NASDAQ:BHIP), an international direct-selling and e-commerce company, announced today that the Securities and Exchange Commission has completed a previously disclosed investigation of the Company and others that was initiated in October 2006.

The SEC's staff notified the Company by letter dated September 12, 2008, that they do not intend to recommend any enforcement action against the Company.

The investigation did result in a civil enforcment action by the SEC against two former officers of the Company, Mark Woodburn and Terry LaCore, who were charged with securities fraud and other violations arising from undisclosed related party transactions.

Mr. Woodburn is a former president, director and chief financial officer of the Company, and Mr. LaCore is a former director of the Company and the former chief executive officer of NHT Global, Inc., a subsidiary of the Company.

In late 2005, Mr. Woodburn and Mr. LaCore resigned as officers and directors, and the Company terminated their employment, in connection with an independent investigation by the Company's Audit Committee.
An SEC investigation and resulting civil enforcement action? Oh my… what was all that about?
On September 3, 2008, the Commission filed a civil action in the United States District Court for the Northern District of Texas charging two former officers of Natural Health Trends Corp. ("NHT") of Dallas, Texas, with securities fraud and other violations arising from undisclosed related party transactions from 2001 through 2005.

The defendants are Mark D. Woodburn, of Southlake, Texas, NHT's former president, director and CFO, and Terry LaCore, of Flower Mound, Texas, the former president of NHT's chief subsidiary and an NHT director.

According to the complaint, from 2001 through August 2005, NHT's top distributor paid Woodburn and LaCore, directly and indirectly, approximately $2.5 million in undisclosed payments.

The complaint also alleges that, in February 2004, Woodburn caused NHT to loan $256,200 to a Woodburn family-controlled company, and later took steps to conceal related party nature of the loan when it was discovered by NHT's new accounting management in the fall of 2004.

Woodburn and LaCore agreed to settle the SEC's charges without admitting or denying the allegations of the complaint.

LaCore agreed to settle charges that he violated Section 17(a) of the Securities Act and Sections 10(b) and 14(a) of the Exchange Act and Rules 10b-5, 13b2-2, 14a-3, and 14a-9 and aided and abetted Woodburn's violations of Sections 10(b) and 14(a) of the Exchange Act and Rules 10b-5, 14a-3 and 14a-9.

Each agreed to be permanently enjoined from violations of the specified statutes and to a five-year officer and director bar. Woodburn agreed to pay a $60,000 civil penalty, and LaCore agreed to pay a $50,000 civil penalty.
A five year officer and director bar? Wait a second… 2008, 2009, 2010, 2011, 2012, 2013… but that's exactly… oh dear. Rippln lawyer Jenifer Grace's curious "Brian Underwood has never been investigated by the SEC" announcement suddenly makes sense.
They weren't trying to address the non-existent claims that Brian Underwood had been investigated by the SEC, using misdirection they were trying to pro-actively obfuscate  the chances of anyone finding out Terry Lacore had.
And Lacore's "highly successful business developement strategies" at National Health Trends Corp. doesn't end there. Following the SEC investigation National Health Trends Corp. (NHTC) instigated their own legal action against Lacore, resulting in a temporary injunction:
Natural Health Trends Corp.announced today that it had obtained a temporary injunction in its lawsuit against Terry LaCore, the Company's former director and executive officer, and Mr. LaCore's new company, bHIP Global, Inc.

As previously disclosed, the Company sued Mr. LaCore and bHIP Global, Inc. in 2008, charging them with numerous unlawful acts.

The Court has found that there is credible evidence that the Company has established a probable right to relief on causes of action against Mr. LaCore and bHIP Global, Inc., including, among others, claims for misappropriation of confidential and proprietary information and unfair competition.

Among other things, the Court found that the evidence supports the Company's claims that:

(i) Mr. LaCore and bHIP Global, Inc. likely have possession of the Company's confidential and proprietary information and are in a position to use such information in competition with the Company;

(ii) Mr. LaCore and bHIP Global, Inc. likely have solicited the Company's employees and distributors in breach of their agreements with the Company; and

(iii) Mr. LaCore entered into multiple contracts with the Company providing for the return of confidential and proprietary information.

Pending a trial of the lawsuit, the temporary injunction restrains and enjoins Mr. LaCore and bHIP Global, Inc., as well as their officers, agents, employees and attorneys, and all persons in active concert or participation with them, from

(a) directly or indirectly contracting with, or employing, any former or existing employee, distributor or supplier of the Company if such contract or employment would result in that person breaching his or her agreement with the Company and

(b) obtaining confidential information belonging to the Company with knowledge that the information was obtained in breach of a confidentiality agreement between the Company and any former or existing employee, distributor or supplier of the Company.

The temporary injunction also orders Mr. LaCore and bHIP Global, Inc. to return the Company's confidential and proprietary information.
How did the case end?
Rod Cook over at MLM Watchdog covered the conclusion of NHTC's lawsuit, writing back in 2008 that
NHTC dropped out by not paying their lawyers so the whole NHTC lawsuit was DISMISSED….Went down drain without a whimper!
What happened there I have no idea but it was the only positive for Lacore I was able to find in relation to his involvement with NHTC.
The SEC's lawsuit and resulting civil enforcement action and fines speak for themselves and probably explain the secrecy and failure to openly disclose the entire corporate structure and ownership of Rippln.
So where exactly are we at now?
Rippln have launched what they referred to as a "stealth viral marketing" campaign, with the company openly declaring that 'Rippln is all about recruiting new members' on the BlogSpot Rippln blog set up as part of their marketing efforts.
Compensation plan wise it was revealed that the Rippln were going to pay $20 on the recruitment of 5 new free affiliates, and $80 and $240 on the recruitment of new paid Domestic and Global affiliates, with affiliates having to pay themselves if they wished to earn these commissions.
Since then Rippln have pulled all previously released compensation plan material from the internet, now claiming that
Rippln has not fully completed its planning for the Rippln Rewards Program as it continues to undergo scrutiny by Rippln's legal advisors.
That of course wasn't before Rippln told affiliates at a recent marketing event (according to a Rippln affiliate who claims to have been in attendance), that it would cost $300 to join as a Domestic affiliate and $900 as a Global.
Between the SEC investigations, securities fraud, allegations of pillaging propriatary information and competitive secrets from previous opportunities and why Rippln are apparently actively seeking to distance themselves from revealing Terry Lacore is seemingly behind the business, the company has a lot to answer for.
Unfortunately however, whether or not we'll get an official response to any of the above information is not clear.
Rippln co-founder Jonathan Budd (who appears to be their online PR spokesperson) was openly participating in the discussion here at BehindMLM, but after being repeatedly grilled on the finer points of Rippln wrote in his last published comment:
Hi all,

To answer your questions one final time.

(blahblahblah we don't know how to run Rippln without paying recruitment commissions and charging affiliates membership fees, please tell us how to run our business blahblahblah)

Thank you for your time. Good bye.

All the best,
Jonathan Budd
When I last wrote about Rippln, I concluded with the analogy that the opportunity was somewhat like a train:
200,000 people have signed up for tickets to the Rippln MLM train, the drivers don't appear to be certain on how to operate it and nobody really seems to know where they're all headed.
Between Terry Lacore's history with the SEC, the (now retracted) recruitment driven compensation plan, 200,000+ affiliates who have signed up without really being told what they're getting into and Rippln openly advertising the company as being 'all about recruiting new members', I'd like to update that analogy by stating that in all likelihood the Rippln train seems headed straight into the laps of US regulators.
All aboard…
Footnote: Full credit goes to the BehindMLM readers whose collaborative efforts made the basis of the above article.
You can read the community discussion as it happened over at the BehindMLM Rippln Review.