Did regulators shut down Worldwide Solutionz?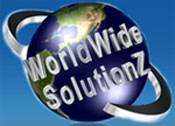 As per the Worldwide Solutionz website, the company appears to have shut down on or around January 15th:
Kindly note that WorldWide SolutionZ will no longer be conducting business, effective immediately. Please refer to the email sent to all members on January 15, 2015.
The email sent to affiliates offers up some more information, suggesting that the company has shut itself down in the face of a regulatory investigation:
Dear WorldWide SolutionZ Members,

As you all know by now, we have been struggling to get compliance taken care of with the Reserve Bank from early 2014 with very little progress.

We have now received instructions of the first phase of information needed from all members and while this process is being dealt with the website and business will be closed down as we are not allowed to trade while the business is under investigation and reconciliation is being done.

Some of you will see refunds added to your funding processor as we progress.

Please send us the following required by the Reserve Bank very urgently:

-Full names and last name and proof of identity

-Registration numbers and papers for businesses if you had a business registered with us

-Proof of residence, must be physical address and postal address

-Reason (relationship) for doing business with WorldWide SolutionZ

-Denomination of funds sent to WWSz for Registrations, Life Jackets and other transactions

-Total out of pocket funds added to WorldWide SolutionZ Life Jacket Account, proof of funding attached

-Proof of income used to fund WorldWide SolutionZ accounts (where did the money come from ie, salaries, savings, loans, etc)

-Confirmation that membership agreement was read, understood and accepted

-Confirmation that Private Membership Agreement and Articles of association was read, understood and accepted

-Confirmation that the member has not been offered and does not own shares in WorldWide SolutionZ at this point in time.

Please send the above mentioned requirements very urgently to help us speed up the process. Send to (email address removed).

Kindly note that effective immediately, WorldWide SolutionZ will no longer be conducting business.

The Skype groups and Social Media groups will be closed to further comments at this time. We will not be available for direct communication via skype, mail, phone, social media or any other means of communication.

Please direct all enquiries to (email address removed)

Love, Light and Graitude
Marelize
As someone who has followed a number of company shutdowns due to regulatory intervention, I have to say that the above doesn't sound so much as an investigation as it does gathering victims' details.
The last "confirmation" in particular sees WorldWide Solutionz effectively ask their affiliates to lie, presumably to regulators as that's who the company will forward affiliate correspondence on to.
From the sounds of it the Reserve Bank has finished their investigation, WorldWide Solutionz has shut itself down (or been ordered to), and now the regulator is looking to obtain information from the scheme's investors.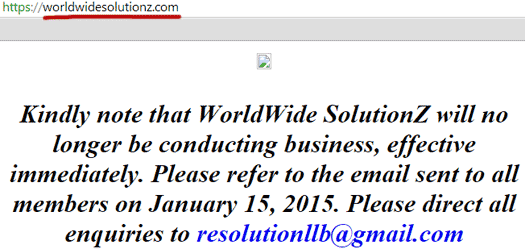 Interestingly enough, the email address provided in Marelize van Niekerk-Venter's email and which is also displayed on the Worldwide Solutionz website (above), belongs to Carlo Viljoen.
An ad on Gumtree classifieds outs Viljoen as a criminal defense attorney:

For Bail applications and criminal representation contact Carlo Viljoen on…
On his LinkedIn profile, Viljoen claims to specialize in "criminal litigation, bail applications and appeals".
The hiring of a criminal defense attorney certainly fits the narrative of the scam being shut down by the Reserve Bank of South Africa.
The investigation sounds all but over, with Worldwide Solutionz's owners now looking to defend themselves in court.
For those unfamiliar with the scam, Worldwide Solutionz used new investor funds to pay existing investors a $40 ROI on $25 investments:
When the 90 days is over, the original $25 pops back up in your account balance. Did you notice what just happened?

Your $25 became $40 while you were working on … Oh that's right, you don't have to do anything at all to earn this or make it happen.

Just purchase, relax, enjoy, rinse and repeat.
From the sounds of it, Worldwide Solutionz has likely been under investigation for some time. What happens next though is unclear.
Whether the Reserve Bank comes forward with any information remains to be seen.
I did consider that the closure might have been van Niekerk-Venter's attempt to do a runner with what's left of invested funds, but the hiring of a criminal defense attorney suggests that might no longer be an option.
This is a breaking story so stay tuned as more information comes to hand…