Cloud Token withdrawal delays (1 month+), leaders fighting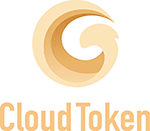 Uneasy alliances forged with the common goal of fleecing Cloud Token investors are coming to an end.
Cloud Token withdrawals have been suspended for a month or more in some instances. Company support is MIA, reports of selective withdrawal payments are emerging and affiliates are getting restless.
Cloud Token's top "C4" recruiters are buckling under the strain. Some have now turned on the company and even each other.
I've been holding off reporting on Cloud Token's withdrawal issues for a few weeks now.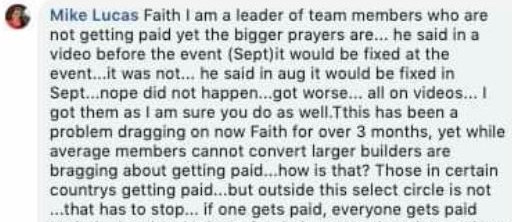 A major factor for this decision is the social media narrative that Cloud Token withdrawals will magically work by the end of the month.

That deadline is fast approaching, and the behavior of Cloud Token's top recruiters suggests it will come and go without event.
Before we get into that though I feel it pertinent to point out that this is your basic Ponzi trajectory. The second there's withdrawal problems it means new investment can't keep up, and that always precedes a collapse.

Due to Cloud Token's investment vehicle being worthless tokens, we're seeing this play out in slow-motion.

Although there's likely been a boatload of bickering in the many private Cloud Token groups, I believe the first public shots were fired by Shohan Bowala on October 23rd.
Ronald I think it has come to that point where you need to protect the partners (Investors) in cloud token. People are losing hope.

So what ever it takes to make this business sustainble. As we know a handfull of people make 6 figures a day. And alot 5 figures. Well done to them for working hard and taking the business to the next level.

But them making this sort of money and withdrawing it, is it going to be sustainable in the long run?
Although it does nothing to prevent top recruiters from withdrawing the majority of invested funds, Bowala suggested Ronald Aai slash Cloud Token's compensation plan.
For those not following Cloud Token, Ronald Aai is running the show from Malaysia.
Aai has a social media presence, which appears to be where the majority of official Cloud Token investor communication takes place.
As of October 23rd, Bowala claimed Cloud Token withdrawal issues has been going on for five weeks.
I dont [sic] know how anyone in the right mind can bring in people to a company that has Convertion [sic] issues for the past 5 weeks.

I have been paying people off from my own pocket who can't convert CTOs for the Past few weeks.

Now it's your responsibility to do what ever it takes to make this sustainble [sic] and get this on track. Your responsibility shouldn't be to look after just the C4 members.
C4 Members are Cloud Token's top recruiters, who for the most part don't appear to be experiencing withdrawal problems.

Earlier this month Cloud Token blew a boatload of investor cash on a leader event in Malaysia.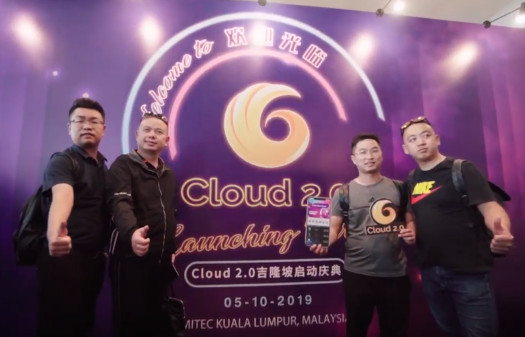 Since then Aai has been documenting his travels across Asia to promote Cloud Token.
Comments on Aai's posts are either from gullible investors posting memes, or angry investors demanding to know where their withdrawal requests went.

With Aai not having addressed the withdrawal situation publicly to date and victims breathing down their necks, top Cloud Token recruiters are having a rough time keeping it together.
Cue Luigi Bruni who, along with partner in crime Justin Halladay and their "Power Team" group, is currently trying to get the Sports Trading BTC and CashFX Group Ponzi schemes off the ground.

Earlier today Bruni held a webinar, calling Ronald Aai out by name.
[1:58] With all (due) respect for Ronald, I don't care what he has to say on his Facebook.

Every once in a while he goes on his Facebook and gives us this big nice beautiful speech, where you see a lot of people are like "eeey, we love you", we love you Ronald.

OK. You're allowed to love him, that's OK but what I want right now is I need answers.
Bruni, who identifies himself as "one of the top guys" in Cloud Token "making a killing", goes on to complain about withdrawal problems.
He reveals he's invited Aai to appear on his webinars, but states that although Aai accepts the invitations, he never has.
[3:47] So yesterday I was supposed to have a live with Ronald here. And he said he would be there…

…I'm glad that I didn't announce it because if I would have announced it to you guys… I would have looked like a fool hey.

Well, I'm not going to look like a fool anymore.
Bruno claims one of his victims is worried about being evicted from his home due to Cloud Token withdrawal delays. Another is suicidal.
The rest of the webinar devolves into Bruni pushing "multiple streams of income", which is MLM underbelly code for "jumping into the next scams as the current ones collapse".
Towards the end of the thirty minute webinar Bruni warns that if anyone
has something to say bad about me, I'll just kick you out of this community.

Why? Because it is as it is.
Bruni's threats appear to have lead to fellow Cloud Token scammer Faith Sloan's ejection from his group.

In a followup webinar Sloan, who's in Bruni's Cloud Token downline, went into more detail.
For some reason (Bruni) always thinks he owns the whole team, even though we are the ones who bring in the people that made him the money.

But it's always about "me me me" with him.

…

So this is what I said. And I know what his issue is and y'know I feel for him on that one, because Ronald isn't paying attention to him anymore and there's a reason for that…

So I wrote this;

Luigi, you need to take down that post. You can't be calling Ronald out in public.

Come on now. People are coming to me with negativity. You're sending negative signals. That doesn't look good.
Sloan goes on to paint a portrait of Bruni "daring" Ronald Aai to come onto one of his webinars, or else.
During Sloan's webinar Bruni purportedly contacted her to warn against "going to war" with him.
Sloan retorts with the claim she "has things on Luigi", but won't reveal them unless Bruni backs down.
From there the conversation between the two deteriorated into bickering, interjected with Sloan's angry ranting.
At the end of the conversation Sloan claims she asked to be kicked out of Bruni's group.

At the time of publication Ronald Aai is yet to address Cloud Token leader infighting, or ongoing widespread withdrawal problems.