Pro U & Automatic Millionaire: The $39980 opportunity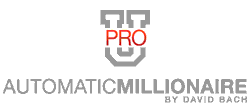 Affiliate marketing has been around for almost as long as internet marketing itself and revolves around the basic principle of one person selling another person's products.
When a sale is made, the product owner then awards a commission to the affiliate who sold the product. This typically ranges in the vicinity of 5-50% of the sale, although it can be higher or lower depending on the type of product and retail cost.
When I began my research into Carbon Copy Pro's latest partnership, Pro U and Automatic Millionaire, I was tempted to write off the entire thing as straight forward affiliate marketing and simply not write about it.
After all, Behind MLM is about the MLM industry – affiliate marketing is something else altogether.
Digging a little deeper though, I began to realise that there is indeed a MLM'esque business opportunity available here via the two programs. It's quite shallow and offers no residual income but it's there.
Oh and did I mention it will cost you $39,980 to maximise your commission?
Introducing Pro U and Automatic Millionaire – the most expensive business opportunity I've ever seen.
To start off I'd like to make a distinction here as Carbon Copy Pro's partnerships often cause confusion in the MLM industry. Carbon Copy Pro is a marketing system and, similar to their previous partnership with Wealth Masters International, they've now created a specific program to market Automatic Millionaire.
Automatic Millionaire is a personal finance training course authored by some guy called David Bach. I'm not going to get into him personally because I haven't focused on his work, my primary focus has been on the business opportunity attached to his program, Automatic Millionaire, via 'Pro U'.
Automatic Millionaire is the content being marketed through Carbon Copy Pro's latest marketing system, Pro U. Pro U has been tailor made for Automatic Millionaire, which itself is nothing more than a subscription based personal finance education program.
Pro U is what you use to market Automatic Millionaire with and beyond commission payouts there's no direct relationship between the two companies (although some Pro U courses are bundled with the various Automatic Millionaire subscription levels).
So why does a personal finance education course need to be marketed by a third party you ask?
Enter the Pro U affiliate marketing opportunity.
This marketing opportunity seeks to reward those who promote Automatic Millionaire through the Pro U marketing system.
This partnership means that via your efforts, Automatic Millionaire gets money with new subscriptions and Pro U gets to sell their marketing system to you.
But what's in it for you?
Well, the good news is there's some hefty commissions to be had (over $15,000 per sale), but the bad news is you're looking at a considerable investment into Automatic Millionaire yourself to make any real money.
Hell, 'considerable investment' is an understatement – we're talking serious money here. More like a downpayment for a mortgage.
Membership to Automatic Millionaire is sold on five levels; Foundation, Silver, Gold, Platinum and Black.
I'm going to give you a quick run down of each level and then we'll see how they tie into Pro U's affiliate commission payouts (take note of the 'Pro U credits' associated with every level of subscription, I'll go into them later).
Automatic Millionaire Foundation
Automatic Millionaire Foundation is the entry level for Automatic Millionaire and is designed to give you a taste of the Automatic Millionaire training program.
At this level you get access to;
The Automatic Millionaire Foundation Coaching Call (monthly live coaching call with David Bach)
The Automatic Millionaire MBA calls (30 minute monthly 'interview with financial experts' style call)
Access to the Automatic Millionaire's 'members area' (more training stuff from David Bach)
A yearly subscription to 'Debt Wise' (Debt management program by David Bach and credit company Equifax)
A yearly subscription to 'ID Patrol' (identity theft protection program)
Pro U Credits: 0
Cost: $495 per year
Automatic Millionaire Silver builds on Foundation and additionally offers access to
The Automatic Millionaire Mastery Program (Personal finance course: book, workbook, dvd, cds etc, etc.)
Pro U courses: Pro Why and Pro Sales (courses designed to help you utlilise the Pro U marketing system more effectively)
Pro U Credits: 25
Cost: $1985
Automatic Millionaire Gold
Automatic Millionaire Gold provides you with access to
The Automatic Millionaire Gold Summit Conference (2 day personal training event with David Bach and friends)
Pro U Course: Pro Legal (course designed to help you with the legalities of running a small business, aka. what to do if you get sued)
One free month of access to 'My Pro Law Membership', which from what I can gather is legal services you pay for once 'Pro Legal' has convinced you that you need a lawyer to run an online business.
Pro U Credits: 60
Cost: $7995 if you upgrade from Silver, or $7990 bundled with Silver.
Automatic Millionaire Platinum
Automatic Millionaire Platinum is the second highest tier of membership and in addition to everything mentioned previously, provides you access to
Two tickets to a 3 day Platinum Summit Conference (3 day personal finance conference with David Bach and friends)
Pro U Course: Pro Leadership (personal development course on leadership)
Pro U Credits: 70
Cost: $9995 if you upgrade from Gold, or $16,990 bundled with Gold and Silver.
Automatic Millionaire Black
This is the premium subscription level of the Automatic Millionaire course and a purchase grants you access to all of the lower level offerings as well as
Two tickets to 2 day Automatic Millionaire Black Retreat (2 day personal finance conference with David Bach)
Pro U Course: Pro Business (guide on how to run a course, note: at time of publication this course is not available)
Pro U Credits: 100
Cost: $27,995 if upgrading from Platinum and $39,980 bundled with Platinum, Gold and Silver.
I'll make a note here that I might seem to be glossing over the products and conferences available at each level, but they aren't the focus of this article. My focus is on the business opportunity attached the program and this brings me to the next section;
The Pro U and Automatic Millionaire business opportunity
One thing you'll note with the Automatic Millionaire training course is that, no matter what subscription level you buy into, at the end of the day it's still up to you to apply what you've learnt to some other business to make any money. The course itself won't directly generate an income for you.
Well, not unless you market the course through Pro U.
Carbon Copy Pro has partnered up with David Bach and has provided the inhouse marketing platform Pro U for people to market Automatic Millionaire with.
In return they'll pay you a commission on each sale that you make however there is a catch.
Remember those Pro U Credits I mentioned earlier? The amount of Pro U credits you have directly corresponds to the size of the commission you can earn on each Automatic Millionaire sale you generate through Pro U.
Here's how it's broken down;
Basic Affiliates require no Pro U Credits and earn a 10% commission on each sale.
Certified Affiliates require 50 Pro U Credits and earn a 20% commission on each sale.
Professional Affiliates require 100 Pro U Credits and earn a 30% commission on each sale.
Master Affiliates require 200 Pro U Credits and earn a 40% commission on each sale.
Elite Affiliates require 300 Pro U Credits and earn a 50% commission on each sale.
Note that the Pro U Marketing program (replicated website and affiliate ID) will also set you back an additional $199 a year.
As you can see, it's impossible to gain Pro U Credits without personally purchasing a subscription to Automatic Millionaire or directly purchasing Pro U courses (unavailable at this time). I'll also further note that the Pro U courses offer such a low credit score per product (5-15 at the time of publication) that it's not worth your effort bothering.
Clearly the guys over at Pro U are counting on the bulk of the Pro U Credits being earnt through Automatic Millionaire subscriptions.
One other thing to point out is that the entire subscription of all Silver, Gold, Platinum and Black for Automatic Millionaire only adds up to 255, leaving me wondering where the other 45 credit points to reach the Elite Affiliate level are supposed to come from.
I did have a thought that the Automatic Millionaire subscriptions are annual but then I was left asking myself that, at the highest level, who's coughing up nearly $40,000 year after year?
We're talking university degree money here!
From a business opportunity perspective the three biggest drawbacks to approaching Pro U and Automatic Millionaire from an income generating perspective are
There's no residual income system. If you want to earn decent commissions you need to outlaw significant costs of your own and even then all you get are once off commissions from initial sales to Automatic Millionaire.
The fact that there's no other way to generate Pro U Credits without product and/or subscription services does raise a few alarm bells. As a business opportunity, it's never a good sign when the only way to grow your commission is to have to purchase the products you're selling.
The massive investment in order to participate competitively. There's simply no getting around the thousands of dollars required to participate in this program. At the highest level we're talking almost $40,000 and that could be annually. Then of course there's the airfares to attend the conferences and other indirect costs of membership. All this adds up and eats into your sales commissions.
Don't get me wrong there is significant money to be made here (50% of $39,980 is $19,990) but be aware it's going to cost you and it's going to cost you a lot just to participate. Not to mention the difficulty in selling a $40,000 personal finance course which appears to be on an annual subscription.
Strip away David Bach's Automatic Millionaire course (the value of which will vary from individual to individual), and all you're left with is a very expensive and rather shallow business opportunity with not much room to grow or expand.
Treating Pro U and Automatic Millionaire's partnership as a straight affiliate opportunity is probably going to be your best bet. I wouldn't be relying on generating a full time income with it anytime soon.