WMI files lawsuit over "gutting" of business

Following the failure of plans to take WMI public in late 2011, possibly halted following the revelation of an SEC investigation into the company, it's no secret that Wealth Masters International has all but descended into the annals of MLM obscurity.
Launched amidst a boom of personal development MLM opportunities, each offering its personal brand of guru training and enrichment, today Wealth Masters still appears to be operational, but by all accounts has stalled.
In a lawsuit filed by the company earlier this year, Wealth Masters even went so far as to claim the company had been "gutted" by the actions of past consultants and affiliates.
Filed in Houston Division of the Southern District Court of Texas, Wealth Masters International accuse
Jason "Jay" Kubassek, Jay Kubassek, Inc. individually and d/b/a CarbonCopyPro a/k/a Carbon Copy Pro
Aaron Parkinson, Omni Industries, LLC d/b/a CarbonCopyPro a/k/a Carbon Copy Pro ("CCP") and Pro U ("Pro U")
Andrew Cass
Jeffrey Lerner
Aaron and Sophia Rashkin and
Michael Force
of
(breaching their) agreement to exclusively market WMI's financial education and consulting products
(the) breach of consulting contracts with WMI concerning conflicts of interest and solicitation of other consultants
(the) breach of and/or participating in the breach of fiduciary duties to WMI
(the) misappropriation of WMI's trade secrets
(the) breach of employment agreements not to disclose confidential information, not to solicit employees, and not to compete with WMI while employed and/or contracted by WMI (and thereafter)
(the) wrongful interference with WMI's employment agreements with its employees and consulting agreements with its consultants
slander
libel
business disparagement
unjust enrichment and
conspiracy
The 34 page amended complaint, filed on the 29th of July, largely focuses on the abrupt separation of Carbon Copy Pro (CCP) from Wealth Masters and partnership between Pro U, CCP and Automatic Millionaire.
Defendants Kubassek, Parkinson, and Cass, who each signed an employment contract and/or consulting contract with WMI and served on WMI's Executive Committee, and their company, CCP, provided online marketing services for WMI, a network marketing company that sells financial education and consulting products around the world.

After WMI paid Kubassek, Parkinson, Cass, and CCP millions of dollars based on their agreement that they would develop WMI's business exclusively, and further based on their consulting and/or employment agreements not to solicit WMI's consultants and/or compete with WMI, Kubassek, Parkinson, Cass, Lerner, and CCP began to secretly recruit WMI's employees and consultants to sell a competing product based on David Bach's "Automatic Millionaire" concept, using a network marketing program that CCP/Pro U had been developing for a year.

Kubassek, Parkinson, Cass, and CCP required these recruits to sign nondisclosure agreements, and specifically told these recruits not to tell WMI's management about the competing product or that they had been recruited to develop and sell it instead of WMI's product.

Eventually, Defendants Jeff Lerner, Aaron and Sophia Rashkin, and Michael Force, members of WMI's Executive Committee who had also signed consulting agreements with WMI, abruptly left WMI and, along with the other Defendants, violated their agreements and convinced other WMI consultants to violate their consulting agreements and sell CCP's competing product.
As a result of the above actions, Wealth Masters claim that the company
had its multi-million dollar business gutted, lost substantial profits, lost good and highly profitable sales consultants, and has suffered damage to its goodwill and reputation from a competing product which was developed using WMI's products and WMI's confidential business plans, strategies, and customer information that is strikingly similar in look and feel and that is marketed by the same WMI consultants, and is therefore confusing in the marketplace.
Wealth Master's claims the damage done to the company equates to $10 million dollars worth, also adding 'these damages will likely increase'.
How and on what basis Wealth Masters calculated this figure is not mentioned.
In the complaint, WMI lay out the backstory behind the rift that developed between the company and Carbon Copy Pro:
WMI sponsors seminars called m2 Wealth Conferences, in which it gathers consultants together and provides them with information concerning market trends and wealth creation opportunities. At these conferences, consultants have personal access to some of the world's most successful wealth and development experts.

Beginning in 2008, WMI provided for CCP to have a marketing day at the end of each m2 conference, for which WMI paid a substantial amount of the expense because CCP promoted WMI at these conferences.

WMI's eleventh m2 Wealth Conference was scheduled for November 14-17, 2010 in Las Vegas. WMI understood that, as had occurred during the previous m2 conferences, CCP would conduct its marketing day on November 18, the day after the conference, at the same hotel used for WMI's m2 Wealth Conference.

However, Kubassek, Parkinson, and Cass, on behalf of CCP, informed WMI in late summer 2010 that CCP would not have its marketing day in conjunction with the WMI conference, but instead would do its own marketing day.

Upon information and belief, Kubassek, Parkinson, and Cass, on behalf of CCP, then booked their marketing day event on November 20, 2010 at a different hotel in Las Vegas, with the intent to launch CCP's competing product directly to WMI's consultants who had participated in the WMI m2 conference.

What was unknown at the time but has now become apparent, upon information and belief, is that the decision of CCP, Kubassek, Parkinson, and Cass to distance themselves from WMI at the November 2010 m2 Wealth Conference was just part of a larger conspiracy among all of the Defendants.

The Individual Defendants were apparently working with CCP on its competing product and planning their departure months before they left the employ of and/or affiliation with WMI.

In the summer and fall of 2010, while planning their separate conference and product launch, Kubassek, Parkinson and/or Cass contacted key consultants of WMI and requested they sign non-disclosure agreements ("NDAs") in order to look at a new product Kubassek, Parkinson, Cass, Force, Lerner, and/or CCP were developing.

Cass and Force were also WMI consultants at the time. Cass was also serving on the EC at WMI.

Kubassek, Parkinson and/or Cass specifically told these consultants not to tell WMI's management about the competing product or that they had been recruited to sell it instead of WMI's product.

As described at the time, the new product used a network marketing/affiliate program to sell a financial education product based on financial analyst David Bach's Automatic Millionaire concept.

Like the WMI product, the new CCP/Pro U product had three levels, which included a base program, a set of seminars/meetings, and an exclusive top-level meeting/conference.

The pricing strategy was the same, and even the prices were similar. The look and feel of the new CCP/Pro U product, including its packaging, was similar to that of WMI.

WMI was later provided copies of presentations on the new CCP/ Pro U product that were extremely similar to the ones WMI had done for its products.

WMI's management, Kip Herriage and Karl Bessey, initiated a call with Kubassek, Parkinson, and Lerner to discuss whether CCP was launching a competing financial education product.

Herriage asked Kubassek point blank if CCP was launching a competing product at WMI's m2 conference in Las Vegas. Kubassek said "no".

Kubassek did not tell WMI's management that the product CCP was preparing was similar in many ways to WMI's product, that the CCP product would be marketed to WMI's consultants using WMI's network, and that CCP was replacing WMI's product in the top tier of the CCP marketing funnel.

Kubassek said he would allow the CCP marketing system to market both products, but did not disclose to WMI's management that CCP was setting the system up to sell the Bach product.

The CCP funnel was being set up to point purchasers toward the CCP Bach product, and make it difficult for those purchasers to find the WMI product.

Kubassek was clearly taking advantage of his superior knowledge about the online marketing funnel that CCP had developed for WMI, and which it would now be using for the benefit of the new CCP Bach product.

Following the telephone conference between WMI's management and Kubassek, Parkinson, and Lerner on behalf of CCP, and without knowing the true nature of the CCP Bach product and plan, WMI allowed Cass to serve as the emcee at WMI's m2 conference in Las Vegas.

At this time WMI had not been made aware that Cass was working on the new Bach financial education product at CCP.

Further, and based on Kubassek's assurances during the call, WMI agreed to allow CCP to give a 15-20 minute presentation on its marketing system, including its funnel to WMI, at the m2 conference, which Lerner was to present.

At the last minute Kubassek showed up at the November 2010 WMI m2 conference and gave a presentation on Pro U and its products.

Basically, Kubassek presented CCP's product to WMI's consultants at a WMI sponsored event, at WMI's cost.

During November and December 2010, the Individual Defendants' WMI sales production fell off dramatically as they prepared to leave WMI and/or began selling CCP/Pro U competing products that had been developed using the Bach plan.

In December 2010 Cass ultimately elected to disclose his secret relationship with CCP and advised WMI that he did not feel like he could be part of two competing teams, and he terminated his relationship with WMI on December 1, 2010, having already solicited the consultants that he had recruited for WMI to leave WMI and join CCP, and after having produced a sales video with Force to sell the new Pro U product line before his departure on December 1, 2010.

The other Individual Defendants, who were actively marketing as WMI consultants, continued their charade, confusing WMI's customers by selling/promoting or soliciting them for competing products along with WMI products.

Eventually, Defendants Lerner, the Rashkins, and Force left WMI and solicited their WMI consultants to go with them to CCP to sell the CCP financial education product.
Ugh, what a mess.
I'd argue that WMI was in decline prior to the CCP split, which in effect was what initiated them to look for an alternative opportunity to pimp through the system. WMI obviously see things differently.
That aside though, if the cross-recruiting nonsense and secrecy surrounding CCP and Pro U marketing Automatic Millionaire is accurate as presented, that does reflect an effective gutting of what was left of the core of the WMI business at the time.
In response to the cross-recruiting going on, WMI state they were
forced to do damage control with a number of consultants,

advising them that under their agreements with WMI they could not sell the CCP/Pro U product which competed with WMI.

When these consultants refused to cease selling the CCP/Pro U product, WMI had to terminate their consulting agreements to try to prevent further confusion and injury to its reputation.
So in addition to WMI organically losing affiliates to other opportunities, you also had the company terminating its own affiliates.
In conclusion, Wealth Masters essentially concedes defeat and claims the company is irrecoverably screwed.
WMI has lost its confidential information, its trade secrets, and its key employees and consultants to Defendants because of the conspiracy of the Defendants.

WMI has suffered the loss of its confidential information and the loss of its key employees and consultants, as well as losses resulting from the sales of a similar product by these same consultants.

In essence, WMI's ability to compete was compromised by the Defendants, and there is no way to determine how WMI would have fared without the Defendants' wrongful actions.

Defendants' conduct has caused and will continue to cause WMI damages. At this point, the damages are approximately $10,000,000.
Given that there's "no way to determine how WMI would have fared" had all of the above not taken place, $10 million sounds like an awfully determinable figure to me.
Given the general decline of other personal development MLM companies launched and operational during WMI's more succesful years (2005-2009 or so), I'd say they'd have most likely suffered the same fate.
Whilst I currently have no idea how Kubassek, Parkinson, Cass, Lerner and Force will respond or have responded to the complaint, law firm Thompson Burton have shared a reply to the complaint they've filed on behalf of Aaron and Sophia Rashkin.
In addition to denying the allegations made against them, the Rashkins are also counter-suing Wealth Masters.
Why?
They wish to 'recover damages caused by WMI's operation of an illegal and inherently fraudulent pyramid scheme'.
Oh my.
In their amended complaint, WMI describe the Rashkins as follows:
Defendants Aaron Rashkin and Sophia Rashkin (the "Rashkins") are individuals believed to be residing in Parker, Colorado.

The Rashkins signed a Consulting Agreement with WMI agreeing to jurisdiction and venue in Fort Bend County, Texas. The Rashkins also served on WMI's Executive Committee and signed a WMI "Executive Committee Agreement and Non Disclosure/Non-Compete."
With both the Carbon Copy Pro and Pro U opportunities both in decline themselves, currently the Rashkins are busy promoting Empower Network, after joining in late 2011.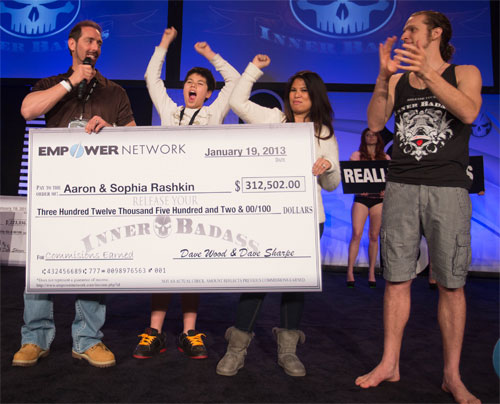 In their response, the Rashkins claim
The WMI pyramid scheme is fraudulent and illegal because it induces individuals to invest in token services and to recruit new victims into the scheme with the false promise of enormous profits.

Completely contrary to the law, WMI forces its distributors to purchase services and then conveniently ignores all obligations to accrue retail customers beyond the distributor network.

The WMI pyramid scheme is a prototypical one, purportedly formed as a multilevel marketing (MLM) system, with rules and regulations which are drafted solely as a pretense, which are not enforced, and which have no substance in the operation of
the business.

WMI lacks all appearances of legitimacy.

When done appropriately, multi-level marketing is a legal form of moving products from companies to end users. However, WMI has corrupted the model and leveraged fraudulent means to create a classic pyramid recruitment scheme.

WMI's business model is complex on paper yet simple to articulate: Pay up to $20,000 for token products and services in exchange for the right to earn commissions from recruited participants that do the same.

Less than one-half of 1% of WMI's gross revenue can be attributed to legitimate retail sales; thus, proving the point that the products have no legitimate without the recruitment mechanism.

In WMI's novel compensation formula, distributors are required to invest upwards of $20,000.00 in addition to the payment of monthly fees to remain eligible for compensation under the scheme.

At all times material to the Rashkins involvement with WMI, participants were required to "sell" a minimum of $2,000.00 worth of services each month.

However, because outside customers never bought the services, the word "sell" is synonymous with the word "recruit."

Because there is no legitimate opportunity for WMI distributors to sell services to consumers who are not also distributors, distributors obtain returns primarily by recruiting new distributors who will then pay for the services at inflated prices (and recruit more distributors who will do the same), which subsequently result in "bonuses" to the recruiting distributor.

The Rashkins, as consultants of WMI, gave WMI significant consideration for the opportunity to receive compensation that was derived primarily from the introduction of other persons to participate in WMI's plan rather than from the sale of
products by those person introduced into WMI's plan.

At all times material to the Rashkins involvement with WMI, retail sales were nonexistent under the WMI scheme.

The WMI compensation plan produces a system of monetary rewards that dramatically favors recruitment over retail sales and leads to a constant cycle of victims churning in and out of the program.
As a result of the above, the Rashkins go on to claim
WMI used false and fraudulent pretenses to deceive the Rashkins and other consultants into joining WMI and promoting its illegal scheme.

Specifically, WMI created the false impression that its business and compensation plan is legal and legitimate.

As a direct and proximate result of WMI's conduct as alleged above, the Rashkins have been damaged and have suffered financial detriment.
No specific dollar figure is requested in damages requesting an amount be "determined at trial".
Meanwhile if one is to visit Aaron and Sophia Rashkin's personal blog, "Leading Home Business Pros" ("aaronandsophia.com"), the following message pops up: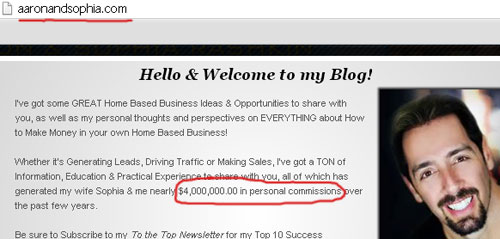 Hello & Welcome to my blog!

I've got some GREAT Home Based Business Ideas & Opportunities to share with you, as well as my personal thoughts and perspectives on EVERYTHING about How to Make Money in your own Home Based Business!

Whether it's Generating Leads, Driving Traffic or Making Sales, I've got a TON of Information, Education & Practical Experience to share with you, all of which has generated my wife Sophia & me nearly $4,000,000.00 in personal commissions over the past few years.
Having gone from WMI to Carbon Copy Pro and Pro U (which used a pretty identical compensation plan) and then to Empower Network (a company that ironically a lot of the concerns raised by the Rashkins also applies to), I'm not entirely sure how succesful the compensation side of the complaint is going to be.
To be so heavily involved in WMI, such that, upon leaving the company claims its business was gutted, well… you can say you had no idea but if you're going to so strongly claim the company was a pyramid scheme well, you were definitely aware of it on some level.
At a half a percent retail, the Rashkins would have only had to have looked at their own retail figures to ascertain whether or not they were participating in a pyramid scheme or not.
Additionally retail sales has been a sore issue over at Empower Network ever since it launched, so there's definitely an observable trend there in the type of business the Rashkins are attracted to.
Especially if, as the Rashkins are now claiming to be aware of the requirement of retail sales and lack thereof equating an opportunity to that of a pyramid scheme, they have little to no retail activity in their Empower Network business.
$4 million in personal commissions via participation in an opportunity you don't have a significant amount of retail sales in? Ruhroh…
Leaving the personal damages sought by the Rashkins aside for now though, on the pyramid scheme side of things it would appear they have a pretty solid case.
Here's how Wealth Masters themselves described their business in their amended complaint:
WMI uses a network and direct sales marketing program that
rewards consultants who bring in other consultants and thus expand the sales network.
In your own words, you "reward consultants who bring in other consultants"?
I see.
What happens next in the case I'm not entirely sure of but it's certainly looking to be an interesting one to track and follow as it progresses.
As always, stay tuned…