BTC Global Team Ponzi collapses, admin in denial?

BTC Global Team launched in late 2017 and quickly rose to be one of the biggest Ponzi schemes in South Africa.
As I write this Alexa have BTC Global Team pegged in the top 1000 visited sites in South Africa, with the country making up 87% of traffic to the BTC Global Team website.
On the business side of things, BTC Global Team solicited investment on the promise of a 14% weekly ROI.
Payments were made in bitcoin up until a few days ago, with it now appearing that BTC Global Team has collapsed.
As tracked by the BTC Global Scam Facebook group and its readers, BTC Global withdrawals ceased last Monday.
This has prompted demands for answers from BTC Global Team management, which have been less than forthcoming.
BTC Global Team is purportedly run by Steven Twain. Problem is, other than a very Instagrammy photo of some guy sipping on a milkshake, there's no evidence of Twain actually existing.
There are a few social media profiles bearing Twain's name, to be sure, but nobody appears to have actually met or seen Twain in person.
Regardless, some of the porky pies trotted out following last Monday's non-payment are hilarious.
As BTC Global Team "leaders" scrambled to placate those they'd convinced to invest, the initial story put out was that Steven Twain's wife had just given birth.
Sorry guys, Steven Twain wife [sic] just gave birth to 2 bouncing baby boys, so Steven has been busy running some errands.

You guys will be paid accordingly. Don't panic.
Less than 24 hours later, an "update" changed  the story somewhat.
No one has had any contact with Steven Twain for over 24 hrs.

The leaders continue to actively try and connect with but have had no luck.

Speculations and accusations do not help anyone andrew [sic] own't change the current situation.

In light of this unexpected situation the leadership and admin remain cautiously hopefully that there is a perfectly normal explanation for this delay and we sincerely hope to have more answers tomorrow.
Sure enough, forty-five minutes before the "tomorrow deadline" expired, Twain briefly appeared online.
Steven came online tonight at 23:25 RSA time.

He has not given much details yet but he was brutally attacked in his home in an attempt to steal his trading equipment.

We're giving Steven the respect of time and space and we'll connect with him tommorow and inform everyone on the way forward re. payments.

We're so glad you're ok Steven. Today was utter hell for the leaders and we are beyond thrilled to know you're ok.
That's quite a week for a guy who doesn't exist beyond a milkshake snap!
As is often the case when a Ponzi collapses, those who profited are quick to try and distance themselves from it.
Having reviewed BTC Global Team last November, our review has attracted comments from those supposedly "in the know".
This caught the attention of Andrew Caw, who emailed me this morning.
Two of your commentors have named me as the owner/operator of a "BTC Global" business.

They have offered no proof & I have nothing to do with the operation of the company/scheme in question.

Please remove these comments from your site.

We are pursuing this slander with our legal team in South African court & would prefer to keep the matter to just the individuals posting this.
The comments in question (#14 and #16) are from two BehindMLM readers, who both cite Andrew Caw as one of four creators of BTC Global Team.
Personally I had no idea who Andrew Caw was, and so began to do a little digging.
That digging eventually lead to me responding to Caw's email with this:
Let us know how the court case goes.

For what should be obvious reasons, I'm not inclined to take anything people who promote Ponzi schemes state at face value.
To which Caw replied;
I'm not promoting BTC Global. I'm not involved in it at all.

Can you remove these comments with the false accusations?

You can check my facebook page & website, I don't promote ponzi's, I help educate people on bitcoin.
Indeed if you peruse Caw's Facebook page and website, you won't find any mention of BTC Global.
The "website" Caw references is BitCaw Trading, of which Andrew Caw is the founder of.
For the last 2 years I've been helping people create wealth through Bitcoin, other cryptocurrencies & related opportunities.

If you've heard of Bitcoin but don't know how to get started you've come to the right place.
Evidently Caw "helps people create wealth" through promotion of bitcoin Ponzi schemes.
My initial digging efforts into Caw's background revealed he'd "liked" a BTC Global Team promotion video through his personal YouTube channel.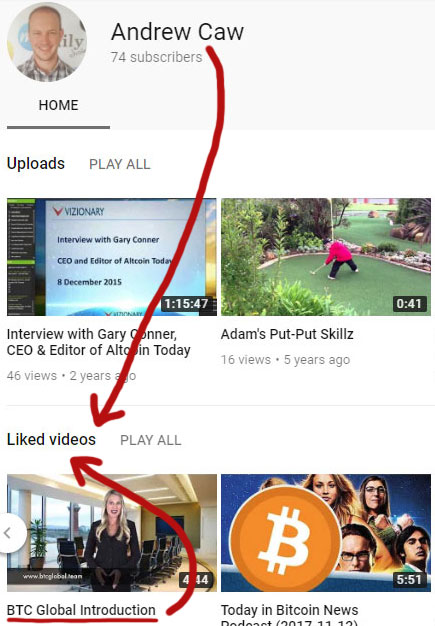 Hardly conclusive, I know. But still, why would someone who's "not promoting" or "involved" in BTC Global Team "at all" be liking promotional videos on YouTube?
With a bit more digging I was able to unearth Caw as the author of numerous articles on the BTC Global Team website, including the official company FAQ: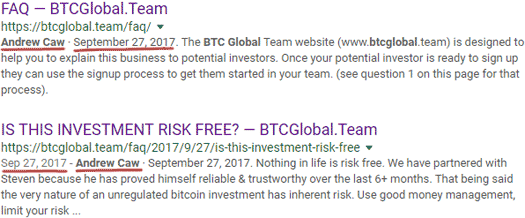 Why would someone who's "not promoting" or "involved" in BTC Global "at all" be authoring content for the official BTC Global Team company website?
Strangely enough while the content Caw authored on the BTC Global Team website is still available, his name has been removed as an author sometime in the last few weeks.
Well, sort of.
If you view the source-code of any of the articles Caw has published, you'll still find him low-key credited as an author.
Doh!
Oh and Fun Fact: If you click through to Caw's Google Plus profile, you'll learn he's been working with Cheri Ward since at least 2015:

Cheri Ward is a prominent BTC Global Team "leader". What are the odds?
The BTC Global was created through SquareSpace. You can confirm this yourself by visiting "btcglobal.squarespace.com".
To remove the content author from showing up on each page, someone with admin access had to go in and change the BTC Global Team website theme template.
As far as I can tell Andrew Caw is the sole credited author on the BTC Global Team website. Removing the author tag from showing up under articles serves no purpose other than to hide Andrew Caw's involvement in BTC Global Team.
Why would anyone who isn't Andrew Caw be interested in dissociating Andrew Caw from BTC Global Team?
Perhaps the most damning connection between Andrew Car and BTC Global Team however, is his inclusion in the official BTC Global Team presentation.
Although hosted as part of the BTC Global Team website on SquareSpace, funnily enough there's no link to the presentation anywhere on the website itself.
Lucky for us Google's crawler archived a direct link to it.
Update 15th February 2018 – Seemingly in response to this article, BTC Global Team have deleted their SquareSpace website.
Unfortunately that means the previously linked to BTC Global presentation above no longer works. /end update
If you flip to page 9, you'll find the BTC Global Team presentation references Andrew Caw by name:
Oh and it gets better… if you view the file properties of the BTC Global Team official presentation linked above (grab it before it's deleted), you'll see the author of the presentation is none other than Cheri Ward.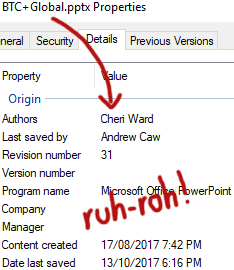 As above, Ward created the PowerPoint presentation back in August, 2017.
Our friend Andrew Caw was the last person to save the version that would eventually be uploaded to the BTC Global Team website on or around October 13th, 2017.
For someone who's "not promoting" or isn't "involved" with BTC Global Team "at all", Andrew Caw certainly pops up quite frequently in connection with the company.
While none of this definitively proves Andrew Caw or Cheri Ward created Steven Twain to scam South Africans through, what it does is hopefully point their victims in the right direction.
Which is important, considering BTC Global Team affiliates continue to be led on with stalling tactics like this: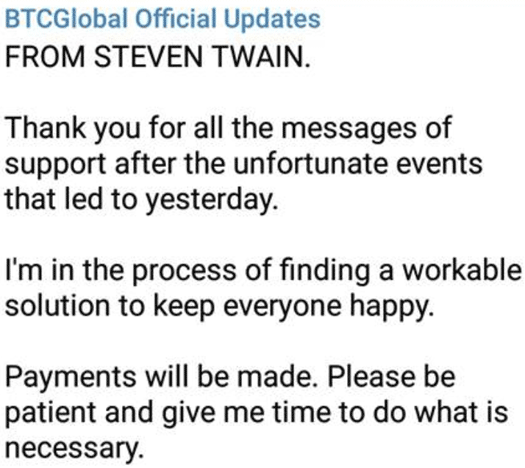 There are no "workable solutions" in a Ponzi scheme. Once they stop paying out it's over.
Invested in, lost money in BTC Global Team's collapse and now wondering where your bitcoin is?
Andrew Caw and Cheri Ward are probably a good place to start…