BTC Global Team Review: 14% weekly ROI bitcoin Ponzi scheme

BTC Global Team provide no information on their website about who owns or runs the business.
The company does however claim to be 'the marketing arm of Steven's Trading business.'
We are backed by our founding trader at Steven Twain.

Steven has 6 years of experience trading binary options with consistent success, over the last 3 years he has started providing trading services for other large investors ($10,000+ only).

(Our) group negotiated an amazing deal with Steven to get access to his trading services.
Twain's photo on the BTC Global Team website corresponds to the since deleted @steventwain22 Instagram account.
Starting around two years ago, Twain used his Instagram account to promote an undisclosed opportunity he claimed was paying 10% to 15% a week.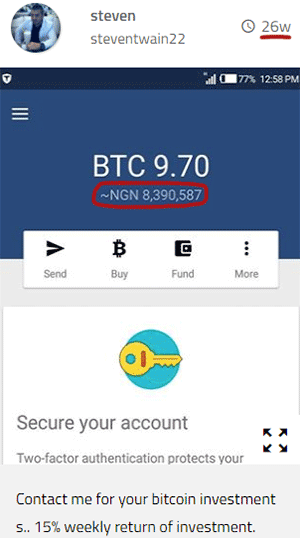 Five months ago Twain was also advertising a 10% a week ROI bitcoin investment opportunity on the website Jobs68 South Africa: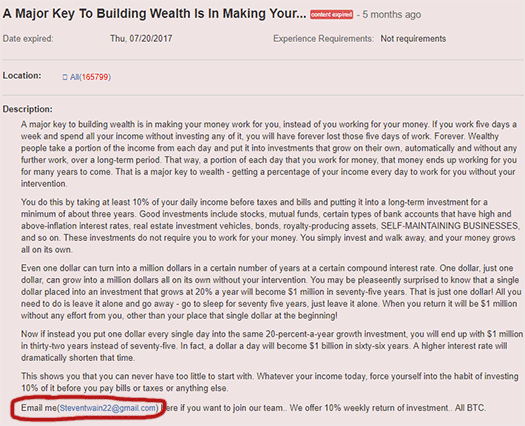 Around the same time someone by the name of Henry Obianyo was also promoting a 10% weekly ROI opportunity on Facebook, using Steven Twain's contact details: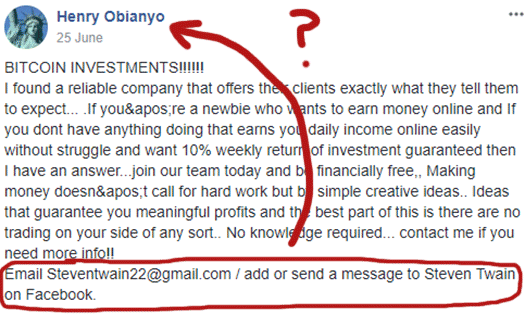 Obianyo is based out Nigeria and runs Michrob Koncepts Free Signals, a binary signals Telegram private chat group.
Obianyo's Nigerian location may be of significance. In the image above from Twain's since deleted Instagram account, the Nigerian Naira is the exchange currency onscreen.
A Steven Twain Facebook profile does exist but was only created a few months ago in August.
The same day the Twain Facebook account was created it was used to promote BTC Financials.
Today BTC Financials is known as BTC Global Team.
Whether Steven Twain exists, as represented by BTC Global Team is unclear.
What is clear is that someone or someones from Africa has/have been running investment schemes for some time, with BTC Global Team merely the latest iteration.
I'm also going to point out that another BTC Global launched earlier this year.
That BTC Global was a bitcoin gifting scheme that primarily targeted Nigerians. It has since collapsed.
Whether BTC Global and BTC Global Team are related is unclear. That both are tied to Africa however is likely not a coincidence.
The BTC Global Team website domain was privately registered on August 11th, 2017 – roughly the same time the Steven Twain Facebook profile was created.
As always, if an MLM company is not openly upfront about who is running or owns it, think long and hard about joining and/or handing over any money. 
BTC Global Team Products
BTC Global Team has no retailable products or services, with affiliates only able to market BTC Global Team affiliate membership itself.
The BTC Global Team Compensation Plan
BTC Global Team affiliates invest bitcoin on the promise of a "guaranteed" 14% weekly ROI.
Affiliates are able to withdraw ROI payments after eight to fourteen days.
Referral commissions are paid out via a unilevel compensation structure.
A unilevel compensation structure places an affiliate at the top of a unilevel team, with every personally recruited affiliate placed directly under them (level 1):

If any level 1 affiliates recruit new affiliates, they are placed on level 2 of the original affiliate's unilevel team.
If any level 2 affiliates recruit new affiliates, they are placed on level 3 and so on and so forth down a theoretical infinite number of levels.
BTC Global Team cap payable unilevel levels at five, with commissions paid out as a percentage of funds invested on each level:
level 1 (personally recruited affiliates, must recruit at least five affiliates) – 5%
level 2 (must recruit at least fifteen affiliates) – 4%
level 3 (must recruit at least thirty affiliates) – 3%
level 4 (must recruit at least fifty affiliates) – 1%
level 5 (must recruit at least one hundred affiliates) – 0.5%
Joining BTC Global Team
BTC Global Team affiliate membership is free, however affiliates must invest bitcoin to participate in the attached income opportunity.
Conclusion
Steven Twain is our primary trader, he has a access [sic] to the latest trading tools to help maximize returns on his Binary, forex & commodities trading through an exclusive business partnership.
If the murkiness of who's running BTC Global Team didn't set off your scam alarm bells, there's also no evidence whatsoever of any trading (by Twain or otherwise) taking place.
And even if we take BTC Global Team's ridiculous claims at face value, the business model fails the Ponzi logic test.
If Steven Twain and/or whoever he's working with were able to generate a minimum 14% weekly ROI (that's 728% annually without compounding, more once referral commissions are factored in), why would they be soliciting investment from randoms over the internet?
And given whoever is running the Twain persona has been hocking their weekly ROI investment pitch for at least two years, shouldn't it have caught on by now?
The reality of BTC Global Team is that new affiliate investment is the only verifiable source of revenue entering the company. The use of which to pay existing affiliates a weekly ROI makes BTC Global Team a Ponzi scheme.
As with all Ponzi schemes, once affiliate recruitment slows down so too will new investment. This will starve BTC Global Team of revenue to pay weekly ROIs with, eventually prompting a collapse.
With bitcoin victim fund recovery is next to impossible, which maximizes affiliate losses when the time comes.