Bitcaw Trading threatens to sue Hawks over BTC Global Team assoc.

In response to South Africa's Hawks investigating links between Bitcaw Trading and BTC Global Team, the company's lawyers have threatened to sue the Directorate for Priority Crime Investigation (DPCI).
Bitcaw Trading is essentially a one-man operation run by Andrew Caw, one of BTC Global Team's top promoters.
A BehindMLM investigation back in February revealed Caw had authored content on the BTC Global Team website.
Caw's company, Bitcaw Trading, was also directly referenced in official BTC Global Team compensation documentation.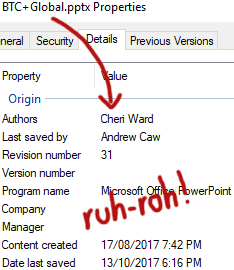 BTC Global Team's compensation documentation was authored by Cheri Ward.
Andrew Caw is the last person to save the document before it was uploaded to the BTC Global Team website.
Ward is believed to have worked with Caw to run BTC Global, which the Hawks estimate was an $80 million dollar Ponzi scheme.
Yesterday Caw's lawyers denied Bitcaw Trading had anything to do with BTC Global Team.
They didn't address why Bitcaw Trading was directly referenced in BTC Global Team's compensation plan, or why Caw was the last person to save the document before it was uploaded to the scam's website.
"BitCaw Trading does not manage or trade with third party money or offer any kind of investment returns," states the letter.

"BTC Global, on the other hand, was/is a Bitcoin Investment company and has nothing to do with our client."
As per our own investigation into Andrew Caw and BTC Global, this is patently false.
The lawyer's letter further states that should the Hawks not retract their contention that the two companies are one and the same, and post the retraction by close of business on Tuesday, "our instructions are to approach the South Gauteng High Court on an urgent basis in order to enforce our clients' rights".
In response to Caw's legal threats, Hawks spokesperson Brigadier Hangwani Malaudzi told Fin24
the Hawks had received the letter of demand from BitCaw Trading, but said that because the investigations are ongoing, the Hawks would rather wait for the courts to decide if they had erred, than retract their statement prematurely.

"We got the letter. We knew that they would go to the media. We will take it on in line with the due process.

We believe that it is good that people want this to be clarified by the courts, and we will handle it there.

As far as we are concerned, our statements on the matter still stand unless we are convinced otherwise," said Mulaudzi.

Mulaudzi told Fin24 that the Hawks had sufficient evidence to support their statements regarding the matter.
I assume this means the Hawks have in their possession the BTC Global Team document that ties Caw and Bitcaw Trading directly to the scheme.
Failing which, I've still got an archived copy I'd be more than happy to provide.
For those unfamiliar with the Hawks and the DPCI, they target
organized crime, economic crime, corruption, and other serious crime referred to it by the President or the South African Police Service.
Personally I'm looking forward to Andrew Caw's lawyers filing suit against what is essentially South Africa's FBI equivalent.
Been a while since we've had an engaging popcorn story to follow. Good times.