ASIC warns Metafi Yielders to stop fraud, website still violating

If screenshots posted by accomplice CEO Michel Daher are to be believed, the Australian Securities and Investment Commission aren't happy with Metafi Yielders.
I originally wasn't going to cover this because, while ASIC is Australia's top financial regulator, it's also a joke.
Scammers from outside of Australia routinely register shell companies with ASIC, because it's piss easy to do and there's no ramifications.
Here with Metafi Yielders we have someone purportedly in Australia fronting a Ponzi scheme, and all they've gotten is a warning telling them to stop.
But I'm getting ahead of myself.
Metafi Yielders was incorporatedin Australia as MetafiYielders PTY LTD on March 18th, 2022.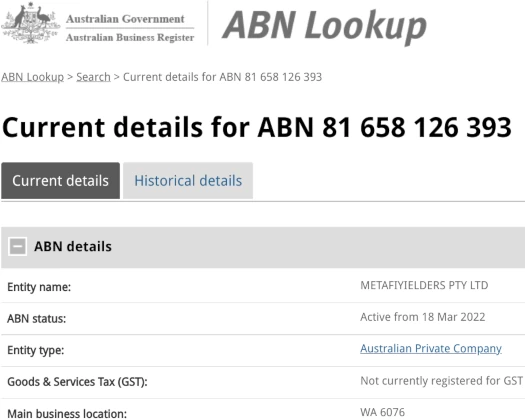 The provided MetafiYielders PTY LTD corporate address is a suburb in Western Australia, which tracks with Daher purportedly being based out of Perth (Perth is the capital city of Western Australia).
The same day the incorporation was created, MetafiYielders PTY LTD was also registered with ASIC.
As part of Metafi Yielders' exit-scam, the company's official FaceBook page was made private last month.
Nonetheless Dave Kramer of the Metafi Yielders Scam – Now What!? FaceBook group, captured a post from Daher to the group made yesterday.
On 9th of June 2022 Metafiyielders Pty Ltd received a warning letter from ASIC see attached copy of the letter.

We have responded with full compliance and have applied for the Metafiyielders Pty Ltd to be de-registered.
As per the attached letter, purportedly sent by ASIC on June 10th via email, the regulator wrote;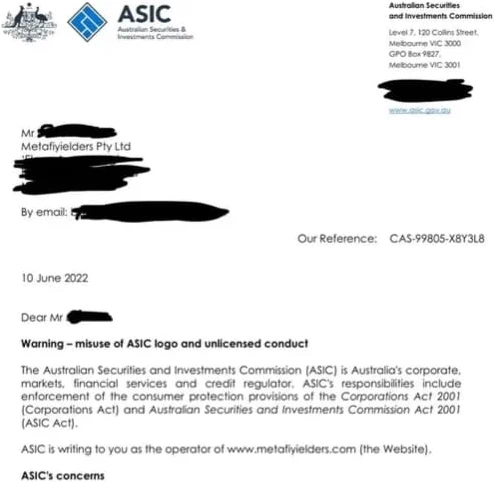 Dear Mr. (censored)

Warning – misuse of ASIC logo and unlicensed conduct

ASIC is writing to you as the operator of www.metafiyielders.com (the Website).

ASIC's concerns

The Website offers various investment packages and provides short term returns for that investment.

The Website states:

investors can earn 'Profits without risk on crypto you invest, stake or transfer';
'Earn with profitable investment packages';
'1% and 3.3% EVERY DAY for 30 Business Days';
'Invest and get 1% or 3% every Business Day Until Your Net Profit Reaches 30% or 90%'.
The YouTube videos published on the Metafi Yielders' YouTube channel misuse the ASIC name and logo.

Furthermore, we have received reports from consumers who advised ASIC that they have invested money with you, and of particular concern is that they allege that they have requested a refund of their money but are unable to withdraw their funds.
ASIC went on to demand Metafi Yielders
Immediately

remove statements from the Website and any other online presence which suggest you are licensed by ASIC to carry on a financial services business in Australia;
Remove any false or misleading representations from the Website and/or take down the Website and cease engaging in false or misleading conduct;
Provide a statement of compliance to ASIC within the next 48 hours confirming that you have complied with the above requirements;

Asic does not endorse particular investments. ASIC never gives permission to use its name or logo to promote financial products or services.

Immediately remove references to ASIC's name from all online material that has been published including the Website and YouTube videos.

In the event of non-compliance or where we do not receive the requested written confirmation from you within 48 hours, ASIC may decide to take appropriate steps to ensure compliance with the law.

ASIC may publish warnings on our website and elsewhere, naming you and/or the Website; and warn consumers no to deal with you.

We may also release information about you to other government agencies, and contact the domain registrar to have the Website removed.

We reserve the right to take action any any time now and in the future should we consider it appropriate, necessary or in the public interest to do so.
Videos from Metafi Yielders' official YouTube account were deleted about a week ago – shortly after Daher received the ASIC communication.
But what prompted me to put this article together is Metafi Yielders' website is still up, still advertising an illegal investment opportunity and, in violation of ASIC's demand, still representing its fraudulent investment opportunity has ASIC approval.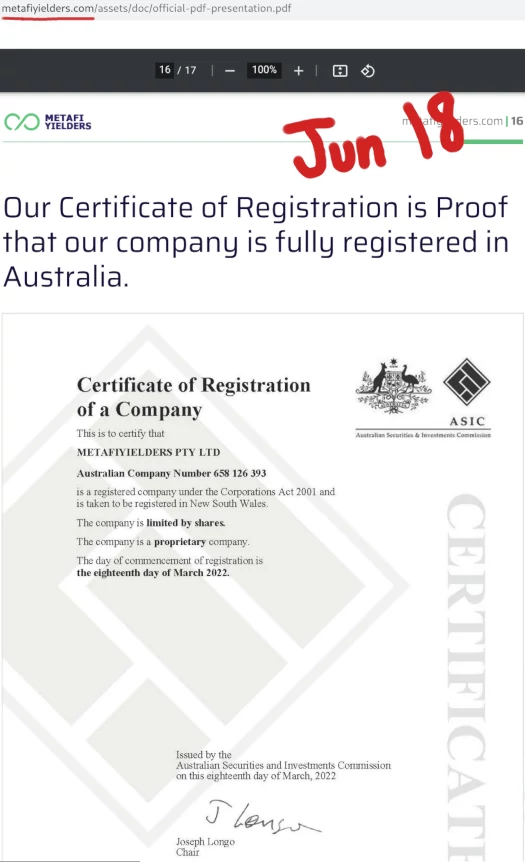 So what's going on here?
First of all we know Michael Daher's real name is Michel Daher.

He also goes by the alias Micho Nicolas. So unless he has another alias we don't know about, or Metafi Yielders was incorporated in someone else's name, I'm not sure what the point of redacting the addressee of ASIC's letter was.
Now with respect to compliance, ASIC gave Daher and Metafi Yielders 48 hours from June 10th to comply. I'm writing this on June 18th.
Metafi Yielders' FaceBook group was switched to private because Daher has access to it. He has access to the FaceBook group because when he was playing CEO, Daher needed to stream on there and publish bullshit marketing updates.
Videos were deleted from Metafi Yielders' official YouTube channel because Daher has access to it. He has access to the YouTube channel because he uploaded his FaceBook streams and other marketing videos to the channel.
Michel Daher does not have access to Metafi Yielders' website.
The website is and always has been in control of whoever actually ran Metafi Yielders.
I'm using past tense because Metafi Yielders is over. Being an Australian citizen and under the jurisdiction of ASIC, Daher's probably shitting bricks right now.
Metafi Yielders' admins, be it Russians or someone else, don't care. They've probably stopped communicating with Daher altogether. Hence the radio silence – other than when ASIC reached out to Daher personally.
Hoping to avoid prosecution should it come to that, Daher has probably squealed to ASIC and other Australian authorities on who his Metafi Yielders admin contacts are.
Alternatively the Russians have him by the balls (Daher is believed to have family in Australia), and he's between a rock and a hard place.
Still guilty of securities fraud and heading up a Ponzi scheme, but not of actually running the show. Financial manslaughter to Boris' financial murder, so to speak.
Of note are reports Daher has fled his home in Perth. Perhaps even Australia.
I haven't been able to independently verify this.
In any event, with ASIC now actively involved and Metafi Yielders' website in continued violation of their orders, this will be interesting to watch play out.
I suspect the Russians will either delete the cited presentation above shortly after this is published. As toothless as ASIC might be to them, regulatory heat on the Boris CEO Ponzi factory from any jurisdiction isn't desirable.
Or, having disappeared, they'll just leave Daher holding the bag to face whatever action ASIC follows up with – which might not be anything, given ASIC's horrendous MLM related securities fraud track record.
How much Daher was paid to front Metafi Yielders isn't known. No matter how much it was though, at this point he's surely asking himself if it was worth it.
Update 28th June 2022 – Metafi Yielders' website is offline.