Ash Mufareh pulls GoFounders Onpassive "workaholic" exit-scam

After collecting GoFounders fees for almost a year, Ash Mufareh has told affiliates he's taking their money and quitting.
GoFounders was a simple matrix-based pyramid scheme. On the backend you had OnPassive, which was supposed to host marketing tools.
On or around April 24th Mufareh pulled the plug on OnPassive's website.
In a "Founders Private Meeting" broadcast on April 25th, Mufareh claims he's been told he's a "workaholic" with a "very serious addiction".

I don't know how to live any more without work, day and night.

I forgot myself, my life, my family, my health, my basic things and what happened is um, an accumulation.

Even a doctor told me; If I dont stop, my body will stop me.

Mufareh (right) goes on to claim everyone around him is unhappy, and that
GoFounders and OnPassive is not more important than my health or my parents.

I have to do things differently now. I have to listen to my body, to my doctors, to my family (and) to my parents. Okay?

And I think you don't want me to pass (away), if you really care.
What "work" Mufareh has been doing since launching GoFounders last year is unclear.
OnPassive was supposed to be marketing tools to promote the opportunity itself, yet never launched.
Meanwhile for GoFounders affiliates wondering if they'll be getting their $97 back?
Of course not.
I believe for those who graciously deposited or contributed a simple $97, I hope I have given you enough value.

I hope that you value what we learnt together here.
At the height of his GoFounders marketing efforts, Mufareh was running around telling people they could turn $25 into "$2 million a month for life".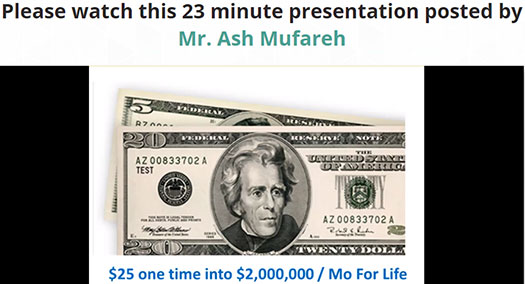 The only thing Ash Mufareh's GoFounders victims have likely learned is that, by handing over $97 to a serial scammer, they've been scammed yet again.
During the meeting Mufareh claims GoFounders has around 24,000 affiliates. At $97 a pop, that equates to $2.3 million USD.
Mufareh ended the meeting by stating he's "checking out" several recently launched income opportunities.
I do have a couple (of opportunities), I respect a couple of leaders who invited me to look at.

Let's think together. If you'd like to stick together as a team, as founders, we can figure out what to do.
After Mufareh has positioned himself and his founders (read: top GoFounders recruiters), one can safely assume GoFounders victims will be spammed invites.