Amsys withdrawal delays, excuses & regulatory lies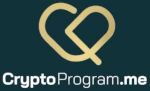 CryptoProgram reboot Amsys is experiencing withdrawal delays.
Amsys affiliate payments are believed to have began shortly after the reboot from CryptoProgram (July 2023).

They have continued into August, as confirmed by Scott Morris on August 9th.
All of the issues with the Amsys program are being resolved.

It's very inconvenient for anyone who's waiting on a payment but, and I understand that because I'm one of those people, but I also have absolute confidence in the system.
Morris, a US national who represents he is currently in Thailand, promotes MLM Ponzi schemes through "FireTeam1" branding.

In his Amsys video update, Morris goes on to claim Amsys is in the process of "due-diligence" with US regulators.
There was an update from the company, that they're continuing their due-diligence process to become regulated.
Amsys began as CryptoProgram in mid 2022. Owner Ed Zimbardi rebooted CryptoProgram following regulatory fraud warnings from BC, Canada and California's DFPI.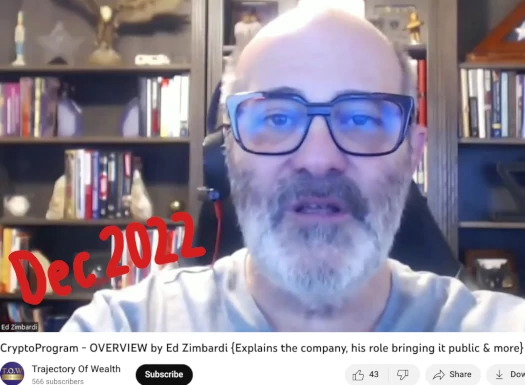 CryptoProgram, Amsys and Ed Zimbardi, a convicted felon, remain unregistered to offer securities in any jurisdiction.
Amsys' withdrawal delays continued after Morris' update, prompting Ed Zimbardi himself to address the issue on August 11th.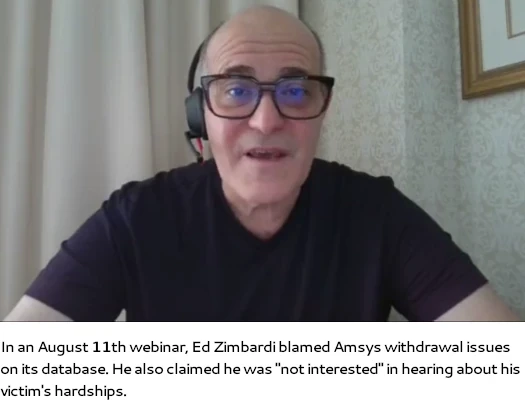 After threatening anyone to kick out investors who posted "negative stuff" in his private unlisted FaceBook group (which serves as a defacto CryptoProgram FaceBook group)…
Go start your own FaceBook group and bitch, moan, groan and complain if you want to.
…Zimbardi trotted out excuses for Amsys' withdrawal delays.
There's a new site (Amsys), and with the new site … the programming language, the database was programmed in a certain language, and that language, that developer had left.

So a new development team came on board and created a new database and site, that was in a new language.

Through their testing they believed that they could take the old legacy data, which would be clients that have been around since June of last year … and they would be able to get it synced up and imported into the new database, when the new site went live.

It failed. Miserably.
Putting aside the reason Zimbardi rebooted as Amsys was to hide from CryptoProgram fraud warnings, Zimbardi's excuse makes no sense from a technical standpoint.
Exporting data from one type of database and importing to another is not something you try and do without first confirming it can be done.
From there it's just a matter of setting up a staging site, testing the export/import. After you confirm it works, you run a backup on the production site, pause it for a few minutes, run the operation and then resume the production site.
If the process failed in testing, you don't launch a broken website with missing data. You'd keep the existing database running till you've worked out the problem.
All of you guys think that I'm on vacation, just travelling the world and just, la la la.

I've been working fourteen to sixteen hours a day, helping to get this whole situation fixed.
After his "technical difficulties" excuse, Zimbardi moves on to blaming his victims;
Here's what's happened; fraud. Number one.

So many people in this community, that are trolls, are defrauding the platform. Stealing money.

Which throws up red flags to the people that run the company in the backend.  It'd be easy for them to just shut it all down.

I say, "No. Not gonna do that. Gotta work through it."

In business there's gonna be losses. There's also gonna be gains.

The problem is there's people taking advantage of the system at such a large degree.
The operator a fraudulent investment scheme accusing his victims of fraud is of course comical.
As baloney as Amsys' "database problems", it serves as yet another excuse – with Zimbardi finally getting to the withdrawal delays.
They have paused the wallets, adding wallets; sometimes they let you add wallets, sometimes they don't.

They have pay outs that are marked to be paid out, due to be paid out, but they haven't paid out certain people because they're questionable wallets.

There's duplicate wallets in the system now.

Some of you guys have been phished. It's so evident and clear.

You've gone to copycat websites, signed in, given away your login information. And then those people who run these philsing [sic] websites, log in to your account and they change your wallet.

That's on you … you complain online but it's your fault.
From a security standpoint, it would take all of five minutes to implement a 2FA check on changing wallets in Amsys accounts. And of course Zimbardi knows this.
So because there are people, there are a lot of people now, the are reconciling the database. You've got the old database, you've got the new database.

There's no issues with the people who are getting enrolled today, putting in their wallet, and their payout due is due in 32 days. That's the new database, that's all working fine.

99% of the issues are coming from the old legacy data.
Zimbardi goes on to berate his victims for messaging himself and Amsys customer support.
One victim who reached out to Zimbardi was relying on Amsys withdrawals "to pay bills". To which Zimbardi replied;
First of all, that's too much information. I'm not interested in anybody's personal life. That's ridiculous.

I asked, "Did you message customer support?" They said, "No."

I'm like, wait a second, here's a news alert: I am not customer support. Message customer support.

I'm hoping that you stop messaging me. And telling me about your unique situation that's above and beyond the other almost 13,000 wallets, that has caused an emergency.

You shouldn't be in this platform, at all, if you have emergency financial situations.

I'm not interested in that story. Because I would then have to get emotionally attached to your personal story and everybody else's personal story. And I just can't do that.

I only have 24 hours in a day and I need a life too.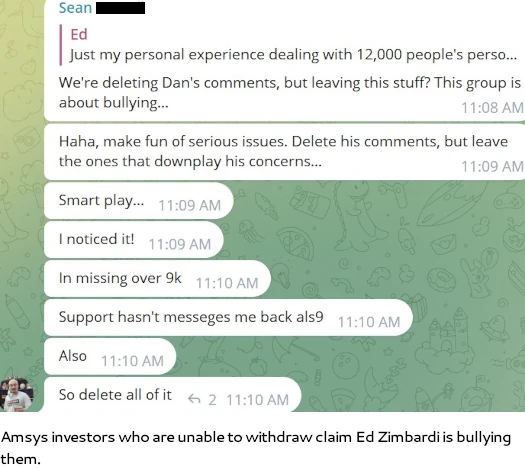 I am making it clear that if you can't be patient, it's OK.

Message me, tell me that you're an emotional trainwreck and that you can not handle your emotions, and you want out.

Then I can do whatever I can do to help to get your packages cancelled.

I can't get wrapped up in your emotions because you like to whine and complain and worry about your money.
Addressing concerns Amsys' collapse is imminent, Zimbardi offered up this:
If they were going to rug-pull this guys, they would have done it when they moved the site back on July 1st.

But yet, every day people are paid out.

I'm told it's gonna take another two, hopefully no more than three weeks. And they've assured me all the old database content will be synced up with the new system.
CryptoProgram and Amsys pitch a 25% monthly ROI. August 2023 marks the Ponzi scheme's fourteenth month; meaning if you'd put in $100 when CryptoProgram launched, you'd have $350 in your Amsys backoffice.
If you compounded your monthly return, you'd have even more to cash out – hence Amsys' inevitable withdrawal delays.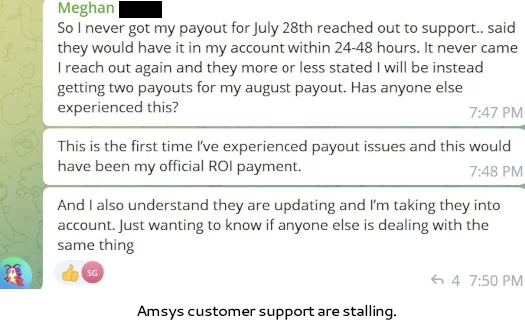 SimilarWeb tracked ~125,000 visits to CryptoProgram's website in June 2023. In July 2023 there were an estimated ~142,000 visits to Amsys' website.
While still in increase, it's nowhere near enough to continue propping up a 25% a month Ponzi scheme.
As of July 2023, top sources of traffic to Amsys' website are the US (56%), the UK (10%), Germany (9%) and Canada (4%).
Update 20th August 2023 – Amsys has collapsed.