Michigan AG's Office investigating Achieve Community

In order to get to the bottom of allegations I'd received that Michigan's Attorney-General Office had been in contact with Achieve Community's owners, I reached out to them via email a few days ago.
I received a reply today, which informed me that my email had been turned into a Freedom of Information Act request.
In response to my query, the Michigan AG's Office informed me that their Consumer Protection Division currently has an open investigation into Achieve Community.
As per the Michigan AG's Office, the Consumer Protection Division investigation was opened in 2015. Going by the number assigned to my request and the number assigned to the investigation, it would appear to have been launched in January but I can't say for sure.
In addition to my query, two others were received by the division back in 2014. And one of them indeed confirms that Troy Barnes has been contacted by the AG's Office.
In December of 2014, a concerned member of the public wrote to the Michigan AG's Office;
I only share this because I have a friend who has been sucked in(to) the Achieve Community on FB…

The male partner lives in Detroit and has been involved in many such get rich quick pyramids, so has the woman who is now in Denver.

They have a site on FB and are soliciting members through gaming friends of games on FB.

It is a matrix buy in position program… no real product but they loophole with offer of information to start own website to start selling product.

Members are not encouraged to sell anything but recruit new members.

As I said I did not buy in butI have a friend who was sucked in who cannot afford to lose her money and i cannot convince her that this is a scam and likely illegal.

Please look into this as they have 1300 members on FB.

Kristi Johnson, Troy Burns or Byrnes… he is from Detroit and they are soliciting business from FB and not licensed in as far as I can tell in Michigan?
What exactly the Michigan AG's Office forwarded to Troy Barnes, who is based out of Michigan, I can't say. But on February 3rd 2015 Barnes replied to the AG's Office with the following:
In Regards to AG-(removed)

I have no clue wh (sic) (name removed) is.

She is not in our business. I have no record of her at all.

I would be glad to reply but I just don't know what you're asking.
If the AG's Office sent the email they received verbatim, then why Barnes attempted to look up the sender in the Achieve investor database is unclear. The sender clearly states she is not an investor in Achieve.
Why Barnes didn't address the concerns raised over Achieve Community's business model or registration in Michigan is also unclear.
The second query from the general public was received by the Michigan AG's Office back in October 2014.
Hello, I stumbled upon this amazing opportunity where you supposedly can make you hard earned dollars multiple by 8 in only 60-90 days.

I started to ask a bunch of questions and before I knew it my uncomfortable post was removed from the site.

I have not invested in this but I would hate to see millions being scammed from poor people that actually believe this.
The query includes pages of since deleted Facebook postings on the now defunct Achieve Community Facebook group.
Sender: How is it possible that $50 can turn in to $400 without any purchase or effort what so ever… money just don't make itself?

Please explain how this is possible cuz I'm interested to make my hard earned $$ duplicate like that to.

Achieve Investor #1: It's like this, we all purchase $50 positions.

When you purchase your position your purchase is TIME STAMPED.

Let's call these $50 positions "tickets" to go on a ride (think Disney land).

Sender: I understand the program and how you move through the matrix, but no one have yet been able to explain how money can just multiply by 8 without any effort at all.

Achieve Investor #2: We all don't have the formula either but many of us, myself includes, have made $400 for every $50 position we started with.

Sometimes it is okay to just believe and not know the how's in life.

Achieve Investor #3: It's simple, people are purchasing and repurchasing and so the matrix keeps moving. Thats the simple terms of it.

Achieve Investor #1: The more positions purchased the faster this moves!

Sender: So if I will buy 500 (for my retirement that is currently $25,000) positions and about 60-90 days later I will cash out $200,000 without even lifting a finger?

And is that taxable income or is that all in my pocket?

Achieve Investor #4: Please everyone!!! Don't use the word investment… we purchase here only!!! Thanks!

Achieve Investor #2: Yes, each $50 position will equate to $400 without lifting a finger.

Although we encourage you to share so we can speed up the process and help others Achieve!

And yes this is taxable income because it is a legitimate business.

Sender: Well the math just does not add up… the positions we all buy are 50 dollars, so who is paying the additional 350 since we are not required to spend more than 50.

So if a million people spend 50 dollars so you get 50 million dollars somehow those 50 million dollars need to become 400 million dollars in only 60 days.

Explain how that is possible since no extra purchase or investment is needed.

Also I don't know about you but if I knew how to make my money multiply by 8 times in 60-90 days I would not tell a soul.

So if I send this to the Attorney-General in the United Sates he will say that this is legit?
At this point the admins of the now defunct Achieve Community Facebook page moved to delete the conversation.
No response from Achieve Community, Troy Barnes or Kristi Johnson is recorded in the file.
What would be interesting is whether or not the Consumer Protection Division have further queried Barnes on Achieve Community's business model (compensation plan).
Unfortunately no further details of the division's own investigation into Achieve Community were provided.
Nonetheless, along with the investigation confirmed in Colorado last month, we can now report that at least two states are investigating Achieve Community.
The news comes as Achieve Community request their affiliates to send personal information to their latest payment processor.
Binary Wallet (who sometimes refer to themselves as AeraPay), appears to have roots in a church community in the US state of Florida.
One person listed in the church's articles of incorporation — but not in the articles of organization for Binary — is James T. Lovern.

This perhaps is because Lovern had been implicated in a telemarketing/government-grants swindle. The case was prosecuted by multiple states, including Florida and North Carolina.

Also involved in the prosecution of Lovern, according to a document on file at the Federal Communications Commission, was the state of North Dakota. Massachusetts also prosecuted Lovern.

On Jan. 28, 2009, The Tampa Tribune reported that Lovern had pleaded guilty to tax evasion. The church, Florida records show, would come later.
The dubious nature of Achieve Community's latest payment processor has raised concern among its investors, with some questioning why they are being required extremely intrusive personal information.
Update 13th February 2015 – As per a "how to" guide video uploaded by Troy Barnes, Achieve Community's new payment processor are demanding affiliates provide them with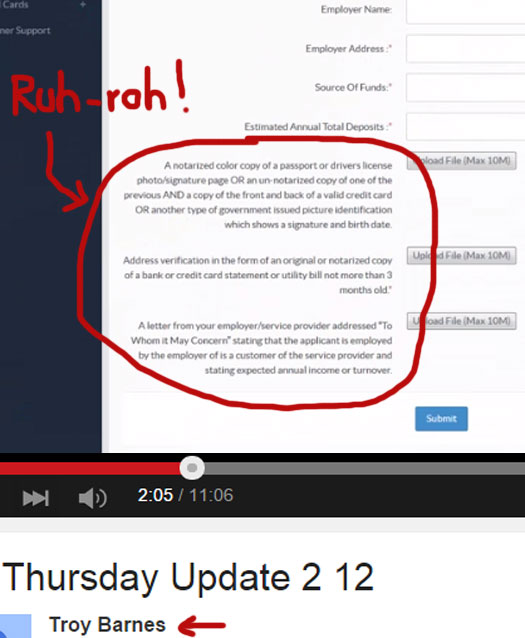 a notarized copy of a passport or driver's license, or an unnotarized copy with a photocopy of the front and back of a valid credit card, or a copy of another type of government-issued ID that shows a signature and birth date
source of funds (being invested in Achieve)
verification of the address of the investor by way of an original or notarized copy of a bank or credit card statement or utility bill (no older than 3 months)
employer's name
employer's address
estimated annual payment from employer
a letter from the employer confirming employment, stating expected annual income and turnover of the business that employs the investor
/end update
I've read reports of at least one Achieve investor complaining about having to state where they work, and provide proof of employment by way of a letter from their employer.
Earlier this week we raised the question of whether Achieve Community's admins were going to address regulatory investigations currently open against them.
To date, neither Kristi Johnson or Troy Barnes have disclosed any communication between themselves and US regulators to Achieve's investors.
Instead, Troy Barnes is busy encouraging investors to sign up with their new processor – through which it is hoped more $400 ROI payments will be made.
Wednesday Night Update – February 12 2015

Hello Achieve Community,

I just got off of a Great call with the owner of our processing Company and all I can say is WOW. This is exactly what the doctor ordered for the Achieve Community.

Tomorrow afternoon your instruction video will be ready. I will let you know as soon as its done.

If your (sic) getting this message when you try to sign up email support at (removed):

(There was an issue activating your account. Please contact customer support for more information.)

I also want to know if your (sic) not getting a confirmation email.

Please wait for the video for instruction it will be step by step instruction. Easy is a good thing.

That's all I have for tonight I'll be looking forward to giving you tomorrows update.

To Your Success

Troy
Stay tuned…