Achieve Community in denial over regulatory investigation?

Typically when we've seen regulatory investigations announced in the MLM world, the company in question is quick to acknowledge the situation.
They usually do this by announcing their full cooperation with the authorities, and in the worst instances, suspend business operations while they try to figure out how much trouble they're in.
Not so when it comes to the Achieve Community.
The Colorado Securities Division confirmed earlier this week that they are investigating Achieve Community.
As part of Colorado's Department of Regulatory Agencies (DORA),
DORA's Division of Securities protects investors and maintains public confidence in the securities markets while avoiding unreasonable burdens on participants in the capital markets.
As per their business model, Achieve Community solicit $50 investments from affiliates on the promise of an eventual $400 ROI.
What with there being no external revenue to speak of, Achieve Community simply takes newly invested affiliate funds and uses to pay off existing investors.
The very definition of a Ponzi scheme, and one that will likely see Achieve Community fall foul of offering unregistered securities.
Since news of the Colorado investigation broke, Achieve Community co-owner Kristi Johnson has been rather quiet. It's been three days since her last official communication with Achieve Community investors.
Her fellow co-owner Troy Barnes issued a statement shortly after the news broke. Unfortunately Barnes didn't address the investigation directly, but rather sought to sweep the matter under the carpet.
January 23 2015

Hello Achieve Community

I hope you are all having an amazing Friday.

As Kristi gets the processor ready to enable you all to sign up, I would like you all to please focus on our future and leave all the negative behind.

We don't need to send private messages to see if anybody knows the latest gossip about the Achieve Community.

Let's keep Achieve to ourselves. If you have been put in an Unofficial group or page please take yourself OUT of them and if they are bad report them.

The Achieve Community is going to pay out Millions and we will all be enjoying our families and friends In style soon.

Please stay off of Facebook and the social media when it comes to our Community. Karma will take care of all those bad people and you will have Opportunity to watch them eat their words.

Have a great friday I am still calling members – but as you know my list is huge, so give me a chance to catch up please.

To Your Success Troy
Slightly more amateurish than we're used to seeing, Barnes message is still in line with owners of previous scams facing the heat.
"Stay off social media and remain in denial about the investigation" pretty much sums it up. Oh and focus on the millions Achieve Community is purportedly going to steal from its later investors and pay to those who got in early.
Remain positive, even if you're one of those later investors who are going to lose money unless new investors jump on board because… well, you know how Ponzi schemes work.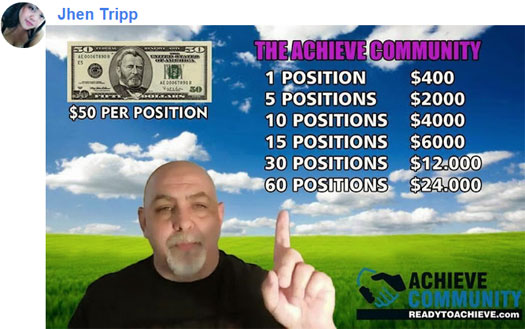 The icing on the cake is Barnes' referring to a confirmed regulatory investigation as mere gossip. Yerrp, can't see that one coming back to bite him in the ass anytime soon…