5Linx's Craig Jerabeck sentenced to 14 months in prison for fraud

Former 5Linx owner Craig Jerabeck was arrested on fraud charges back in mid 2017.
Following a guilty plea entered six months ago, Jerabeck was sentenced to fourteen months in prison late this week.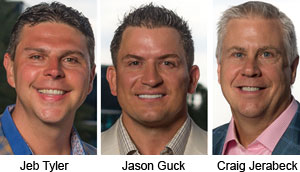 Jerabeck pleaded guilty on May 1st to conspiracy to commit wire fraud and filing a false tax return.
As part of his plea agreement, Jarabeck admitted that he, together with Guck and Tyler, personally, and by companies they owned, received approximately $2,310,510 from a Florida vendor, without the knowledge of the 5LINX's Investors, Board of Directors, or other stockholders.

Jerabeck further admitted that he, Guck, and Tyler were each prohibited from receiving such money by their Stockholders Agreements.

5LINX, its investors, as owners between 2006 and January 2014, and as creditors thereafter, and stockholders, were entitled to and should have received the funds instead of Jerabeck, Guck, and Tyler.

In addition, Jerabeck provided false information on his personal tax returns for the years 2011 through 2013, and 2015.

The defendant failed to report income he received from 5LINX, and took deductions to which he was not entitled, that is, commissions that were not paid.

The false returns resulted in a tax loss to the Internal Revenue Service of approximately $118,628.
In addition to prison time, Jerabeck's plea agreement also saw him surrender a real estate property in Middlesex, New York.
At his sentencing Jerabeck was further ordered to 'pay $2,310,510 in restitution to victims and $118,628.00 to the Internal Revenue Service'.
Jerabeck's co-conspirators, Jeb Tyler and Jason Guck, have also been convicted.
They are scheduled to be sentenced on December 12th and December 19th respectively.