Jason Guck's sentencing delayed, 5Linx "a shell of its former self"

Jason Guck is the last of the three 5Linx co-founders still awaiting sentencing.
Guck was supposed to be sentenced on December 19th, however that date came and went with no news.
Today I had Guck's case flagged for an update.
As per the USA vs. 5Linx case docket, Guck's sentencing has been delayed until January 22nd.
No reason for the delay is provided in the order.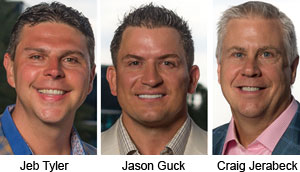 Guck and his 5Linx co-founders, Jeb Tyler and Craig Jerabeck, were arrested on fraud charges in early 2017.
In a December 4th filed Statement With Respect To Sentencing Factors, Guck had this to say:
On July 23, 2018, I entered pleas of guilty to Conspiracy to Commit Wire Fraud and filing a false tax return.

I accept full responsibility for my actions and blame no one but myself.

I wish to apologize to the investors who had enough faith in our business to lend us a significant amount of money, only to be deprived of their full share of the return on their investment.

My actions, and failures to act, were wrong and a gross deviation from the person that I am.

I also want to apologize to the 5LINX family, especially the representatives and the people in the trenches.

They expected more and deserved more from me in this regard.

I wish to apologize to my family who have endured this prosecution alongside me and supported me through thick and thin.

I have made terrible mistakes with intentional purpose and I sincerely regret my actions.
Of additional interest in Guck's filing is an appraisal of 5Linx's current business operations;
Although 5LINX is still active today, it is a shell of its former self because of two reasons, namely the death of telephone landlines and the polar vortex.

When 5LINX was first formed, the company chose to provide landline phone service in a variety of forms.

By 2014, the year of the Investor buyout, less than 50% of homes retained a landline telephone.

A polar vortex is a weather phenomenon that basically results in long periods of cold weather and below-average temperatures.

In 2014, a polar vortex event resulted in over $5 billion in damages and losses.

This event had a devastating financial impact on 5LINX, because the company had just recently entered the deregulated energy market and made a large commitment.

When temperatures dropped dramatically and energy costs rose, 5LINX was not properly hedged and did not have a credit sleeve.

The company was getting cash calls and purchasing power at up to 20 times the regular cost.

The company encountered financial struggles, but not before it had been locked into the Investors' $22 million buyout.

5LINX tried to recover and integrate new products like coffee, headphones, nutritional supplements, etc. but could not catch up to replacing the monthly recurring revenue of telecom and
energy customers.
BehindMLM reviewed 5Linx in 2014 and found the company's business model was "too complicated to take seriously".
Guck's attorney has recommended he be given community service probation.
Co-defendants Jeb Tyler and Craig Jerabeck received separate fourteen month prison sentences last month.
Update 23rd January 2019 – As per a January 11th order, Jason Guck's sentencing has been "reset" for May 8th.
Update 9th May 2019 – Jason Guck has been sentenced to seven months in prison.