There is no information on the Mo Brabus website indicating who owns or runs the business.
The Mo Brabus website does have an "about us" page, however at the time of publication the link returned a "404 page not found" error.
The Mo Brabus website domain was first registered on the 21st of February 2012. The registry entry was recently updated on January 7th 2015, possibly indicating that this is when it was acquired by its current owner(s).
As to the domain registration itself, the Mo Brabus website domain is set to private but does reveal the Mo Brabus domain uses the name-servers of "theirishnetworker.com":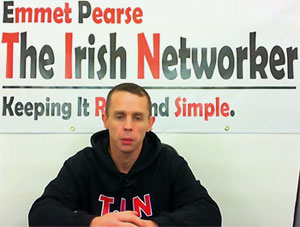 As per the "About Me" section of The Irish Networker, the blog website is owned by Emmet Pearse (right).
I am 36 years old I live in Northern Ireland in a small "City" called Derry.

I first got involved in network marketing in 2004 when a friend invited me to a hotel meeting about a gaming company from Malta.

Twenty minutes into the presentation I was hooked on the network marketing industry for life, I have the bigdealitus, I was going to make a million dollars over night and be driving a Ferrari by Tuesday lol.

Just like most new newbies in the industry I was not successful with my first company, I busted a gut trying to get it to work based on what I had been told by my upline but I crashed a burned.

I think I have an addictive personality, I just couldn't quit, no matter how many obstacles came my way I just couldn't quit network marketing, this is one of the main reasons why I am now a success in network marketing, Most people quit but not me.
Articles for the MLM opportunity Plexus Worldwide (weight loss) appear on Pearse's blog, with the last post dated November 14th 2014.
Whether or not Pearse is still an active Plexus Worldwide affiliate is unclear.
What is clear though is that with the Mo Brabus website using his website's name-servers, Emmet Pearse is either the owner or one of the owners of Mo Brabus.
Why this information is not disclosed on the Mo Brabus website is a mystery.
Read on for a full review of the Mo Brabus MLM business opportunity. [Continue reading…]