On their website, Excallit claims to be a Delaware corporation established in July of 2012.
This is questionable, as the Excallit website domain was only registered in May of 2014.
A Delaware address is listed on the Excallit website domain registration. The address however belongs to Delaware Registry LTD, who provide Delaware incorporation services.
As far as I can tell Excallit has no physical presence in the United States.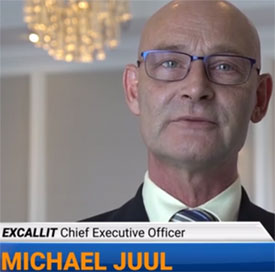 The Excallit website identifies Michael Juul (right) as CEO of the company.
In 2001 Juul co-founded the GII Corp pyramid scheme. The same scammers behind GII Corp seem to have morphed into a gaming platform (T6 Poker) at some point.
To what extent, if any, Juul was involved in T6 Poker is unclear.
As per his Facebook profile, Juul is from Denmark but currently lives in Singapore. This is presumably from where Excallit is actually being operated from.
Excallit marketing material suggests the company is primarily pitched to a Chinese audience. A secondary market appears to be emerging in Romania.
Read on for a full review of the Excallit MLM opportunity. [Continue reading…]