Payza's Firoz Patel surfaces in Canada, mocks DOJ

Following his indictment earlier this year, Payza co-founder Firoz Patel went into hiding.
Now, if a June 12th Facebook status update is to be believed, Patel has resurfaced in Quebec, Canada.
Patel's June 12th "check in" update is accompanied with a message seemingly aimed at the Department of Justice:
I want to take a moment and loosely quote Mark Twain… "The reports of my demise have been greatly exaggerated."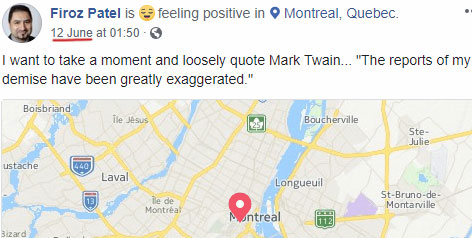 The DOJ have filed a $250 million money laundering case against Payza, Firoz Patel and his brother Ferhan.
Ferhan was arrested in March and is currently being held by US authorities. Firoz is a wanted fugitive and, if apprehended, is facing over twenty-five years in prison.
Canadian authorities in Quebec meanwhile are pursuing Patel and his wife for around $10 million dollars in unpaid taxes.
Revenu Quebec won judgment against Patel's family home in Montreal last Month.
The current status and whereabouts of Firoz Patel and his family are unknown.