EgoPay shutting down US operations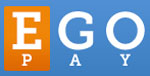 In less than a year three major darlings of the Ponzi payment processor niche have ceased operating in the US or been shutdown entirely.
Co-incidence or evidence that US regulators are increasing efforts to go after payment processors who are lax with fraud prevention, whether willingly or not?
For those who came in late, last May Libery Reserve was shutdown after a joint investigation between Costa Rican, US and Spanish authorities spanning 17 countries. Six months later  Vladmir Kats, co-founder of Liberty Reserve, plead guilty to 'money laundering and operating an unlicensed money transmitting business'.
Then, in that same month Payza abruptly ceased processing withdrawals and deposits from US based clients. It was initially reported that the Department of Homeland Security had seized Payza's funds as part of an ongoing investigation, but to date nobody seems absolutely certain of what went down.
What is certain though is that since November 2013, Payza's US clients' access to their money has been suspended. The fate of these funds and whether or not Payza will be subject to further regulatory action in the US remains unclear.
Now, EgoPay have just announced they are "closing" all accounts currently held by US clients.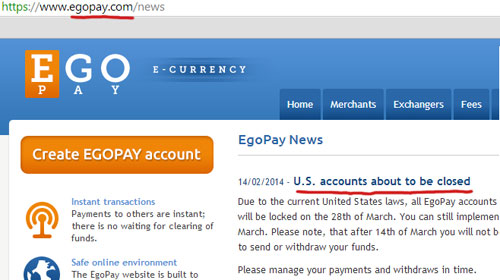 Whereas Payza and Liberty Reserve's shutdowns were involuntary however, EgoPay instead appears to be taking a more pro-active approach. No doubt riddled with fraud and facilitating untold amounts of financial crime via their association with copious amounts of seedy schemes, EgoPay would appear to have taken the drastic measure of shutting down in the US rather than showdown with US regulators at a later date.
Damn those pesky "United States laws".
What's interesting is that EgoPay's announcement, made on the 14th of February was preceded by the abrupt suspension of debit card services.
On the 13th of November 2013, EgoPay announced that they had
joined partnership with debit card provider ePayments.com, one of the best payment facilitators in the world. You will be able to withdraw your EgoPay funds to ePayments.com account and it will allow you to pay for any product or service anywhere in the world.
On February 12th however, that partnership appears to have been terminated:
ePayments withdrawals have been suspended until further notice. We apologise for the inconveniences.
The announcement, made just two days prior to EgoPay shutting down in the US, fails to clarify why the partnership with "one of the best payment facilitators in the world" was suspended.
On their website, EgoPay advise
EgoPay is an online payment gateway which offers a simple and cheap way to purchase online goods, pay for services, subscriptions, entertainment and much more by using e-currency.

EgoPay is registered in Seychelles under the registry number 112109.
In Ponzi and pyramid scheme circles EgoPay was largely seen as an alternative to Payza, after they started to crack down on the types of business they permitted to use their services. It is widely accepted that EgoPay is run by the same people behind Payza as an offshore scam-friendly payment processor alternative, but I was unable to confirm the Payza -> EgoPay relationship on the EgoPay website.
With US clients of EgoPay having to transfer funds out of the processor by the end of March, that leaves two major players remaining who accept funds from US investors; SolidTrustPay and i-Payout.
SolidTrustPay is more popular than i-Payout, as it pretty much has an open-door policy on who signs up and the types of business it provides payment processor services to. If the current trend regarding payment processors who engage seedy schemes continues, I'd be surprised if they last out the year.
i-Payout seem to be making attempt to try to clean up their act (or at least spamming to give off the impression that they are), however they remain the processor of choice for a number of dubious MLM companies, the most prominent of which is currently TelexFree.
In addition to this, the company also openly permits clients to transfer funds between the schemes it provides payment processor services to. The following communication was recently sent by i-Payout support to a client, who had asked about the transfer of money between i-Payout client accounts:
There are several ways to fund the account by method of Bank account in Europe : Sofort (automated and almost instant) and manual (instructions for the EU bank will be provided to you to complete the transfer)

Transfers between existing accounts but with different programs are permitted based on the Merchant settings. Meaning if this new company allows for their members to transfer funds from existing eW accounts and the company 'hosting' the funded eW account allows for such transfers, they will be able to make the transfer.

Should you have any other questions please feel free to contact us at any time.
Other than the owner of the scheme flipping a switch on their end to permit the transfers, there appears to be no regulation or compliance applied to funds transferred within i-Payout client service accounts. Money laundering between various HYIP, pyramid scheme and Ponzi scams using i-Payout couldn't be any easier.
Should no changes be made to their current client roster however, and if i-Payout continue to service a roster of newly launched dubious schemes throughout the year, I'd also be surprised to see them last out 2014 too.
Adding to the regulatory pressure both i-Payout and SolidTrustPay (STP) are likely to be under, it's obvious that with EgoPay going under they're going to see an increase in activity as scams previously using EgoPay flock to either company. With this comes even more exposure, at a time when both companies are probably looking to fly under the radar.
Published only a few hours ago on social media, here's one EgoPay client's current predicament:
This would be a disaster on my end since I have no other processor to use since stp is banned in my state ….it would spell the end for me…I hope it isn't true ! I'll have to resort to VPN or proxy network… Is it safe to do that ?
Another writes,
Would be better if I had 60 days lol.

I somehow got a stp account even though it is banned in my state and I am nervous about doing any business with that.

Looks like my HYIP days are nearing a close.
Meanwhile whether or not EgoPay pulling out of the US was truly of their own accord, was a result of the fallout of whatever went down with Payza or possibly even an entirely separate regulatory investigation, remains to be seen.
Stay tuned…