OneCoin scammer indicted on $400 million money laundering charge

After seemingly little no progress on the regulatory front for some time, a key OneCoin insider has been indicted on a money laundering charge in the US.
Mark Scott was indicted by  federal grand jury on August 21st, on money laundering charges related to the OneCoin Ponzi scheme.
On the same day Scott was indicted, a warrant was also issued for his arrest. Authorities apprehended Scott on September 5th.
Scott's indictment follows a joint FBI and DOJ investigation. According to a filed affidavit in support of his arrest, Scott has been charged with Conspiracy to commit money laundering.
Mark Scott is a licensed attorney in Florida. As is typical of the scheme, Scott is alleged to have laundered OneCoin investor funds through several shell companies.
In addition to MSS International Consultants, registered in the British Virgin Islands, Scott laundered funds and brought property in the US through "133 Sunset Lane Acquisition Limited" and MSSI 31 Dale Avenue Property Group LLC.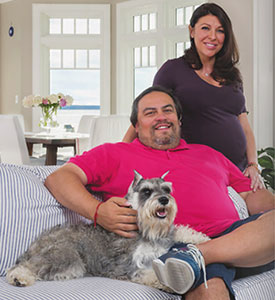 133 Sunset Lane Acquisition Limited was used to purchase a $2.85 million dollar Massachusetts mansion Scott and his wife Lidia Kolesnikova (right) resided in.
MSSI 31 Dale Avenue Property Group was used to purchase a $3.7 million dollar mansion in Hyannis Port, Massachusetts in 2017.
Federal prosecutors allege Scott laundered around $400 million dollars in stolen investor funds, with the aim of
conceal(ling) and disguis(ing) the nature, location, source, ownership, and control of the proceeds of specified unlawful activity (in relation to) a pyramid scheme involving a purported cryptocurrency known as "OneCoin".
The indictment observes transactions of OneCoin investor funds between entities based in the US and abroad.
The indictment also contends that Scott should forfeit to the federal government any property or money traceable to the money laundering offense, and that if any such property or money cannot be found, has been sold or has been diminished in value, the government should seek forfeiture of other property belonging to Scott up to the full amount of what should be turned over.
Following his arrest, Scott was transported to the Southern District of New York.
The New York case docket reveals sealed filings in the case against Scott were first filed on October 17th, 2017. Dates specified in the indictment are from 2016 to present.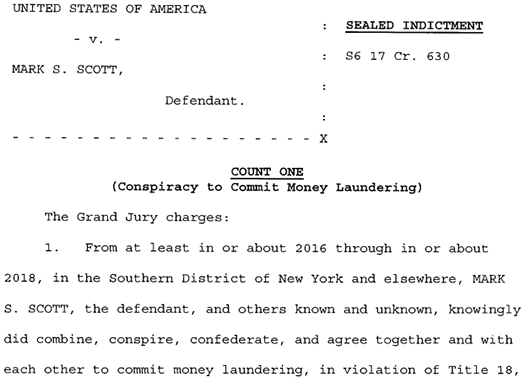 When exactly US authorities began investigating OneCoin is as of yet unclear.
One possibility is that several filings still under seal in Scott's criminal case docket, may contain information on related cases against other individuals.
On September 10th, Scott's $2.5 million bail was posted and he was released on strict travel conditions, including surrender of travel documents and home detention with electronic monitoring.
When authorities arrived at Scott's Massachusetts home to serve the warrant, they found his wife with an infant 'and an unsecured weapon on an end table in the vicinity of the child'.
Lidia Kolesnikova, who does not have a license to carry, was charged with reckless endangerment of a child.
Kolesnikova, 42, pleaded not guilty to the charge last week in Barnstable District Court.

She was released on her own recognizance on condition that she surrender her firearms and not have firearms in any home where children are present, according to the documents.
As at the time of publication, that's all we know. We'll be keeping you up to date on how both cases play out, so stay tuned for that.
One point I want to stress is Scott's indictment mentions persons "known and unknown", suggesting the FBI and DOJ's investigation into OneCoin is ongoing.
How deep this goes and whether further arrests are made as OneCoin's money laundering network is dissected remains to be seen.
And a final thought for OneCoin affiliates still in denial about the fraudulent nature of the business:
Still think Ruja Ignatova is on maternity leave?