OneCoin investment warning issued by Croatian National Bank

With the President of Croatia scheduled to speak at a OneCoin sponsored event today, now a warning from the country's top financial regulator.
As per their website, the Croatian National Bank is the highest financial regulator in the country. The stated goal of the bank is to ensure stability of Croatia's financial system.
On March 7th the Croatian National Bank issued a warning to consumers, advising them against OneCoin investment.
Citing risks associated with Ponzi schemes, the Croatian National Bank warns
OneCoin is not electronic money within the meaning of the Electronic Money Act, nor does it present a payment service within the meaning of the Payment System Act.

Business entities issuing this type of product and trading in this product have not been authorised by the Croatian National Bank nor are their operations supervised by the Croatian National Bank;

The funds invested in this product are not covered by deposit insurance system and the individuals deciding on this type of investment fully bear the risk of loss of the funds invested.
The bank goes on to cite additional regulatory warnings from "competent European Union countries", including the UK, Belgium and Hungary.
Bearing in mind the above-mentioned information, we advise citizens to exercise a high degree of caution when deciding on OneCoin product.
As mentioned at the beginning of this article, Croatian President Kolinda Grabar-Kitarović is scheduled to speak at a Congress of South East European Women Entrepreneurs event today.
OneCoin are the general sponsor of the event, with OneCoin logos expected to be plastered all over the venue for photo ops.
OneCoin Founder Ruja Ignatova was to speak at the event as part of OneCoin's sponsorship. Following an internal investigation into Ignatova's credibility however, Congress organizers dropped Ignatova from the event.
As indicated by a stage check yesterday, it is believed photos of Grabar-Kitarović standing infront of the OneCoin logo will be used to further promote the Ponzi scheme.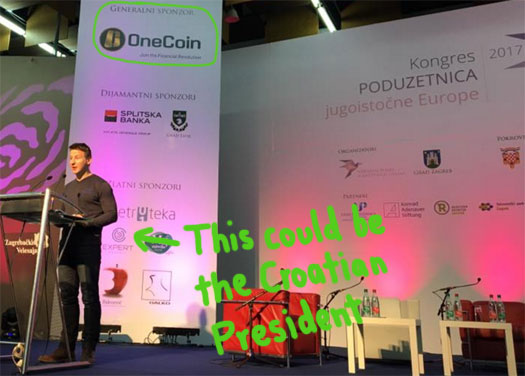 Local time in Zagreb is almost midnight on March 7th. Kolinda Grabar-Kitarović will take to the stage at 9:50 am, March 8th.
Whether Congress organizers will permit Grabar-Kitarović to stumble into a potential PR disaster for the Croatian Presidential Office remains to be seen.