Croatian President a no-show at OneCoin sponsored event
Yesterday the Congress of South East European Women Entrepreneurs held their annual event in the Croatian capital of Zagreb.

As part of a sponsorship agreement the Ministry of Economy, Business and Trade and Congress organizers, Croatian President Kolinda Grabar-Kitarović and Deputy Prime-Minister Martina Dalic were scheduled to speak at the event.
On the day of the event it was announced Grabar-Kitarović and Dalic had cancelled their respective appearances.
Why?
In addition to the Croatian government, OneCoin was also a primary sponsor of the event.
The Presidential Office's decision to pull the President's appearance was likely influenced by an investment warning issued by the Croatian National Bank on March 7th.
Via press-release, the Croatian National Bank warned consumers that OneCoin was not authorized to operate in Croatia, nor was the company regulated. The bank also pointed to several regulatory warnings from neighboring European countries.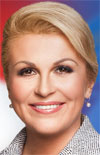 When Croatian press queried the Presidential Office on the President Grabar-Kitarović (right) and Deputy Prime-Minister Dalic's no-show, OneCoin was cited as the sole reason.
At the time we agreed on sponsorship, we were not familiar with the fact that OneCoin was the general sponsor of the Congress.

The moment we found out about the general sponsor and problems associated with OneCoin, Deputy Prime Minister Martina Dalić canceled their participation.
President Grabar-Kitarović, who was scheduled to speak at 9:50 am, also didn't attend. The Presidential Office also confirmed the sponsorship deal did not include financial support.
As far as I can tell the Congress event otherwise went ahead as planned. So far there's been radio silence on the Congress website and Facebook page.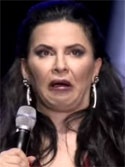 OneCoin Founder Ruja Ignatova had initially been given time to speak at the event in exchange for sponsorship, however following an internal investigation Ignatova was dropped.
How much stolen Ponzi money OneCoin paid on the proviso Ignatova (right) would get to promote OneCoin on stage is unclear. It has since surfaced that a group of OneCoin affiliates had planned to host a recruitment booth at the event.
Despite effectively banning Ignatova from the event, it seems Congress organizers kept OneCoin's sponsorship funds. This saw OneCoin's logo prominently displayed on the event stage, potentially creating a PR disaster for the Croatian Presidential Office.