GSB Gold Standard Bank's Mwali banking license is a sham

Arguably central to GSPartners' G999 Ponzi scheme is Gold Standard Bank (GSB).
On GSPartners' website and in their marketing material Gold Standard Bank is represented as holding a banking license in Mwali.
If you've never heard of Mwali, you're not alone. It's a tiny island off the eastern coast of Africa.
Mwali, also known as Mohéli, is part of the Union of the Comoros. The Union of the Comoros is regulated by the Central Bank of Comoros.
As per GSPartners' website terms and conditions;

GSB Gold Standard Bank Limited is established and registered in the Autonomous Island of Moheli / Mwali.

GSB Gold Standard Bank Ltd is registered under Reg. No. HY0050034 and obtained a A Class Banking License (license No. B2020020), issued by The Mwali International Services Authority (MISA) as local financial regulator of the Autonomous Island of Mwali.
This banking license has featured prominently in GSPartners' marketing;
The youngest member of the group of companies, GSB Gold Standard Bank Limited, with an A-Bank licence, banking licence number: B2020020, IBC Register: HY0050034, Mohéli, (in banking terms, a banking licence is the official licence to operate a credit institution), will be responsible from 15 October 2020 for consulting, support (assistance) and listing of the various exchange platforms for G999 blockchain, and this also simultaneously for the all-round topic of G999 blockchain, staking and telecommunications.
What this is essentially stating, is that GSPartners' uses its GSB Gold Standard Banking Limited license for money laundering.
Specifically, to launder funds into and out of its G999 Ponzi scheme.
To legitimize its Mwali banking license claim, GSPartners points to "the website of the local regulator."
This only website GSB Gold Standard Banking's license is referenced is"Mwali International Services Authority".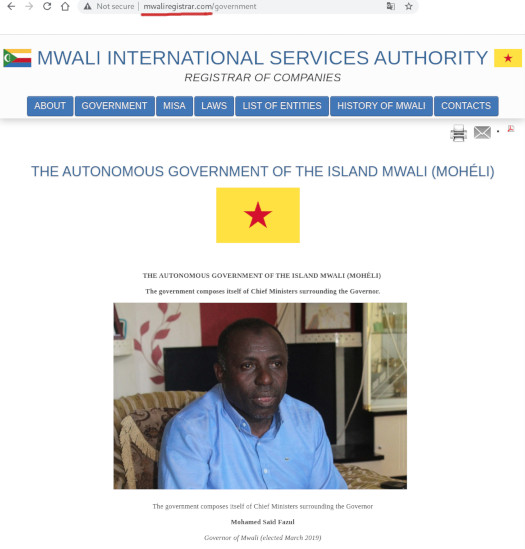 Sure enough, GSB Gold Standard Bank appears on Mwali International Service Authority's "registrar of companies":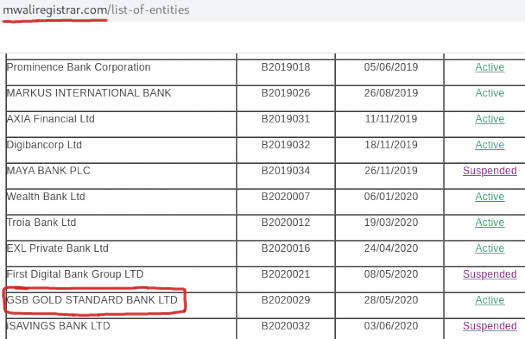 Note however that the license number (B2020029), differs to what's quoted by GSPartners on their website (B2020020).
Also note that Mwali International Services Authority isn't a government website. It operates from a privately registered ".COM" domain, hosted on GoDaddy.
If one clicks through to the "contact" section of Mwali International Services Authority's website, the following text appears:
The exclusive licensed registered agent of the Mwali (Moheli) International Services Authority is Moheli Corporate Service Ltd.
On their website, Moheli Corporate Service claims to be a
a specialist company formation agent.

We are located in Moheli, an autonomous island in the Union of the Comoros and we maintain a European representative office in Marsa, Malta.
Basically this is where you go if you want a shell company incorporation in Mwali.
One of the services offered by Moheli Corporate Service is an "international banking license".
The autonomous Comoran island state of Moheli passed its Offshore Banking Act in 2001 and currently has more than eighty registered institutions.

The Mwali International Services Authority (MISA) is dedicated to providing as much business freedom and flexibility as possible, along with strong statutory confidentiality for legitimate offshore banking clients, whilst maintaining a strong compliance culture in anti-money-laundering and anti-terrorist financing matters.

The result is that neither Moheli nor the Comoros have ever been subject to the censure, scandal and international blacklisting that have plagued less well-regulated jurisdictions over recent years.
Mwali banking licenses through Moheli Corporate Services cost €2500 EUR to apply, and then €25,000 EUR annually for a "general license".
So Josip Heit paid Moheli Corporate Service for a Mwali bank license and bing-badda-boom. Right?
Well for starters, Moheli Corporate Service's rosy portrayal of Mwali's non-existent regulatory issues is patently false.
As per an advisory issued by the Central Bank in 2014, it does not issue banking licenses for offshore banking activities.
The stated reason for the ban is an attempt to combat "illegal activity". Clearly that hasn't been as effective as the Central Bank might have hoped.
By selling banking licenses that don't exist, Moheli Corporate Service is part of the problem. Which puts their regulatory claims into context.
In an attempt to suss out what exactly is going on here, a BehindMLM reader reached out to the Central Bank of Comoros.
When asked point blank about GSB Gold Standard Bank and their Moheli Corporate Service banking license, a representative from the Central Bank stated (relevant quoted text below);

GSB Gold Standard Bank LTD does not appear in the register of banks, financial intermediaries and specialized financial instutions held with our institution.

It has never been approved by the Central Bank of Comoros to practice the banking and financial profession or to offer financial products and securities.

Mwali International Services Authority Register of Companies is a fictitious entity, without any real existence in the territory of the Union of the Comoros.

(It) has no legitimacy, no legal basis or authorization allowing it to issue licenses to companies operating in the banking sector and financial.

The Central Bank of Comoros is the one and only authority empowered to do so in the three islands (Anjouan, Moheli and Grande Comores).
So there you have it. GSB Gold Standard Bank's Mwali banking license doesn't exist. It's yet another layer of lies in Heit's GSPartners Ponzi scheme.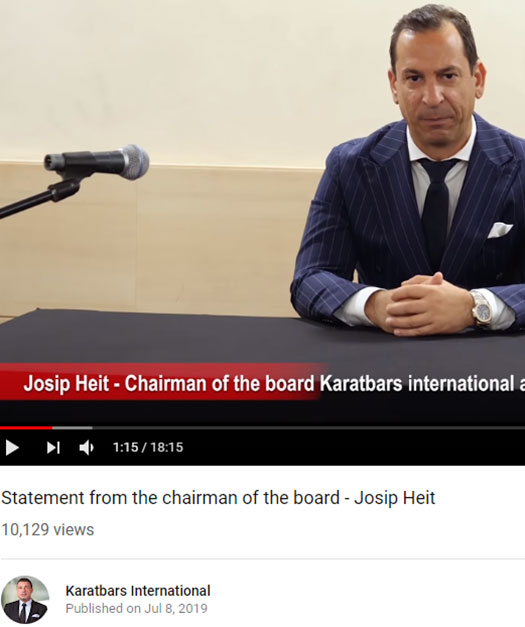 With that out of the way, one question does come to mind:
Why doesn't the Central Bank take action with GoDaddy to get Moheli Corporate Service's website taken down?
I of course can't answer that.
With GSPartners operating a Ponzi scheme primarily targeting US investors though, perhaps that's something the Central Bank of Comoros might want to look into.
Secondary concerns would be third-party merchants in Dubai and elsewhere, being tricked into doing business with Josip Heit based on GSPartners' non-existent banking license.