Global1Entertainment money laundering & wire fraud case confirmed

Back in January of 2015 Chuck King claimed the FBI was actively investigating Global1Entertainment and owner Rick Maike.
The status of the FBI investigation, indeed even whether it took place, has remained unknown for a year and a half.
There have been no official updates or subsequent information pertaining to the investigation released.
Today BehindMLM can reveal the DOJ filed a verified complaint for forfeiture against Global1Entertainment and Maike on January 14th, 2015.
The reason you're only finding about it now is up until July 1st, 2016, the case was filed under seal.
The original complaint is still filed under seal, however we are able to access a redacted copy (filed June 5th, 2015).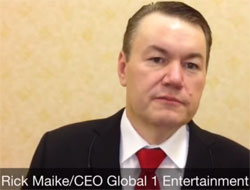 According to the redacted complaint;
On or about January 15, 2015, Agents with the Federal Bureau of Investigation ("FBI") seized the defendant currency ($153,850.00) from a residence located on Briarcliff Trace, Owensboro, KY 42303, while executing a search warrant for violations relating to mail fraud, wire fraud and money laundering and structuring.

Richard Maike and Angela Leonard reside at the residence.
Global1Entertainment began life in 2013 as Infinity2Global, a suspected Ponzi scheme. Less than a year later Infinity2Global abruptly relaunched as Global1Entertainment.
By September 2014 Global1Entertainment also appeared to have collapsed, with reports of affiliates being denied refunds.
The DOJ allege the property cited in the forfeiture complaint was obtained via fraud. A supporting affidavit filed by an FBI agent details how the property is connected to Maike's business operations.
Richard Maike established a business entity named Finance Ventures LLC ('hereinafter, "Finance Ventures") which was incorporated in the state of Wyoming on or about February 6, 2013, with a mailing address of 1402 Frederica Street, Owensboro, Kentucky.

The house is used by Robb Flener who runs an accounting business from this location.

On July 15, 2013, Maike also registered a business trade name, Infinity 2 Global (hereinafter I2G), in Wyoming for the Finance Ventures corporation.

On September 19, 2013, Maike and Flener filed a Foreign Business Entity Certificate in the State of Kentucky for Finance Ventures to transact business in Kentucky, doing business as I2G, listing the mailing address of I2G to be 1402 Frederica Street, Owensboro, Kentucky.

Maike is the President of I2G and has been promoting the business as an investment opportunity from both his home and business office located in Owensboro, Kentucky.

Maike directed investors in I2G to send funds in the form of cashier's checks via mail services directly to his residence and established bank
records with the mailing address of 1402 Frederica Street.

Rob Flener is a signor with Maike on the Finance Ventures bank accounts, and signs the majority of the checks.

Flener works out of the office at 1402 Frederica Street on a regular basis.
If the FBI are to be believed, Rick Maike and Rob Flener are partners in crime.
Beginning in or about March 2013, Maike induced individuals to
invest in I2G by making false and fraudulent pretenses, representations, and promises.

Maike used two web sites, as well as on line conference calls and seminars, to fraudulently promote I2G to potential investors.

Among other things, Maike gave investors in I2G the impression they would receive a substantial return on their investment from revenue generated through online casino gaming.

Maike told potential investors that in addition to monies generated from the sale of the I2G Touch software, people who joined would be able to share in the profits of an online casino.

Maike was careful to state that people in the United States could not gamble on the site.
The casino side of I2G was set up through 'a British company called Plus5Gaming' for $12,877.
Maike purchased their online casino product and renamed it I2Gcasino.

Maike, however, falsely led potential investors to believe that I2G had a very large number of international members who would be using and promoting the casino.

Maike led people to believe that if they invested in I2G, they would share in the profits of the on-line casino controlled by I2G.

Deposits into I2G's domestic bank accounts, however, have come nearly exclusively from investors located within the United States; examination of all the available bank records shows nominal funds coming from foreign investors.
Marketing of Infinity2Global in the US primarily focused on the claim that online gambling laws were on the brink of change.
Maike led investors to believe that the laws in the United States were very close to changing and would allow U.S. members to gamble through the Internet from inside the United States.
For the record, we're now over three years on and this never happened.
Another claim made by Maike in 2014 was that 'I2G was in the process of purchasing a $500 million land based casino'.
These statements falsely left investors with the impression that the
company was already reaping a significant amount of its revenue from the I2G online casino which would be returned to investors.

To date there is no evidence that I2G has funds available to purchase or build a casino of this magnitude or has taken any steps to do so.
Turns out all of Maike's Infinity2Global marketing claims were porky pies piled on top of more porky pies. Definitely didn't see that one coming…
Maike left people with the impression that when this change took place, the volume of online gaming at the I2G casino would greatly increase, causing investors to receive large returns on their investment.
So, let's get into the money side of things. Exactly how profitable was Infinity2Global?
During a conference call on or about January I, 2014 with I2G members, Maike stated that I2G is going to pass $300 million in sales in 2014.

He also stated that I2G is going to pay out hundreds of millions of dollars a year in commissions.

I2G had not received money anywhere close to this amount.

In addition, money received was almost entirely from people who had sent in $5,000 investments hoping to reap the promised returns on their investment in the online casino.

They were not purchasing a product and in fact could not even use the casino if they were in the United States.

Therefore, monies received by I2G in this manner were not sales.
This distinction is important to note, as it paves the way for Ponzi fraud.
By September 2014, Maike had deposited over $12 million into I2G bank accounts he opened at various financial institutions located in Kentucky.

Virtually all of these funds were comprised of monies received from individual investors and mailed to Maike at his home address.
Upon investigation and finding that Infinity2Global was connected to online gaming, the Kentucky financial institutions closed Maike's accounts.
This prompted Maike to set up a shell company to launder I2G funds through.
On January 22, 2014, Maike created another business entity called Tech Entertainment, LLC, and filed in Wyoming.

Maike registered Tech Entertainment in Kentucky as a foreign business entity on May 15, 2014.

Within the week, on May 18, 2014, Maike opened a bank account in the name of Tech Entertainment at BB&T Bank, and continued to deposit investor proceeds made payable to I2G or Infinity 2 Global into the Tech Entertainment bank.
Aware that the Infinity2Global brand was likely on a blacklist for companies related to gambling, Maike re-branded as Global1Entertainment.
On June 16,2014, Maike filed with the Kentucky Secretary of State's
Office withdrawing the business name Infinity 2 Global.

He registered Global 1 Entertainment as a business trade name for Tech Entertainment, LLC on July 22, 2014.

On or about July 30, 2014, Maike made an announcement via a conference call to the I2G members that the company was being "rebranded" as Global 1 Entertainment.

He instructed the members not to give the impression when promoting the company that it was in the business of online gambling.
The whole casino revshare schtick was promptly dropped, with Maike replacing it with fantasy sports and travel packages.
Bear in mind that throughout all of this, the ROIs Maike promised Infinity 2 Global affiliates never materialized.
The only money made by affiliates were recruitment commissions.
Financial analysis of the domestic bank accounts into which
Maike deposited I2G members money shows that approximately 60% of investor funds received were paid out to the promoters of the investment scheme via a payroll service or direct wire transfers.
In total, recorded funds invested and deposited into Maike's various bank accounts stand at $12.98 million dollars.
Maike himself blew about $3.5 million on living the high life with his wife.
From 3/12/2013 to 9/30/2014, Maike made payments from (the) accounts totaling $536,707 to pay off charges on his American Express credit card.

Charges on this card include various travel expenses for he and his wife to various destinations such as Las Vegas, Hong Kong, Hawaii, and Fiji including a charge in the amount of$23,000 on 3/20/20 14 for lodging in Hawaii.

It also includes personal purchases as well as an $11,788 charge at Ruth's Chris Steak restaurant in Hong Kong on 1118/2014.

(Additionally), Maike used approximately $3 million of the I2G investor funds to purchase two parcels of land In Kansas.
Funds used to purchase the land were laundered through Hong Kong in the name of Angela Leonard, Maike's wife and Raw Ventures LLC.
Maike commented to the title company agent at closing that he has relatives in the Riley County area and he may put a home on the property in the future.

Therefore, Maike used I2G investors' funds to purchase the farmland in Kansas for personal use and in doing so violated federal structuring and money laundering statutes.
One final item described in the affidavit is an FBI raid on Maike's house on January 15, 2015.
During this search, $149,500 in US currency was located and seized from a locked safe in the basement of the residence and $3,900 in US currency was located and seized from a briefcase in the kitchen of the residence.
During the raid, the FBI asked Maike where the money came from to purchase the Kansas land.
He purportedly told FBI agents
that the cash came from the sale of I2G t-shirts and promotional items from I2G conventions.

Based upon the evidence reviewed thus far, no such sales have been verified and it is highly unlikely that the cash represents anything but proceeds from investor payments either made initially in cash, or converted to cash by Maike.
And remember, this is a redacted complaint.
The primary reason it took so long for the DOJ complaint to be unsealed (in redacted form) was opposition by Maike.
On July 1st, 2015, Maike filed an opposition to the DOJ's request the case be unsealed (filed on June 5th).
In his opposition Maike claims his company Finance Ventures LLC
is a multi-level marketing business that sells products and services to end-user consumers through distributors.

As an MLM business, Finance Ventures' reputation among its current IBOs, prospective IBOs and the general public is the heart and soul of its business.

Rick Maike, Raw Ventures LLC and Finance Ventures LLC's name and reputation are the life blood of the business.

The success of their business hinges upon the public's perception.
At the time of publication there is no public record of criminal proceedings against Maike. Given what's revealed in the redacted DOJ complaint and FBI involvement, that's pretty hard to believe.
The only hint of concurrent criminal proceedings refers back to Maike's opposition to seal the DOJ complaint.
In it, Maike claims assets belonging to Finance Ventures affiliates have been seized, including property belonging to J.J. Conway.
As part of the June 20th seizure, Conway was provided with a copy of an affidavit by the FBI.
Maike argues that the affidavit was provided against the seal order granted on June 11th, 2015.
Maike doesn't appear to know the exact contents of the affidavit provided to Conway, but states
presumably the affidavit contains secret grand jury material and summarizes the government's investigation.
Maike also claims that Conway shared the affidavit with 'at least three other third-parties'.
One of the alleged parties is Charles "Chuck" King, who published the original YouTube video claiming the FBI were investigating Maike and I2G.
To shut King up, Finance Ventures LLC filed a defamation lawsuit in February of 2015.
Despite King's claims apparently being true, Finance Ventures lawsuit against King is ongoing.
A jury trial had been scheduled for February 13th, 2017, however Maike filed a motion requesting a reschedule on September 16th.
If granted, the trial will be rescheduled to 'the end of March or early April'.
Getting back to the DOJ seizure, on September 9th, 2015, Maike filed a motion demanding the immediate release of seized funds.
This was denied on November 24th.
This year has seen a flurry of back and forth filings between the DOJ and Maike, mostly centered on whether the case should be unsealed.
Maike ultimately lost the fight to keep the case sealed and on June 15th it was finally unsealed.
The last filing in the case was a Notice Of Filing by the DOJ on August 26th;
The United States, by counsel, Amy M. Sullivan, Assistant United States Attorney, hereby files the attached Process Receipt and Return in the above case.
Whether concurrent criminal proceedings against Maike are taking place is still a grey area. Maike himself has referenced a grand jury indictment but if it exists details have yet to be made public.
I'd almost be willing to bet the original unredacted DOJ complaint contains information pertaining to criminal proceedings. Otherwise from what I gather assets seized by the government will remain frozen for the time-being.
At the time of publication the Global1Entertainment website remains online, however Alexa traffic estimates suggest the scheme has long-since collapsed.
We'll keep an eye on the DOJ's forfeiture proceeds as well as the surfacing of criminal proceedings. Stay tuned…