Dragon Coin advisers hope to raise millions through Dapps Global ICO
In the bowels of Facebook another unregistered securities ICO offering is being prepared for launch.
Today we take a look at the upcoming launch of Dapps Global and serial MLM underbelly scammers promoting it.
Dapps Global is being touted as a passive investment opportunity, through which "shareholders" can invest in through a planned ICO.
On the marketing side of things Pearse Donnelly appears to be Dapps Global's primary promoter.
Donnelly promotes Dapps Global to potential investors through his secret "Cryptopians" Facebook group.
Before we get into that though, some background history;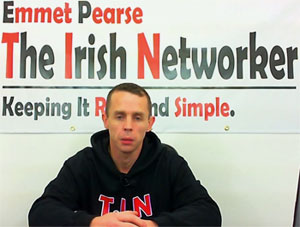 Pearse Donnelly first appeared on BehindMLM as admin of the Mo Brabus Ponzi scheme in 2015.
In 2016 Mo Brabus collapsed, prompting Donnelly to issue BehindMLM with a threat of "negative SEO" for giving his "platform" a "negative review".
Having developed a taste for scamming people, Donnelly (right) went on to launch Traffic Powerline after Mo Brabus' demise.
Traffic Powerline was another Ponzi scheme and by early 2017 had also collapsed.
Like many in the MLM underbelly, Donnelly appears to have spent much of 2017 dipping his toes into cryptocurrency fraud.
This now appears to have culminated with the upcoming launch of Dapps Global.
Dubbed by Donnelly has having "huge potential", Dapps Global is essentially an ICO being marketed as having something to do with the insurance industry.
Not in a practical sense though, more along the lines of;
The insurance industry is worth a gajillion dollars.

We're planning an ICO and because we've now mentioned the insurance industry, Dapps Global will also be worth a gajillion dollars. Give us your money!
Highly simplified perhaps, but judge for yourself with the following actual marketing copy circulated by Donnelly himself (verbatim sans NDA waffle);
We are about to disrupt a "GLOBAL" trillion dollar industry.

Cryptopians I strongly suggest you read this entire post, it (Dapps Global) has nothing to do with Cryptopians "YET" But when it goes live it will first be made available to Cryptopian Members before Going ICO.

I am very confident that when it reaches the ICO stage it will achieve $100 Million +.

So here is the story and the opportunity, A company with HUGE POTENTIAL is being formed.

The company needs foundation capital, (Not Start up capital, that will come from the ICO.

They have decided to go the networked crowd funding route to secure the initial foundation capital.

This capital will be used to engage the correct legal services and companies needed to get it to a pre ICO position.

The company aims to sell 100 micro investor shares that are tied to 10% of the entire company.

Each share will cost £1,000, your name will be listed at companies house as a share holder and share certificates issues in a matter of weeks.

Potential Value of this company post ICO £200,000,000 to £1,000,000,000 FOR REAL! NO BS!

So 10% of 200,000,000 tied to the 100 shares would be £20,000,000 and a potential per share value of £200,000

That might sounds like BS but if this goes the way I think it will that is a conservative estimate. this is literally a once in a lifetime deal.
As above, Dapps Global are selling shares to 100 investors with plans to launch an ICO.
Said Dapps Global ICO will be pre-stacked with investors from the secret Cryptopians Facebook group.
And all of this is based on nothing more than the insurance industry being worth a ton of money, something something blockchain.
Donnelly credits the geniuses behind Dapps Global as Martin Congerton, Max Garza, Richard Messitt and Dean Anastos.
Collectively Donnelly credits these four individuals as "the Dragon Coin team".
For those of you that do not know, Dragon coin raised $407 million for the Floating Casino project in Macau China.
Back in March ICO Examiner reported Dragon Corp raised $320 through a private pre-sale ICO and then a further $87.5 million from the general public.
DRG from a technical standpoint is just another ERC20 ethereum-based shitcoin.
After purportedly raising millions of dollars, DRG publicly debuted at a pumped $2.21 value in late March.
It has since gone on to dump down to 80 cents as I write this.
But as with pretty much every ERC20 altcoin, the real money is made during the ICO.
The eventual public launch of the coin is just a thin veneer for promoters and developers to exit-scam, taking along with them the real money paid in by gullible investors.
And that brings us to Dapps Global. Instead of an altcoin for casinos, now it's the insurance industry.
Whereas the individuals Donnelly claims were behind the Dragon Coin ICO were actually just advisers, now they're running their own company through Dapps Global.
As of mid April Dapps Global began accepting payment for £500 virtual shares, each attached to 20,000 coins. That's on top of the promised share of 10% of Dapps Global.
Free £500 shares are also being handed out to those who convince others to invest.
And all of this is happening in cryptocurrency (you give us cryptocurrency with value in exchange for our worthless altcoin), and without Dapps Global or any of its management or promoters registered to offer securities in any jurisdiction shares are being offered in.
At the time of publication promotion of Dapps Global is occurring in secret, under threat of legal action via an NDA.
Beyond the incorporation of Dapps Global Limited in the UK last month, Dapps Global doesn't officially publicly exist.
Not withstanding UK incorporation these days is a joke and has been for some time.
Looking forward, Dapps Global's plan is to squeeze Pearse Donnelly's MLM following for funds (£500,000), with the hope they'll then make money off gullible public investors – none of whom will have any idea of the pre-ICO positioning nonsense currently underway.
At some point Dapps Global will launch an altcoin, with management, Donnelly and "shareholders" making off with ICO investment.
The exit-scam will see Dapps Global public investors told to recover losses by selling their coins…
The cool part is the £1,000 shares come with 20,000 coins so you get your money back as soon as it goes ICO, Just sell the coins.
But of course by then it's too late. Dapps Global coin value will have collapsed.
To see this exact scenario in action, look no further than Dragon Coin and all the casinos using it.
Talk about widespread adoption. What a rip-roaring success!
The bottom-line is if any of this was legal it'd be all out in the open and appropriate regulatory registrations and appropriate public disclosures would be in place before a single dollar was invested – by anyone.
You can't ass-backwards compliance, meaning Dapps Global's very foundation is fraudulent in and of itself.
But uh yeah, I'm sure the heavily regulated multi-billion insurance industry can't wait to integrate with a bunch of opportunistic securities fraud scammers.
Update 5th May 2018 – I had originally included a YouTube recording of Pearse Donnelly interviewing some of the "Dragon Coin Team".
Funnily enough within a few hours of this article going live the video was pulled.
Obviously Dapps Global is a totally legitimate business opportunity and there's nothing to hide.
Update 11th May 2018 – Following publication of this article "Dapps Global" has been abandoned.
CEO Martin Congerton has announced the investment scheme will launch with a new name in October.