Twin TurboTRX Review: 5 tier 3×1 matrix TRX Ponzi cycler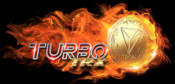 Twin TurboTRX provides no information on its website about who owns or runs the company.
Twin TurboTRX's website domain ("turbotrx.com") was privately registered on January 12th, 2021.
In the source-code of Turbo TRX's website the author of the page is credited as "hustydesigns.com":

A visit to Husty Designs' website reveals the company targeting clients who are "looking to start a Forsage like MLM/Matrix project".
Forsage is a collapsed matrix-based smart contract gifting scheme.
Given all that's behind a smart-contract scam is coding for a matrix, it appears Husty Designs are selling smart contract matrix scripts.
Husty Designs' website provides no information about who owns or runs the company.
Husty Designs' official Facebook page is managed from India.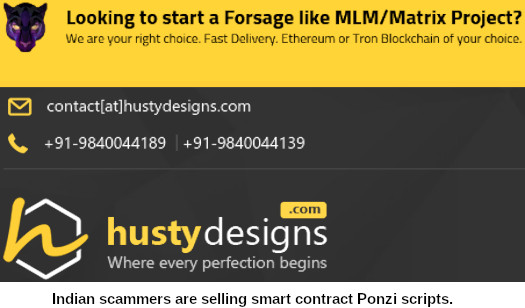 This suggests whoever is behind the scam script company is based out of India.
Whether Husty Designs is behind Twin TurboTRX or they've set it up for a scamming client is unclear.
What we do know is the official Twin TurboTRX compensation document, provided by the company on their website, was authored by Ann Marie Osorio.

On Facebook Osorio goes by Ann Marie Corral-Osorio.
According to her profile she's based out of California and is currently soliciting investment into Twin TurboTRX: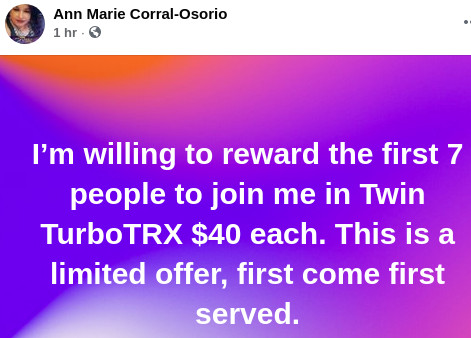 Osorio also hosts marketing videos on Twin TurboTRX's official YouTube channel: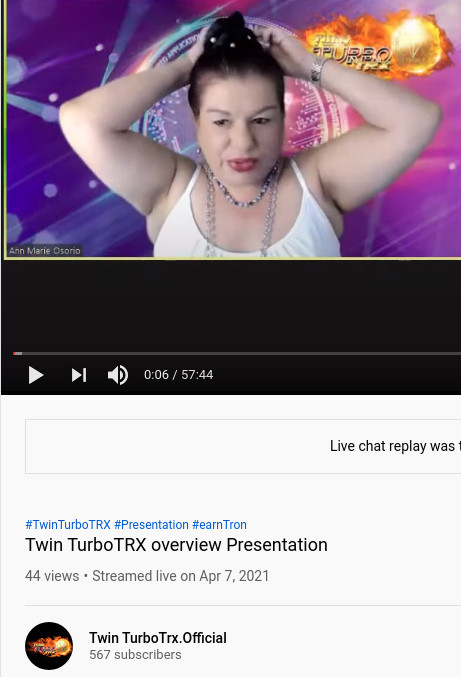 At the time of publication Alexa ranks the top sources of traffic to Husty Designs' website as Venezuela (20%), the US (16%) and Argentina (11%).
As always, if an MLM company is not openly upfront about who is running or owns it, think long and hard about joining and/or handing over any money.
Twin TurboTRX's Products
Twin TurboTRX has no retailable products or services, with affiliates only able to market Twin TurboTRX affiliate membership itself.
Twin TurboTRX's Compensation Plan
Twin TurboTRX affiliates purchase position sin a five-tier 3×1 matrix cycler.
A 3×1 matrix is simple in nature, requiring only three positions to be filled to trigger a cycle.
Positions in the matrix are filled via purchases positioned by directly and indirectly recruited Twin TurboTRX affiliates.
Cycle payouts across Twin TurboTRX's five 3×1 matrix cycler tiers are as follows:
Twin Turbo 40 (positions cost $40) – $40 cycle commission and generates new Twin Turbo 40 position
Twin Turbo 100 (positions cost $100) – $100 cycle commission and generates new Twin Turbo 100 position
Twin Turbo 250 (position cost $250) – $250 cycle commission and generates new Twin Turbo 250 position
Twin Turbo 500 (positions cost $500) – $500 cycle commission and generates new Twin Turbo 500 position
Twin Turbo 1000 (positions cost $1000) – $1000 cycle commission and generates new Twin Turbo 1000 position
AirDrop Positions
The math behind cycler payouts sees 50% of funds paid for positions 1 and 2 set aside to create new "airdrop positions".
In effect rather than pay the full amount paid in as an immediate cycle commission, Twin TurboTRX recycles 50% of all first and second matrix positions to eventually create a new cycler position on the same tier.
Rank Bonuses
Upon cycling a set number of times, Twin TurboTRX affiliates receive a Rank Bonus.
Mach 1 – cycle 50 times and receive $250
Mach 2 – cycle 100 times and receive $500
Mach 3 – cycle 250 times and receive $1000
Mach 4 – cycle 500 times and receive $2500
Mach 5 – cycle 1000 times and receive $5000
Mach 6 – cycle 2000 times and receive $10,000
Mach 7 – cycle 5000 times and receive $25,000
Mach 8 – cycle 10,000 times and receive $50,000
Mach 9 – cycle 15,000 times and receive $75,000
Mach 10 – cycle 25,000 times and receive $125,000
Mach 11 – cycle 50,000 times and receive $250,000
Mach 12 – cycle 70,000 times and receive $350,000
Mach 13 – cycle 100,000 times and receive $500,000
Mach 14 – cycle 150,000 times and receive $750,000
Mach 15 – cycle 200,000 times and receive $1,000,000
Mach 16 – cycle 250,000 times and receive $1,250,000
Joining Twin TurboTRX
Twin TurboTRX affiliate membership is free.
Participation in the attached income opportunity costs a minimum $40. Full participation costs $1890.
Note that although USD is quoted in this review and in Twin TurboTRX's marketing material, all payments within the company are made in tron.
Conclusion
Twin TurboTRX is literally the matrix cycler model of the 2000s bUt On ThE bLoCkChAiN!
Even the good old bundled digital products garbage is there: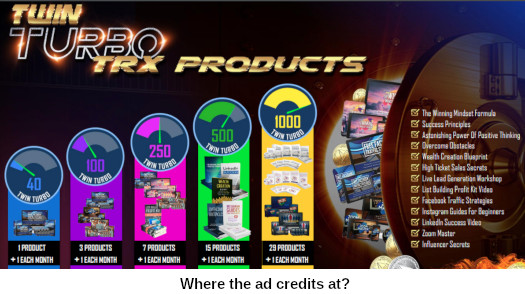 If Twin TurboTRX really wanted to go old school though, they should have just gone with ad credits.
Anyway like the countless matrix cyclers that have come before it, Twin TurboTRX exists to funnel funds to its admin(s).
This occurs through admin positions, which are naturally first to be entered into the system.
Heavy recruiters make what's left, with the majority of participants ultimately taking a loss.
In looking at the math behind Twin TurboTRX, one thing I couldn't figure out is where the rank bonus money comes from.
Cyclers are a zero-sum equation, meaning every dollar paid in has to be accounted for.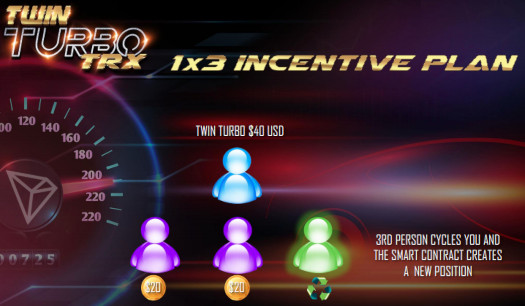 In Twin TurboTRX, supposedly:
50% of funds paid in for positions 1 and 2 are used to pay the cycle commission (equating to a 100% ROI per cycle)
50% of funds paid in for positions 1 and 2 are set aside to create airdrop positions
100% of funds paid in for position 3 is used to fund a new same-tier cycler position
The only explanation I can come up with is a percentage of what is set aside for airdrop positions is being used to fund rank bonuses.
Note again that these payments will first go to admins and early adopters, as their early positions will have always cycled the most.
Presented as "the smartest smart contract ever"…

…Twin TurboTRX is in fact just another low effort cycler Ponzi separating stupid people from their money.